by
posted on March 3, 2017
Support NRA American Hunter
DONATE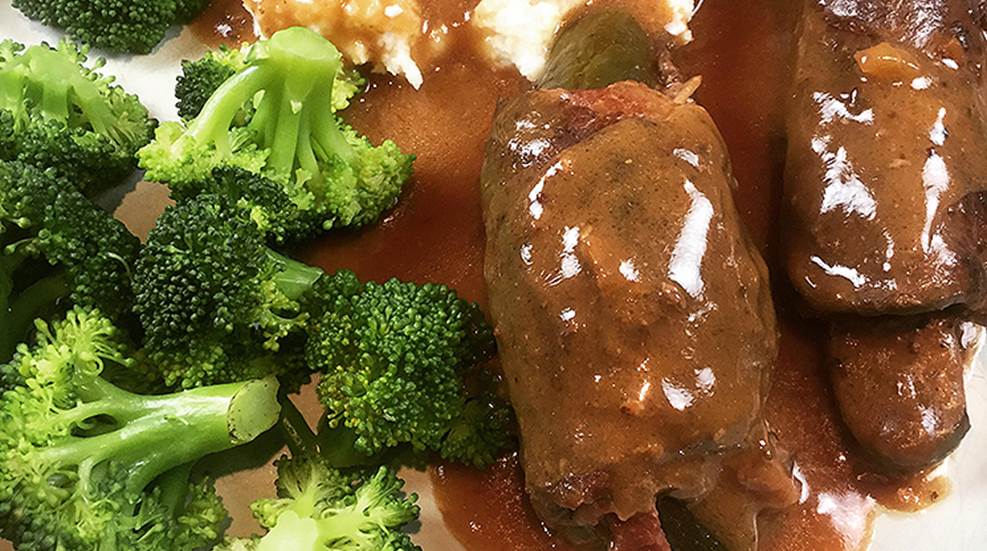 I start most of my days thinking about food, which allows me to mentally plans meals with sufficient time to thaw meat and check to ensure ingredients needed are at hand. Some days, I undertake bigger projects and making jerky one day led to a simple and effective way to make delicious rouladen.
Rouladen are made from large, thin pieces of meat cut from round roasts. The grain of the meat is distinct and helps hold the thinly cut pieces intact. Historically, people making rouladen would ask a butcher to cut a round roast into rouladen at the shop, or try to do it by hand at home. However, using a Hi Mountain jerky board and knife to cut up meat for making jerky was an eye opener and gave me the idea to use the board to cut perfect rouladen with the same accuracy as a butcher and meat slicer.
I immediately found a round roast, thawed it and went to work cutting it into rouladen for dinner. It was quick and easy and didn't take any fancy ingredients we wouldn't have in our cupboard or fridge.
The way rouladen is layered with ingredients, browned to perfection, then roasted in gravy adds incredible layers of flavor that leave you wanting more. My suggestion is to make lots, as they taste even better the next day when heated up.
Any type of venison works with this recipe and those unfortunate enough to have to buy their meat usually use beef. It is a German dish, where variations to the recipe exist from different regions of the Mother land. I've been told by some that you must include boiled egg, while others insist they should be forbidden. Some like the pickles cut into spears, while others chop them finely to match the other layered ingredients. Any way you slice it, the recipe is one you'll want to save to impress family and friends. It also provides a great option for utilizing the dense round roasts you work so hard to put away for special occasions.
Rouladen's Wild Side
Ingredients
• 2- to 3-pound elk, moose or bison roast (inside, outside or center round roasts are ideal)
• 4 Tbsp grainy mustard
• 1 large red onion, finely chopped
• 2 dill pickles, cut into quarters lengthwise
• 8 slices bacon
• salt and pepper to taste
• 2 Tbsp vegetable oil or lard
• 1 cup red wine
• 1 cup beef stock
• 2 Tbsp flour
• 2 hard boiled eggs (optional)
Directions
1. Preheat the oven to 350 degrees Fahrenheit
2. Slice the roast lengthwise with the grain into ¼ inch thick pieces or sheets. Using a jerky board with the depth set to ¼ inch will ensure uniform thickness throughout.
3. Spread 1 tsp of mustard on each piece of meat. Dice one slice of bacon and spread evenly over the mustard.
4. Add 1-2 Tbsp of chopped onion on the bacon and lay a ¼ spear of dill pickle across one end of the meat. Season with pepper.
5. Starting at the end with the pickle, roll up each rouladen tightly and secure with turkey pins or toothpicks.
6. Heat the oil in a heavy-bottomed Dutch oven to medium-high and brown the rouladen on all sides. Remove the rouladen and set them aside to make the gravy in the same pot.
7. Add the beef stock, then scrape all the caramelized bits from the bottom of the pot to deglaze it. Reduce the heat to a low simmer, sift in the flour and cook for 1 minute, stirring often. Stir in the red wine.
8. Add the rouladen back into the pot, put the lid on, and bake in the oven for 45 minutes.
9. Serve rouladen and gravy with mashed potatoes or potato dumplings and red cabbage or a green salad.
Variation: finely chop the pickle and add a chopped hard-boiled egg when layering it over the onions.