by
posted on May 12, 2022
Support NRA American Hunter
DONATE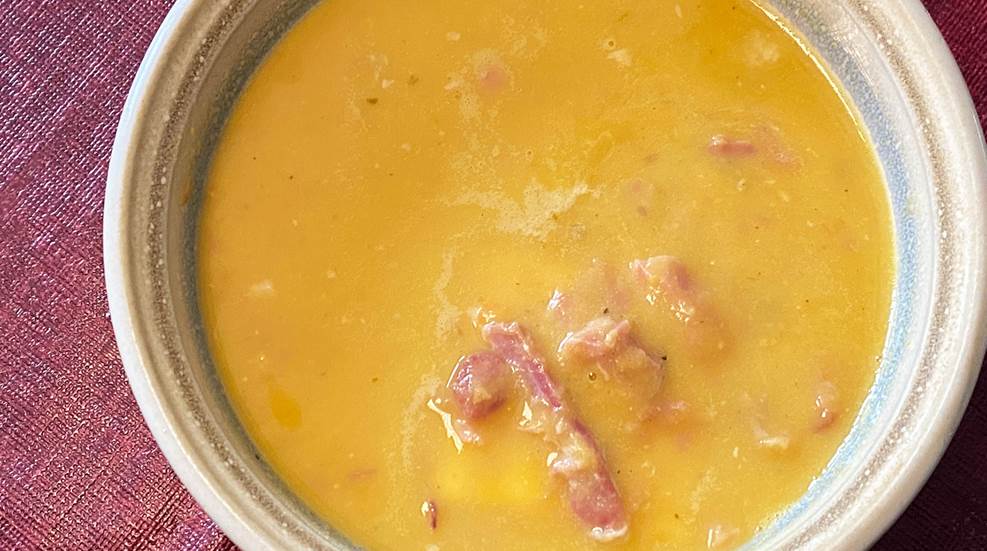 Shanks, or hocks, are often overlooked cuts of wild game. Hunters may not be aware of the potential of the bottom end of the leg, intertwined with connective tissues. The silver and connective tissue in the shank cooks out to produce gelatin and collagen rich in flavor.
Curing and smoking the shanks will provide many recipe options, but using a couple of them to make split pea soup with plenty of meat is perfect for hunting camp. A big batch of split pea soup is easy to make and can be frozen to take to camp or use for a quick meal.
Curing and Smoking Shanks
A basic dry cure contains kosher salt, brown sugar and pink salt. Pink salt can be substituted with InstaCure, Prague powder or Cure #1. The pink salts add color to the meat, but the dye is not required to cure the meat properly. Measuring the ingredients is essential, and the easiest way is to create a cure mixture that can be stored and used as required.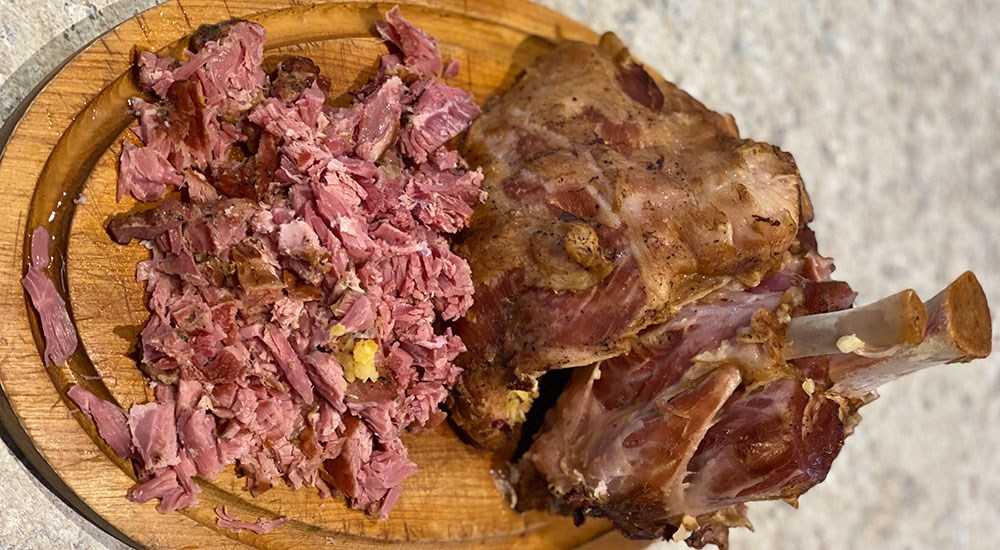 Ingredients
• 1 lb. kosher salt
• 8 ozs. brown sugar
• 8 tsp pink salt
• 4 wild hog or deer shanks
*Hi Mountain Seasonings makes three different bacon cures that are easy to use, with one tablespoon of the cure per pound of meat.
Directions
1. Use 1 ounce of the mixture for 2½ pounds of shank. Sprinkle evenly over the shanks, and rub the cure into the folds, edges and along the bone.
2. Place the shanks in a sealable bag and place them in the refrigerator for five to seven days, turning every second day.
3. After curing in the refrigerator, remove the shanks and rinse well under cold water. Set the shanks on a rack to air-dry until a dry sheen develops, often referred to as the pellicle.
4. Preheat the smoker to 200°F and place the shanks on the rack. Smoke to an internal temperature of 150°F.
Split Pea Soup with Smoked Shank Ingredients
• 1 Tbsp olive oil
• 1½ cups chopped yellow onion
• 1½ cups chopped celery
• 1 cup chopped carrots
• 2 cloves garlic, minced
• 4 cups unsalted chicken broth
• 4 cups water
• 1 (16 oz.) bag dried split peas, picked over and rinsed
• 2 bay leaves
• 1½ tsp chopped fresh thyme
• salt and freshly ground black pepper
• 2 lbs. cured and smoked shanks
• chopped fresh parsley for garnish (optional)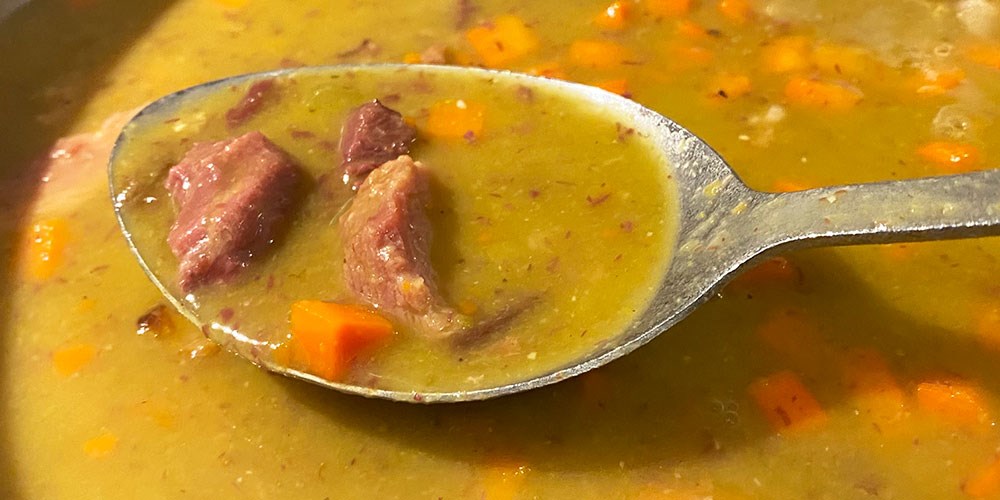 Directions
1. Heat olive oil in a large stockpot over medium-high heat. Add the onion, celery and carrot, and sauté for three minutes. Add garlic and sauté for another minute.
2. Add the chicken broth and water, split peas, bay leaves and thyme—season with salt and pepper. Place the shanks into the soup and bring to a boil. Reduce the heat, cover and let simmer for one hour.
3. Remove the shanks from the soup and set them aside to cool. Remove the meat, dice into small pieces and set aside.
4. Add the meat and simmer for another 30 minutes for a chunky soup. For a creamy soup, use an immersion blender to incorporate the peas and vegetables into a smooth, consistent broth, then add the meat and simmer for 30 minutes.
5. Serve the soup hot and garnish it with fresh chopped parsley if desired.
For more delicious wild-game recipes, click here.