by
posted on May 16, 2023
Support NRA American Hunter
DONATE
Illinois is one of the country's longest states, measured north to south. By the time the 4th and 5th spring turkey seasons roll around, turkey hunters face different issues than the guys who hunted the first couple of seasons. Many other states have decently long north-to-south distances. Let's take a look at some of the extra hurdles late-season hunters must jump.
Among the extra difficulties that come in the late seasons down south are increased foliage, higher temperatures, bugs and most of all, educated gobblers. These wise old toms are tough on opening day. Add to their instinctive shyness a couple of weeks of pressure from other hunters, and you have created birds that are very hard to fool. There are, of course, some advantages to hunting the late seasons. For instance, many hens should be tending full nests. This will have lonesome toms still fired up looking for a date. But on to the difficulties.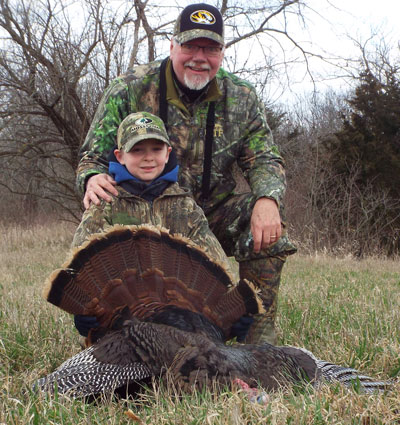 The first adverse condition to discuss is the potential difference in cover between opening day and the end of the season. Spring will definitely have arrived down south by that time. Southern portions of states' seasons open with thick green cover, which makes hiding from gobblers much easier. By the first week in May hunters in the timber may never see a turkey outside 15-20 yards because of the thickened foliage.
I suggest clear-cuts, pole lines and field edges late in the season. These spots not only offer the chance to see birds at a greater distance, but it also gives them a better chance to see your decoys. That is, if they are not decoy shy by then. How exactly do you become successful with pressured gobblers?
One of the keys to hunting pressured toms is to pin-down their location. Pressured birds will cut back on gobbling both on the roost and on the ground. This will require a large amount of patience. Quite often call-shy or decoy-shy toms will sneak in to investigate without making a sound. I call these birds, "Lockjaw Toms". Give these birds plenty of time. If you hear a sound in the leaves expect it to be a gobbler and be ready to shoot.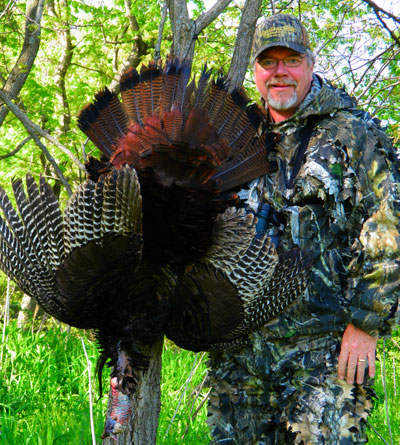 If, on the other hand, you are hunting private property, your birds might not be hunter-educated and might come right in gobbling.  Especially if the hens have already nested. I still maintain that knowing where they roost and knowing their strut zones will get you closer before you start to call. And never call until you are sure he is on the ground.
Late-season birds may also respond slower as the temperatures rise. A darkly colored bird is not likely to strut in open country in the heat of the mid-May sun. They tend to stick closer to shade and shadows. The best thing to keep in mind when calling late season toms is NOT to act or sound like an anxious hunter. Some gobblers are "call proof". They simply cannot be called in close. In cases like this move around in front of the tom and set up an ambush point. I am not so proud that I have to call in a gobbler to shoot him. "By the ankles" is all that matters.
I also highly recommend light calling for previously hunted birds. Soft yelps and purrs along with jake clucks work well in May. I also like to play hard to get. If I get a bird to answer my call I may not call again for 30-45 minutes. Quite often he will sneak in to try to locate the hen.
I am true believer in getting as close as possible this time of year to set up on a gobbler. Then you must sit motionless as you watch for movement. You must be ready. Do not let him surprise you. Be prepared.
The bottom line when hunting gobblers in May in southern areas is to use the cover, the temperature and the bird's tendencies to your favor. You cannot outrun a gobbler. You cannot outfly a gobbler. And you cannot see better than a gobbler. But his brain is the size of a marble. You should be able to outthink him every time. So go get your May gobbler, he is a true trophy.