by
posted on January 27, 2022
Support NRA American Hunter
DONATE
What It Is: Savage's accurate 110 barreled action coupled with a high-tech hunting stock.
Why We Love It: Part target gun, part hunting rifle, the new Savage translates deadly range accuracy into notched tags and a full freezer.
Hybrid hunting/target rifles have been all the rage for the last several years, but Savage makes a pretty convincing case that their new 110 Magpul Hunter is the ultimate hybrid bolt gun for 2022. It features a factory blueprinted action and an 18-inch heavy profile carbon steel barrel that's threaded ⅝x24 and comes with a thread protector. Savage's barrel nut design allows for very precise headspacing, and precise headspacing means improved accuracy. The barreled action comes with an AccuTrigger that is safe and user-adjustable from 1.5 to 4 pounds. A Tungsten Cerakote finish protects the metalwork. The 110 Magpul Hunter comes in both right and left-handed versions, and the drilled and tapped (8-40) cylindrical receiver comes with a 20 MOA rail attached. An oversized bolt handle makes cycling this rifle easy and efficient.

As the name implies, this Savage 110 comes outfitted in a Magpul Hunter black polymer stock. The Hunter features an aluminum bedding block and comes with a stock which adjusts for length of pull (13 to 15 inches) and comb height. M-Lok attachment points on the bottom and sides of the benchrest-style flat forearm allow you to attach accessories like bipods and sling studs. This rifle utilizes AICS-pattern magazines and a five-round mag is included with each gun. Available caliber options include 6.5 Creedmoor and .308 Winchester in both the right- and left-handed versions.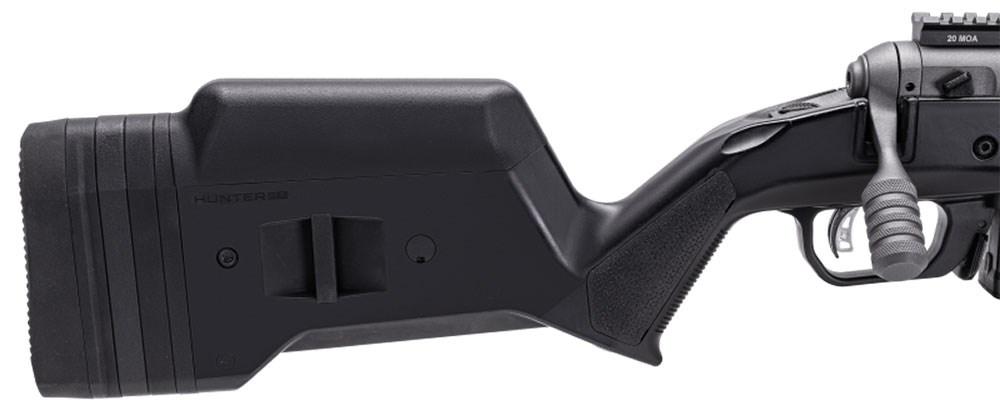 From a hunter's standpoint there's a lot to like about this rifle. The Magpul stock features a pistol grip with a steep angle similar to what you'll find on target guns. This makes it much more comfortable to shoot from a prone position than the straighter pistol grip designs found on traditional sporting rifles. The Magpul Hunter's controls are well laid-out, too, with a three-position tang safety that's easy to manipulate from any position and a wide magazine release lever located at the front of the trigger guard. The bolt knob on this rifle is oversized, allowing for easy access and fast cycling.
The shortened barrel on this Savage means that you can mount a suppressor while maintaining a reasonable overall length for field use. At 38.6 inches overall, expect a total length of 44 or 45 inches with a can in place, which is about the same as an unsuppressed rifle with a 26-inch barrel. The Savage isn't exactly light at 8.9 pounds, and it might not be my first choice for climbing tall mountains in search of sheep and elk, but those hunts are few and far between for me, and most of my hunting involves chasing deer, black bear, hogs, coyotes and pronghorn on relatively flat ground or from a stand. In those instances, a nearly 9-pound rifle isn't a liability, especially since it sucks up recoil. Put a can on this gun and it'll be downright pleasant to shoot in either caliber.

Looking for a range gun that doubles as your do-all hunting rifle? Here it is. Savage continues to build rifles that shooters and hunters want. This happens to be a gun that both shooters and hunters will covet.
The new 110 Magpul Hunter has an MSRP of $1,049. For more information, visit savagearms.com.