by
posted on March 11, 2022
Support NRA American Hunter
DONATE
What It Is: The next generation of Christensen's superb bolt-action hunting rifle lineup.
Why We Love It: An already great rifle gets a new high-tech, lightweight stock design.
Christensen Arms' Ridgeline bolt-action rifles are popular with serious hunters because they offer a long list of high-end features and superb accuracy in a lightweight package. The new Ridgeline FFT offers those same features with an innovative new carbon-fiber stock that is lighter and more durable than the competition.
Christensen calls it their FFT, or Flash Forged Technology. By using an aerospace-grade monocoque shell, this stock provides excellent structural rigidity while cutting weight by up to a pound. For serious high-mountain hunters, that kind of weight saving is crucial. It's especially compelling since the design still provides a durable platform that doesn't compromise the Ridgeline's excellent accuracy potential.
"Flash Forged Technology represents the latest in carbon fiber structural manufacturing," said Jason Christensen, CEO of Christensen Arms. "Instead of maintaining the status quo of 'overbuilding' a product to meet safety standards, Flash Forged Technology employs an engineering approach to achieve the lightest possible structure while exceeding crucial strength and safety margins."
The FFT stock comes with stainless steel bedding pillars and spot bedding, and is available in four different finishes, including black with gray webbing, green with black and tan webbing, and Gore Optifade Subalpine or Elevated II. All FFT stocks come with a straight comb and a generous rubber recoil pad that effectively reduces the punch of magnum recoil.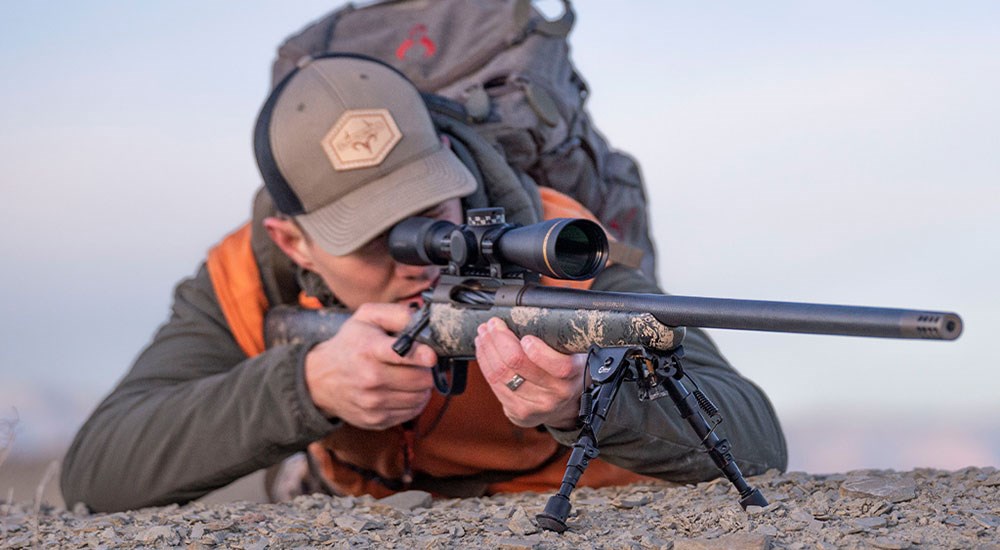 Coupled with the new stock, the FFT Ridgeline comes with a light target contour Christensen Arms carbon-fiber-wrapped barrel with a removable stainless steel side baffle muzzle brake. The barrel design offers the rigidity of a target barrel with less weight and improved cooling. The hand-lapped 416 stainless barrel is button rifled and features a match chamber, and is mated with Christensen's Natural Stainless or Burnt Bronze Cerakote action. The new model comes with an FFT bolt knob and hinged floorplate, and all of these rifles are equipped with TriggerTech triggers. The receiver is drilled and tapped for 6-48 Remington 700 bases. There are also several left-handed Ridgeline FFT options.
There are currently 19 chambering options available, ranging from .22-250 Remington to .300 Remington Ultra Magnum. Included on the list are popular long-range shooting and hunting rounds like the 26, 28 and 30 Nosler, 6.5 Creedmoor, 6.5 PRC and .300 PRC. There are also many classic chamberings, including .243 Winchester, 7mm-08 Remington, 7mm Rem. Mag., .308 Win, .30-06 Sprg. and .300 Win. Mag. For those who live is states where straight-wall cartridges are mandatory, there's also a .450 Bushmaster offering that comes with a detachable box magazine. All Ridgeline FFT rifles (with the exception of the .450 Bushmaster) are guaranteed to shoot sub-MOA, though based on my experience with Christensen Arms rifles I'd suspect that in the right hands and with the right load many will do considerably better than that.  
Thanks to the Ridgeline FFT's new stock and barrel these rifles weigh in at as little as 5.3 pounds. That makes this an ideal mountain rifle, but the truth is, the Ridgeline FFT is suitable for hunting any game anywhere and at any reasonable range.
The Ridgeline FFT has an MSRP of $2,399.99. For more information, visit christensenarms.com.