by
posted on June 14, 2022
Support NRA American Hunter
DONATE
Though I absolutely love those rifles which have been with me for decades, and have shared so many indelible memories, I still get excited to see the new crop of rifles introduced each year, and always ponder the possibilities of creating new memories with a new model. A hunting rifle can become a life-long friend, but like any friend, there's the first time you meet, and like so many friendships, sometimes things don't work out. Whether it's a long-range bolt gun for sheep, elk and antelope, or a thumper of a lever gun destined to pursue bear in the spring vegetation, or an all-around deer gun, the possibilities are endless. Let's take a gander at what's new for 2022 for the American hunter.

1. Marlin 1895 SBL and Trapper
Rescued from the dustbin by Ruger, Marlin was purchased in the breakup of the Freedom Group, and they are coming back with a vengeance. The first of the new Marlin rifles to come off the line was the Model 1895 SBL, with its large lever loop, 19-inch barrel, stainless steel metal and Marlin Horse and Rider logo engraved on the bottom of the grip, and chambered in .45-70 Government. Reviews were shining, from both reviewers and customers alike. Marlin has now followed up with a Trapper version of that rifle (pictured), with a 16.10-inch barrel and the excellent Skinner Sights front blade and rear peep installed at the factory. If you like a .45-70 lever gun, look long and hard at the new pair from Marlin. MSRP: $1,349-$1,399; marlinfirearms.com.

2. Nosler Model 21
Nosler's team of rifle designers has whipped up a winner with the Model 21. Designed first and foremost as a hunting rifle, this synthetic-stocked little gem can deliver the goods in the deer woods, the antelope prairie or the sheep mountains. Using a dual-lug spiral bolt, TriggerTech trigger and Shilen match barrel, the Model 21 is a wonderfully accurate rifle.
I had the opportunity to take a quartet of axis deer on the Hawaiian Island of Molokai with the Model 21, and came away from the experience very pleased. The stock has a classic hunting-stock profile, with a graceful pistol grip and fore-end, and a comb designed for use with optics. Available in cartridges from 22 Nosler to .375 H&H Magnum, the Nosler Model 21 might just be your new best friend. MSRP: $2,795; nosler.com.

3. Winchester Model 1895 High Grade
Teddy Roosevelt's "Big Medicine" is back, and it's even available in his pet .405 Winchester. When it comes to a lever-gun, most associate the design with a tubular magazine; this is not the case with the '95. John Browning designed a lever gun which felt familiar, yet could easily handle the rimless, higher-pressure cartridges like the .30-40 Krag and .30-06 Springfield (both available in the current '95).

During President Roosevelt's 1909-1910 safari, he relied on his .405 Winchester to sort out all kinds of game, including lion. While lion are becoming increasingly rare, the Model 1895 High Grade in .405 Winchester would make a fantastic bear rifle, as well as a woods gun for deer, moose and elk. Talk about nostalgia! MSRP: $1,759.99-$1,829.99; winchesterguns.com.

4. Savage 110 Magpul Hunter
Here we have a classic hunting rifle action, housed in a modern stock which might be best described as feeling better than it looks. The Savage 110 barreled action is wonderfully accurate—the floating bolt head, barrel nut and hand-straightened barrel make a great combination—and the Magpul stock lends itself to both hunting scenarios as well as at the target range.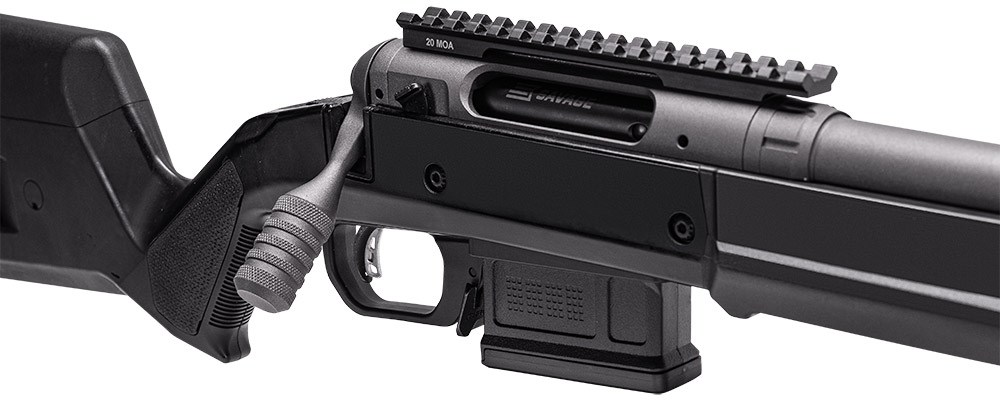 The stock features an aluminum bedding block, and is adjustable for both length of pull and comb height. The action is factory blueprinted, and is mated to a heavy, 18-inch barrel, threaded at the muzzle. The 110 Magpul Hunter is chambered in two short-action cartridges synonymous with accuracy: the 6.5 Creedmoor and .308 Winchester. The receiver is topped with a 20-MOA pic rail. The Magpul Hunter comes with a five-round Magpul magazine, and is available in both left- and right-handed options. MSRP: $1,045; savagearms.com.

5. Remington Model 700
I can't comment too awful much on this one, other than to assure you that the rebirth of the world-famous Model 700 is imminent, and the folks producing it describe the rifle as having "all the features you'd ever want in a Model 700." Seeing as how the new company kept the operation in Ilion, New York, and retained the majority of former employees, I am excited to experience the latest rifle in the series from America's Oldest Gunmaker, which dates back to 1816. MSRP: $519-$839; remarms.com.

6. Browning X-Bolt Western Hunter LR
There is no denying that the Browning X-Bolt has cemented its place in American rifle history. With its 60-degree bolt throw, two-position tang safety (you can safely unlock the bolt in the safe position by depressing a small button atop the bolt handle) and adjustable comb, the X-Bolt Western Hunter LR is set up for those longer shots on elk, mule deer, sheep, caribou and similar game. With barrel lengths of 24 and 26 inches—depending on the chambering—the X-Bolt Western Hunter LR is jam-packed with all sorts of features from a muzzle brake to textured grip panels to a well-designed detachable magazine, replete with a synthetic stock in a modern camo finish. I own an early model in 6.8 Western, and the entire package is absolutely lights-out accurate, and wonderful to use in the field. MSRP: $1,199.99-$1,299.99; browning.com.

7. CZ 600
When it was announced that CZ would be discontinuing their famous Model 550 rifle—a controlled-round-feed design that many hunters have come to love—shooters were eager to see what would replace it. The company introduced its CZ 600 series late last year, being a push feed design with plunger ejector, which would be more economical to produce. With innovative features like a magazine lock—which converts the detachable magazine to fixed – a tang safety, and the choice of walnut or synthetic stock, and aluminum or steel receiver, the CZ 600 has, thus far, seemed to please. It has shown to be an accurate rifle, and the hunting models surely aren't hard on the eyes. However, just as a word of warning, CZ has recently issued a recall on all models, due to a mechanical issue, so if you've already purchased one, check back with CZ to get the issue resolved. MSRP: $749-$1,199; cz-usa.com.

8. Henry Big Boy Deluxe Engraved 4th Edition
A lever gun chambered for a beefy pistol cartridge has a certain allure, and for those of us who do out hunting at closer ranges—such as those situations presented by the Northeast woods—they check almost all the boxes. Henry Rifles, with the motto "Made in America, or Not Made at All" is offering a limited edition of 1,000 rifles in their engraved Big Boy Rifle.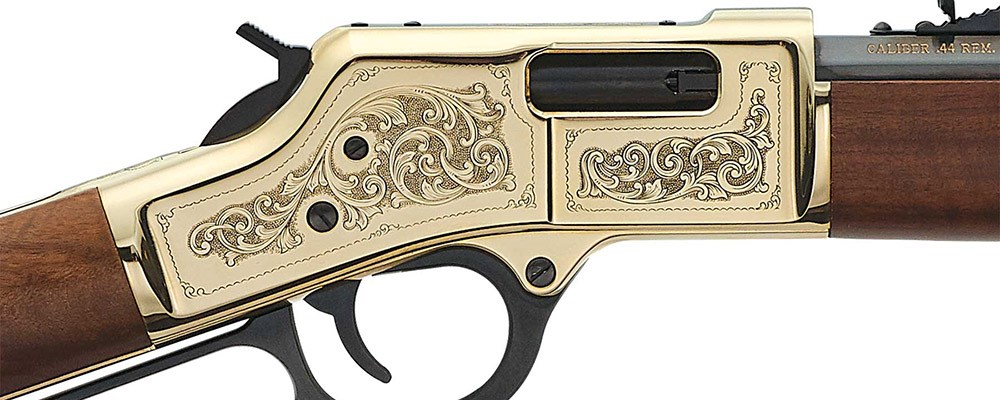 Chambered for the .44 Magnum cartridge, and offering that signature brass receiver and a 20-inch octagon barrel, the Deluxe Engraved 4th Edition is the kind of rifle that could be handed down to a grandson, and taken afield with pride. Drilled and tapped for a scope mount—low and over the bore—the Henry Big Boy is as useable as it is handsome, and has recently become a symbol of American pride. MSRP: $2,161; henryusa.com.