by
posted on March 29, 2022
Support NRA American Hunter
DONATE
Once the sun went down it got even colder. We were preoccupied with frozen feet and numb fingers as we packed up the amazing amount of gear that had collected on the benches throughout the afternoon.
Nobody was talking much as we hauled it all to the trucks. I still had my electronic earmuffs on, mostly to keep my ears from freezing. Mike Brookman was helping Paul Morris put the gun in a case and I could hear one of them say, "Damn, that's one hell of a rifle." "Yes it is, I really want to own it," was the reply.

To put this in context, we were so cold and worn out after a day of shooting in mid-winter that nobody felt like talking. I think Gal Gadot could have stopped by to help pack without raising a comment.
Just prior, we had finished a long day of shooting, including the new Savage 110 Magpul Hunter rifle. As dusk approached and everybody was cold and dreading the long drive home, I made a decree.
"Nobody leaves the range until they make a 500-yard head shot with the Savage rifle."
They grumbled, but it was my ammo, so that was mostly for show. It took four shots for three of us to succeed, but only because I went first and missed a wind call with my first shot. So, spoiler alert, yes, I like this rifle.
But let's start with what I don't like. It may be generational, but what's with all the short rifle barrels lately? Did I miss a memo? Whatever happened to the traditional hunting rifle barrels of 22 or 24 inches? Is that just a Boomer thing now?
Given the threaded muzzle, it's clear that this rifle is designed to be used with a suppressor. So, I suppose it makes sense to have a shorter barrel so the overall length doesn't get out of hand. But a short barrel comes at a cost. I compared the velocity from the 18-inch barrel to my records with the same ammo from a rifle with a 24-inch barrel. The average velocity loss from the short barrel was 160 fps. Sure, some of that is because we were shooting in 20-degree weather, but it's still not an insignificant loss.

On the pro side of a short barrel, it is much easier to maneuver in and out of a vehicle. It's also much better in a blind or tight stand. There is one more check off in favor of the shorter barrel; there is a school of thought that says a shorter barrel is stiffer and therefore more accurate. Certainly this rifle did nothing to disprove the theory. It's one of the most accurate hunting rifles I have tested in my very long writing career. The only reason I didn't say it's the most accurate hunting rifle I have ever tested is because I didn't want the hassle of poring over 40 years of records to prove the statement correct. But, it is.
The group size average for nine three-shot groups with three ammo products picked at random is .6 inch. This is the first time out with the rifle, no break in, I just sat down and shot groups. It can only get better from here.
The rifle comes with a factory blueprinted 110 action that is available in right or left hand. The barrel is 18 inches and threaded ⅝-24 at the muzzle. It comes with a thread protector. The barrel is a heavy contour and carbon steel coated with Tungsten color Cerakote, as is the receiver and bolt handle.
The barreled action is mated with a Magpul Hunter stock with aluminum bedding block. I have used this stock on several rifles I have built and have been very happy with its performance. The Magpul stock is fully adjustable for length of pull from 13-15 inches by removing or adding spacers. It has M-LOK slots on the fore-end sides and bottom for mounting accessories. The AccuTrigger is adjustable from 1.5 to 4 pounds and came out of the box at 2.75 pounds.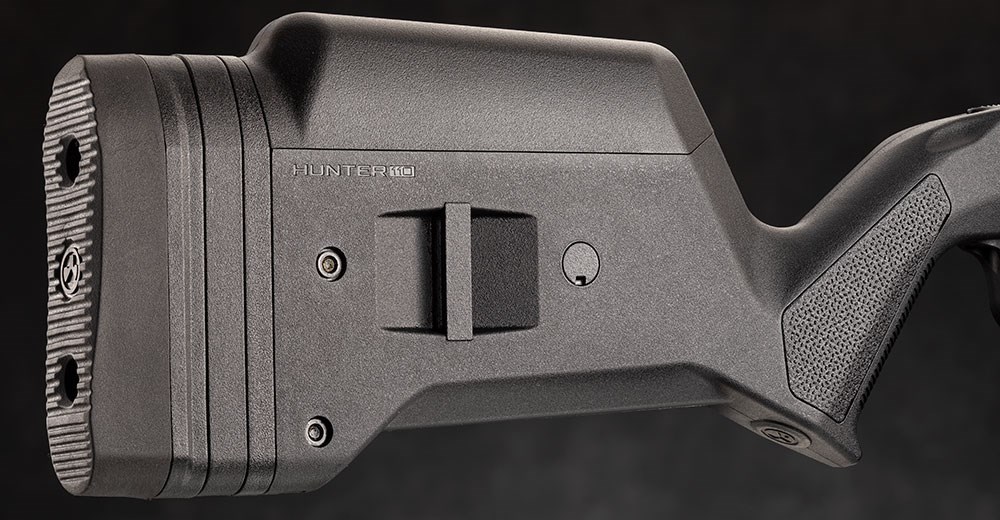 The bolt has an oversize, knurled knob. In recent years I have come to really like the bigger knobs on hunting rifles as they are fast to operate, particularly with gloves. The action is relatively smooth and works fast. The gun ran very well with no failures to feed or eject. It comes with a five-round AICS Magpul magazine, and of course can accept other AICS magazines. Fit and finish are on par with most new Savage rifles, good if not edging to excellent.
One thing I like is that the receiver is drilled and tapped for oversized 8-40 screws. This added mounting strength plays well with the big, heavy optics often used for long-range shooting today, aiding in keeping the scope on the rifle where it belongs. The rifle comes equipped with a one-piece 20 MOA rail for mounting the optic. I used a Zeiss Conquest V4 6-24x50mm MOA tactical scope for all the testing. This is not a small scope, but I experienced zero problems.
The Savage 110 Magpul Hunter is available in .308 Winchester and of course 6.5 Creedmoor. I begged and pleaded for a .308 Win. Not a thing wrong with the 6.5 Creedmoor, except the last eleventy-two million guns I have tested have been chambered for that cartridge. Of course, the gun arrived in 6.5 Creedmoor. I guess it's a testament to the popularity of the cartridge.
The 6.5 Creedmoor comes with a 1:8-inch rifling twist rate so it can handle a wide range of bullet weights well, including heavy-for-caliber bullets that made this cartridge's reputation.
My two friends often help me with gun testing, so they are pretty used to seeing what comes through the door, including some excellent rifles. I have never seen a rifle elicit a response from them like this one. They really, really liked the rifle, and I am surprised they let me take it home!
I think I heard something about the frozen ground being too hard to bury my body, but by then the cold was killing the batteries in my earmuffs.

Technical Specifications
• Type: bolt-action, centerfire rifle
• Caliber: 6.5 Creedmoor (tested), .308 Win.
• Magazine: AICS detachable box, 5-rnd. capacity
• Barrel: 18"; carbon-steel; heavy contour; button-rifled; 1:8" RH twist; ⅝-24" threaded muzzle
• Trigger: AccuTrigger; single-stage; pull weight adjustable 1.5-4 lbs.
• Sights: none; drilled and tapped for optics
• Safety: 3-position, tang mounted
• Stock: Magpul Hunter 110; reinforced polymer; matte black; LOP adjustable 13"-15"
• Metal Finish: Tungsten Gray Cerakote
• Overall Length: 38.5"
• Weight: 8.9 lbs.
• Accessories: 20 MOA Picatinny/Weaver rail; trigger adjustment tool
• MSRP: $1,045; savagearms.com