by
posted on June 20, 2017
Support NRA American Hunter
DONATE
By Fred E. Shirk, Lawrence, Kan.
When I was in high school back in the mid-'50s, I met a guy in our FFA chapter named Don. After we graduated, he enlisted in the Army and I went to work at a local phosphate chemical plant. When he came home, he went to work at another local chemical plant making fertilizer. Little did we know back in those days, asbestos was used in all of the chemical plants. But we had families to raise and lost track of each other.
We were at a mutual friend's funeral, and afterwards we went for some coffee and caught up; we both loved hunting and the outdoors, and we each had bought some land. I had a few lots in a country cemetery where my family was buried on a hillside overlooking a valley, and Don often commented on how much he liked the place. I told him I had a couple extra plots he could have, but he wanted to buy them. I insisted that they weren't for sale. Instead, I told him we could trade the lots for his old turkey gun and squirrel rifle, and the deal was struck. He had bought some ground and asked me to go squirrel hunting with him. This led to my asking him if I could deer hunt on his property, which he graciously allowed.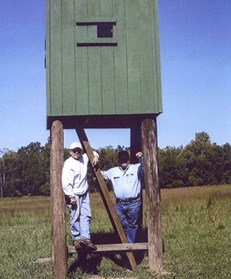 The next year, we built a blind that looked like an outhouse, but without a hole in the seat area, and it only had room for one person. Don went to his favorite spot under a cedar tree, and I went to the new deer blind. I used the "outhouse" for two more years. We also built a deer stand on four telephone poles and named it the "penthouse." Don again went back to his cedar tree that deer season, and I climbed up into the new "penthouse" stand.
Over the years, Don started having trouble getting his breath, and his will to hunt slowed down. But he would always go to his old cedar tree. During our last year of hunting together, he said he would like to hunt the "penthouse." That fall, I drove him to the stand and helped him get up the eight steps. I handed him his Ruger in .270 Win. and said I would be back at dark. Upon returning, I helped him down the ladder to my pickup. It was then I knew in the back of my mind that this would probably be his last hunt.
Don had been going to the doctor because of his breathing issues and was going again once more. After running several tests, they found lung cancer. As time passed, Don became sicker and weaker, spending several days at a time in the hospital. On one of his trips to the hospital, one of his sons and I were talking, and he mentioned his dad wasn't going to last much longer. I asked if the family knew that Don and I had worked out a deal on two plots in the country cemetery. He told me that his dad had never said anything about it.
I had been at the hospital with all his family, but I left so they could have time together. I got up about 3 o'clock the following morning and went to the hospital again. I walked down the hall to his room, but when I stepped inside, it was empty. I then walked back to the nurses' station and asked if they had moved Don to another room. The nurse asked if I was family, to which I replied, "Almost." She explained that Don had passed a half-hour before I arrived.
I remember just looking down and looking back up with tears in my eyes. I thanked her, walked to my pickup and sat in the dark parking lot for quite some time.
A few days later, we buried Don on the hillside in the country cemetery. His wife sold the old farm, and she passed away shortly after. She now rests beside her husband on the hillside we bargained for years ago. Since then, I've never gone back to the farm with the "outhouse" and "penthouse" deer blinds, but I still remember the time spent building those stands, as well as the hunts that took place within each of them.
Do you have an exciting, unusual or humorous hunting experience to share? 
Send your story (800 words or less) to [email protected] or to American Hunter, Dept. MH, 11250 Waples Mill Road, Fairfax, VA. 22030-9400. Please include your NRA ID number.  Good quality photos are welcome. Make sure you have permission to use the material. Authors will not be paid, and manuscripts and photos will not be returned. All material becomes the property of NRA.