by
posted on February 23, 2016
Support NRA American Hunter
DONATE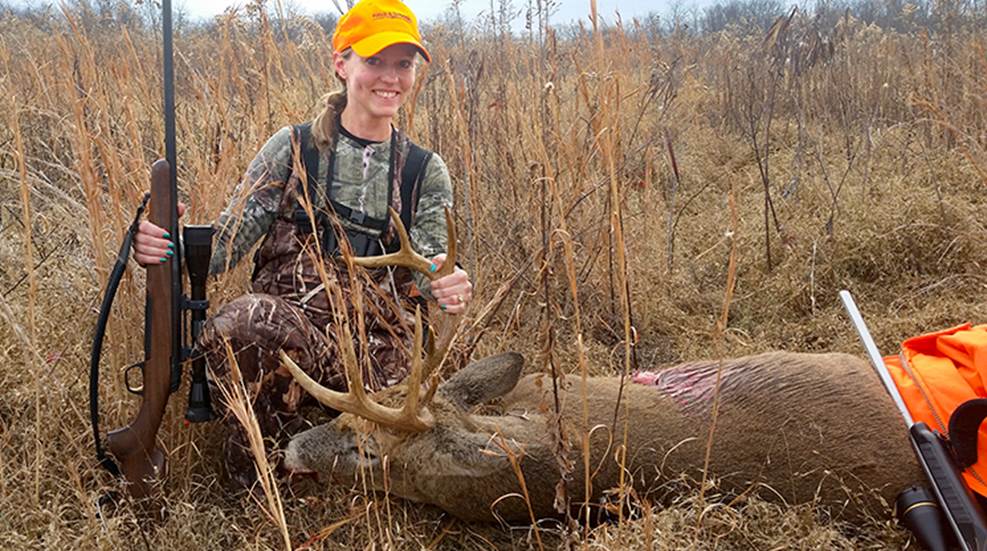 By Erin Prajzner, Hampstead, Md.
"Well, I sure am good at missing the big ones," I lamented to my father, my hope fading as we combed the tall milkweeds and fallow grass of the Maryland farm we hunt every fall, looking for any sign of blood.
I had missed a big buck last year during early muzzleloader season. In fact, I was pretty sure I'd missed more bucks than I had shot in my seven years of hunting. I was tired of missed shots.
As a teacher and a mom, it is hard for me to make time for hunting. I steal time here and there, usually only half-days. I've been satisfied through the years with peaceful mornings and evenings spent in the woods—the quiet moments where I disappear into the landscape as critters carry on around me: owls hooting at dawn, a raccoon running along the creek, woodpeckers hammering away on tree trunks, noisy squirrels collecting acorns, sneaky foxes skirting the perimeter of my range. I've also been satisfied with shooting small bucks through the years, because my responsibilities at home might keep me from another hunting opportunity during any given season. Small bucks still make good memories and put food on the table.
"Don't give up yet," Dad said as we continued looking for a blood trail. "I have faith in you, your gun and your shot."
That first day of rifle season had dawned unseasonably warm. As I made my way to my treestand before sunrise, I contemplated my goals: stay calm, don't anticipate the recoil … and don't miss. The wind was favorable, blowing off the field and into the woods. I knew the big bucks liked to make their way from the field into the woods early to lie down for the rest of the day. I figured my best shot at a big buck would be in the early morning on opening day, before they got an education from all the gunshots in the area.
Slowly the sun started to light the sky, the field and the trees in the woods. With each passing minute I could see more of the landscape, but no critters stirred. I turned to scan the field over my right shoulder and there he was, a massive-bodied buck with a head full of antlers. He strolled lazily along the tree line toward my stand, stopping to check his scrape. I didn't need to count all those points: The decision was made instantly.
I kept one eye on the buck as I set up for the shot. My stand was situated in a tree with a Y-shaped trunk, so I stood up, steadied each elbow on the sides of the tree and brought the Leupold scope to my eye. My heart was racing uncontrollably—so much for staying calm. I lowered the scope and took a few deep breaths. The buck was still walking along slowly, so I centered my field of view between the next two trees in his path. As soon as he stepped into the crosshairs, I pulled the trigger.
I saw the deer take two steps, and then nothing. Where did he go? I chambered another round and searched with my binocular, hoping to see movement or the glint of sunlight off an antler. No such luck. My dad joined me, and we looked for blood.
Seven years of hunting led me to this point—tracking the monster whitetail I had spied lazily checking his scrape at dawn along the tree line 60 yards from my stand. I was not sure if I had hit him. When my dad questioned me about my shot, I described my setup: both arms steadied against the two limbs of the natural Y in my tree, deep breaths to calm my shaky hands, the crosshairs of the Leupold scope on my Browning .308 zeroed in on the buck's massive chest. 
"Don't give up yet," Dad said as we continued to look for a blood trail. Five minutes passed, then 10. It was an eternity. "I have faith in you, your gun and your shot," he assured. 
Finally, I spied red on the leaves of a tall plant.
"Dad, there's blood!" 
Relief flooded my mind—I must've hit him! And seconds later, "There's your deer!" Dad exclaimed. 
The buck was magnificent, the shot right through the lungs. My dad shook my hand and gave me a big hug. For a couple of years, I had been saying to family and friends, "My trophy is still walking around in the woods, he just doesn't know it yet." 
As a busy mom and teacher, I get little time to hunt. But plenty of target practice and reflection on past mistakes finally paid off. ah
Do you have an exciting, unusual or humorous hunting experience to share?
Send your story (800 words or less) to [email protected] or to American Hunter, Dept. MH, 11250 Waples Mill Road, Fairfax, VA. 22030-9400. Please include your NRA ID number. Good quality photos are welcome. Make sure you have permission to use the material. Authors will not be paid, and manuscripts and photos will not be returned. All material becomes the property of NRA.