by
posted on August 24, 2019
Support NRA American Hunter
DONATE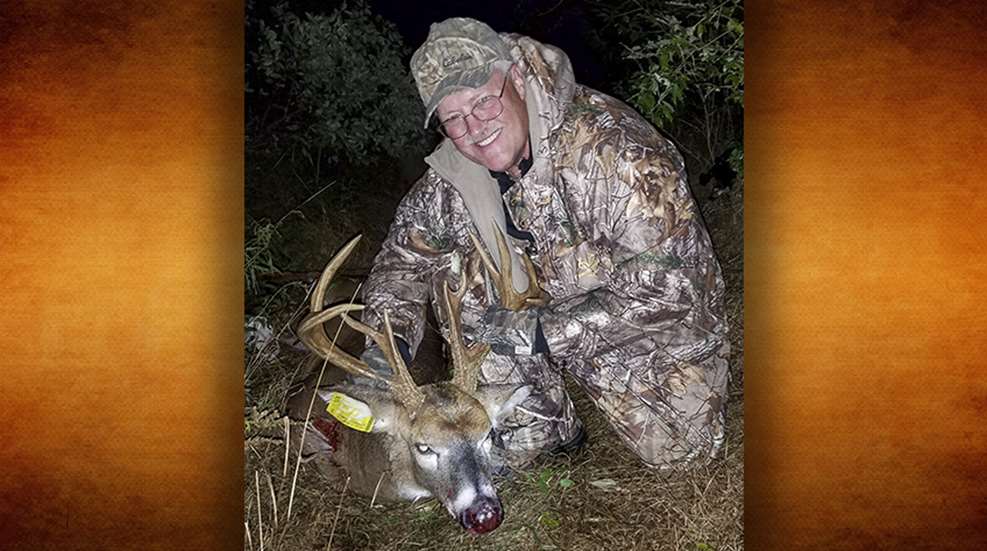 By Michael Bath, Orangeville, Pa.
I first saw this 225-pound (after field-dressing, no less) 10-point brute on my trail camera. But it was always in the middle of the night when he'd appear. After seeing these brow tines, which turned out to be 8 and 7 inches tall, I knew this was my target.
I figured out where he was living during the daytime, but nine hunts later I began to second guess myself. I knew I had it right, though. I had him on a trail camera, and he was always coming out about 20 minutes after dark. But the rut started with a full moon, and I started with a twisted knee about three weeks earlier, which only got worse. I later discovered I'd fractured the top of my tibia.
Considering my favorite deer stand is comfortable and even has a heater, I convinced myself to sleep overnight for a two-day hunt. My wife and especially my daughter were not happy with this decision, but my son knew I would be okay.
So early on Oct. 24, with the full moon coinciding with the recently started rut, I headed out for the 400-yard walk to my deer stand. With a 35-pound backpack stuffed full—including one thermos of hot coffee and a second thermos of hotter coffee for the next day, two days of food, a knife, hand wipes and other necessities—and my shoulder side pack holding another 15 pounds of gear consisting of a binocular, calls, scents and other hunting odds and ends, I set out with a cane in one hand and my crossbow over my shoulder. It didn't take long for me to second guess myself, but those brow tines just made me truck harder. Finally, after several stops to rest my knees, I arrived at my stand.
While still dark, everything was unloaded and put in its place. It was a long day, starting at 7 a.m., and it wasn't scheduled to end until 6:40 p.m. Nearing the end of day one, I was a little disappointed. I thought there should have been more action. The sun began to go down as 6 o'clock rolled around and does started to come out with a few younger bucks close behind. I watched two areas, one on each side of my stand, trying hard not to focus too long on either side.
At 6:20, as I turned my head to change points of observation, here came the buck on a trot past me at 25 yards. The sun was dimming, and I raised my binocular to confirm it was him. Yes, indeed it was, but the buck was at 60 yards and heading farther away toward the hot does and younger bucks.
Suddenly, he turned back, chasing a doe heading slightly toward me. I brought my Parker crossbow up and was ready. Not knowing where this doe was going, I stopped the giant buck with a baww at 45 yards and quickly took what may have been my best shot.
But there was a problem. The brute stopped, yes, but he was quartering toward me when he did. I'd take that shot every time with a rifle, but with a crossbow I'm not so sure. Is there a harder archery shot? Not in my book.
I pulled the trigger and listened to the whoosh of the bolt, followed by the thud of the impact. Off he went, back into the pines where he called home. I called my son knowing he'd be able to come and help. He got the yard tractor out, put the wagon on the back and headed down the path in my direction.
By this time it was dark, so finding a bolt or blood trail wasn't going to be easy. I found no bolt and no blood. So I followed the trail the buck ran on, and there about 40 yards down the path, I found blood, and a lot of it (the next day I found the bolt, about 20 yards from the hit, right where he left the field). Another 35 yards and there he was. He only traveled 75 yards in total. It was a perfect shot.
Looking at those brow tines, I was beyond excited. The only other whitetail buck I could find with brow tines this high and with a front-facing "Y" on top of each tine was the "Brow Tine Buck" of 1870.
For several years I didn't pull the trigger because an 8-point just wasn't big enough or wasn't the one I was after. I'm now 66 years old, and this was buck No. 45.
---
Do you have an exciting, unusual or humorous hunting experience to share? 
Send your story (800 words or less) to [email protected] or to American Hunter, Dept. MH, 11250 Waples Mill Road, Fairfax, VA. 22030-9400. Please include your NRA ID number. Good quality photos are welcome. Make sure you have permission to use the material. Authors will not be paid, and manuscripts and photos will not be returned. All material becomes the property of NRA.