by
posted on November 20, 2021
Support NRA American Hunter
DONATE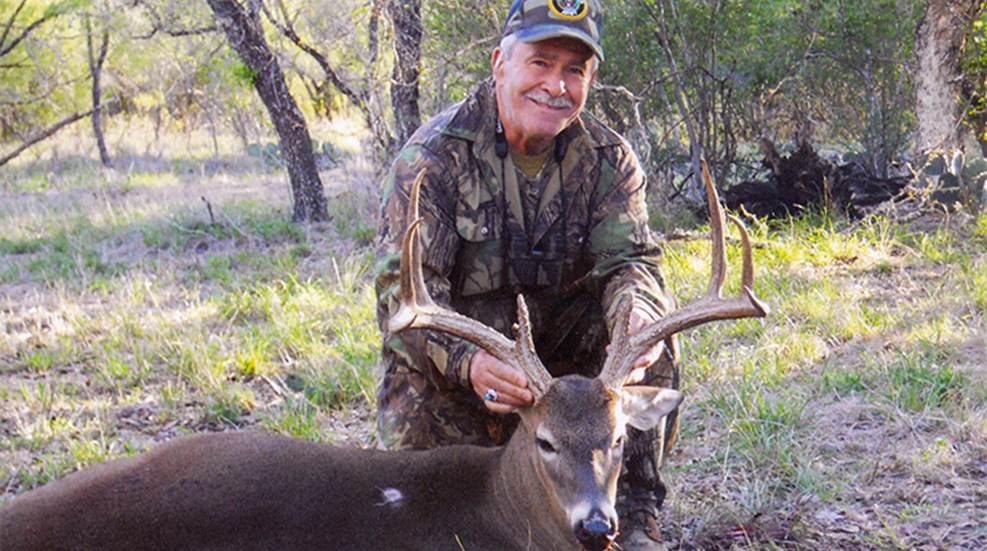 By Frank Gentile, Hopewell, N.Y.
It was October 2011, and I was back in my Chevy Tahoe on my way to another hunt. This time, instead of my son, I was traveling with my hunting buddies. My buddies and I had been on plenty of trips together before but never to Texas! Between the four of us and gear for six (two of our team opted to fly from New York to San Antonio), every single spare inch of space in the truck had been utilized.
With each of us taking turns driving, we made it to Texas in about 20 hours. We got dinner and hotel rooms in Texarkana, and were back on the road early the next morning. With a day to spare before we were due at our hunting camp in Hondo, Texas, we headed south with plans to enjoy the city of San Antonio along the way. In San Antonio, we explored the Alamo, the River Walk and the Buckhorn Saloon and Texas Ranger Museum. What a great city!
Our first order of business after arriving at the camp the next morning was to make sure that our rifles were on target. With that complete, we were off to our first afternoon hunt. At this camp, there was one guide for every hunter, and your guide stayed out with you the entire time. The treestands were made of fiberglass and completely enclosed. This was exciting. It was also my first time hunting whitetails on active feeders. The feeders were located about 100 yards directly in front of my treestand, and I had about 150 yards to my left and right of clear shooting. When the feeders went off, they reminded me of the ringing of a dinner bell; I never in my life saw so many deer in front of me at one time! The guide was very clear in designating what I could and couldn't shoot: I was paid up for a deer in the 130- to 140-class range. Despite my excitement over seeing all of those deer in one place, the right deer didn't show. It was not the day for my shot. Dinner back at the camp was great, but breakfast came very early, so a good night's sleep was my plan.
I was back in the same stand the next morning. It was early and still pretty dark. I thought I had seen some movement but couldn't see exactly what it was. As the day woke up, the feeder went off, and once again, deer were everywhere! I've still never seen so much horn in one place!
About 150 yards to my right was a lonely buck. He was feeding and getting closer. As I picked up my binocular to get a closer look, my guide remarked, "Nice deer." As I studied him, I noticed some movement on the ground, and to my surprise, feeding right next to the deer was a raccoon. The raccoon fed and moved closer to the buck, and at this point, I didn't care about the feeder or the dozen or so deer to my left. I was completely focused on this odd duo.
The deer kept cutting the distance, as did the raccoon, and was about 50 yards away—just as I was thinking what a nice trophy he would be—when the big let-down came from my guide: "I think he's over 140." My eyes still didn't waver from those two animals. Now they were coming towards the treestand, stopping here and there to eat. Even my guide couldn't get over how content these two animals were in each other's presence.
Knowing that this may not be the one for me due to his size, my eyes roamed over the remaining deer at the feeder. Two nice looking bucks were nearby, but were obviously out of my class—they were at least in the 200-inch range, too big for my wallet. I turned over to the guide, who had now taken a photo of the deer with his "rangefinder-camcorder-cell phone" to send to his foreman in hopes of getting the go-ahead for a shot. I couldn't believe how detailed the rack looked on this 4-inch screen. I didn't want to let this one get away, and I soon found out that I didn't have to.
My guide received the green light from his foreman, and tapped me on my shoulder to take the deer.
By now, the deer had started to move farther away, about 140 yards, still feeding and walking. My heart was pounding, and once again doing double-time. I had the buck in my scope, and when he turned broadside to look at the raccoon I took the shot. He went down as if hit by a locomotive. It is amazing what a 150-grain bullet can do.
Back at camp, it was measuring time. It turns out the guide was spot-on and was right to be cautious. The big 8-point buck measured 139⅝ inches.
---
Do you have an exciting, unusual or humorous hunting experience to share? 
Send your story (800 words or less) to [email protected] or to American Hunter, Dept. MH, 11250 Waples Mill Road, Fairfax, VA. 22030-9400. Please include your NRA ID number. Good quality photos are welcome. Make sure you have permission to use the material. Authors will not be paid, and manuscripts and photos will not be returned. All material becomes the property of NRA.