by
posted on October 26, 2019
Support NRA American Hunter
DONATE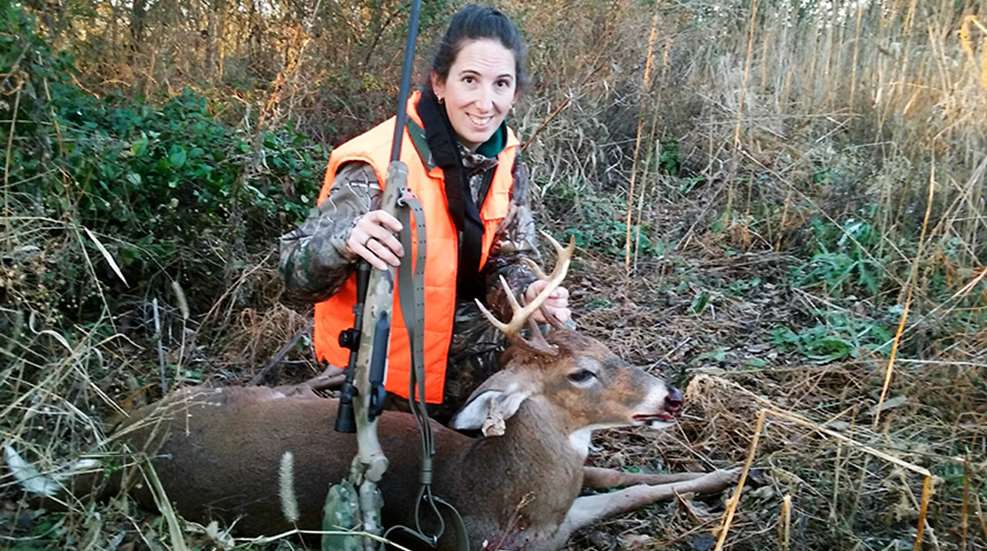 By Nicholas Culler, Frederick, Md.
I started hunting when I was 12, mostly on my family's farm. It has become a passion for me, one that I've carried into my adult life. My wife, Rebecca, while very understanding of the time I spend in the field each fall, never really exhibited a desire to hunt. However, when she finished her master's degree in environmental biology, she gained a greater appreciation for hunting and a desire to eat meat that was more environmentally sustainable. This led to her expressing an interest in hunting, and I was only too happy to have her along. Upon her successful completion of the hunter-safety course, I had a new hunting partner.
Already an accomplished pistol shot, it didn't take Rebecca long to become proficient with a rifle and shotgun. Wanting to extend her opportunity to hunt deer, I surprised her with a compound bow for her birthday. She practiced all summer in preparation for the upcoming season.
That was three years ago, but unfortunately luck was not on her side during those early seasons. The closest Rebecca got during that time was drawing her bow on a doe that had come in to around 30 yards. Unsure of a clean kill, she passed on that shot. I saw she was disappointed, but I was proud of her for not wanting to wound an animal. Her frustration set in, but I did the best I could to encourage her and keep her going.
When she asked how I was able to bring home several deer a season, I replied, "Hunting is about patience and persistence."
The 2018 deer season rolled around and Rebecca hunted hard, despite the rough weather. On the opening weekend of rifle season, we set up on a stand overlooking a recently harvested cornfield. About an hour after we had settled in, I caught a flash of movement along the tree line at the far side of the field and promptly pointed it out to her.
"There's one, and it's a buck," I whispered. "Do you want to try and shoot it?"
"Yes," she said, after a moment's hesitation. She raised up my GA Precision Non Typical in .300 Win. Mag. and got into a solid, supported position.
I ranged the buck and dialed the adjustment on the scope for her. We watched as the buck turned to offer a perfect broadside shot.
"Aim right behind the shoulder. Whenever you're ready, pull the trigger," I whispered to her.
She took a couple of deep breaths and fired. The buck jumped and ran, crashing into the tree line.
"You got him! I think he just went down!" I exclaimed.
Rebecca, however, didn't share my enthusiasm. I could tell she was concerned that she might have wounded the buck, something she had always worried about.
After a short wait, we left the stand to track the buck. Tracking, however, proved unnecessary. Rebecca's buck was piled up at the base of a tree, exactly where I thought he'd dropped. The look on her face is one I'll never forget—a mix of joy, elation and relief. We embraced and held each other tight, laughter and tears coming from us both.
We pulled the buck out from under the tree to get a complete look at him. He had 8 points, not large, but with a symmetrical rack and long brow tines. Moreover, her shot was right behind the shoulder—a perfect double-lung. After dragging the buck out, Rebecca proceeded to dress it out herself. We stood with our arms around each other and admired her buck one last time before dropping him off at our processor. Rebecca's patience and persistence had finally paid off, and I couldn't have been happier for her!
---
Do you have an exciting, unusual or humorous hunting experience to share? 
Send your story (800 words or less) to [email protected] or to American Hunter, Dept. MH, 11250 Waples Mill Road, Fairfax, VA. 22030-9400. Please include your NRA ID number. Good quality photos are welcome. Make sure you have permission to use the material. Authors will not be paid, and manuscripts and photos will not be returned. All material becomes the property of NRA.