Support NRA American Hunter
DONATE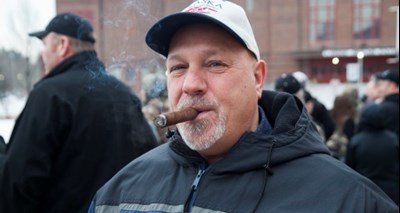 "You don't have to be a hunter or shooter to be a member or Pro-NRA, because there wouldn't be the America we have today without it!" said staunch NRA supporter and Life Member Gabe Dellaventura of New York, as he puffed on his sweet-smelling stogie, keeping the general area warm with enthusiasm.
Thousands lined the cold concrete outside the Pennsylvania Farm Show Complex and awaited the 9-o'clock hour for their chance at bargain goods, hot new for 2015 products, and even chocolate covered bacon—a vital event for vendors and cottage industry presence, some of whom count on Harrisburg every year as a  mean income.
At the front of the cold and quivering line stood the lead protagonist and veteran of the outdoor show, Roy Kolk of Levittown, Penn. We asked Roy what time he arrived to gain the crowd advantage, he meekly muttered, "Oh, 6:30 a.m. or so." Even with tickets purchased in advance, Roy was ready to enjoy his birthday amongst the gun-savvy and outdoor-oriented crowds.
The race was on like chickens fleeing the hen-house once security opened the door—beginning at the Cameron Street entrance with immediate routing to the Firearms Hall, attendee's boasting bow cases rushed the quickest, as their 9:15 3-D archery shoot was approaching.
At the Archery Hall we were greeted by the excited local resident and show-staffer, Bill Dunkelberger. Bill's story of the show dates back to roughly 1956 and he described tagging along as his father won the large deer award that year. Dubbed, "George," the ten-point whitetail is perched today at the Dunkelberger hunting cabin.
As the week begins to transpire, expect long lines but plenty of eye-candy to distract you from the sore feet and thinning wallet. Plenty of events and seminars take place, boasting something for everyone, including a Family Fun Zone; children and adults alike may reprieve the crowds with a fun and family oriented trail including games and challenges.
Visit GreatAmericanOutdoorShow.org for the most up-to-date information and download the app on your mobile device to customize a show plan with in-depth maps and facts, furthermore enhancing your experience with NRA and theGreat American Outdoor Show, February 7-15, 2015.