by
posted on February 23, 2015
Support NRA American Hunter
DONATE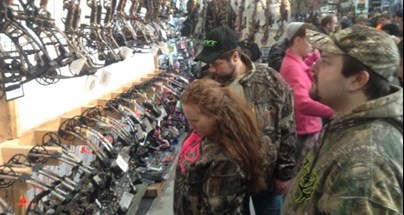 Although most of the hunting seasons in his home state of West Virginia are now closed, David Evans and his fiance Billie Jo Bennett of Maysville are up long before dawn on this second Friday in February. They know exactly where they want to be standing shortly after sunrise, and they have a long drive to get there.
Making the trip with the couple are Billie Jo's son, Alton, 14, and his girlfriend Mikayla, 15, along with family friend Darrell Lockie. It is frigid when the camo-clad group arrives at their destination, but the whipping wind does little to chill their excitement.
"We left at 5:20 a.m., and it took us about three hours," says David, checking his watch. He knows their planning has paid off. This early in the morning, with the temperature in the single digits, their spot is relatively uncrowded for a Friday. After a short wait, they are soon standing in the Shooting Sports Hall of the Great American Outdoor Show in Harrisburg, Pa.
Just inside the door, David grabs a map of the exhibit halls and together the group spends a few moments getting their bearings. Rows and rows of guns, bows, optics, knives, flashlights, ATVs, fishing equipment, boats, taxidermy and game calls stretch before them. Now to find what they came for. The hunt is on.
David, Billie Jo and Alton are bowhunters, and together they shoot in a local indoor archery league with Darrell. David also builds his own arrows, and he needs supplies. Billie Jo is thinking about getting a new bow. Darrell wants a new sight. Alton is satisfied with his rig—he killed his first deer with it last fall—but is looking for other gear.
"I hunt everything," he says with teenage enthusiasm. Mikayla laughs in agreement. "I'm here just to see what I can find."
Although the Archery Hall is at the top of the party's list, they must first navigate through the aisles of wares related to firearms, and soon they get sidetracked.
"That thing is huge," says Billie Joe, pointing to a bright yellow Champion gun safe that towers a dozen feet over the company's booth. David studies it, perhaps calculating just how many firearms he could fit inside.
A 20-yard walk later, David and Darrell are drawn to a rack of Henry lever-actions. No strangers to blue-collar jobs, they examine the guns' engraving and accents commemorating various professions and lifestyles.
Then a bin piled high with ball caps in the Benelli booth catches Alton's eye. The company is offering a free hat with its logo emblazoned on the front to anyone who trades in the cap they are currently wearing. By the looks of things, a couple thousand show attendees have taken Benelli up on the offer. Alton thinks about it but decides to keep his motorsports hat; after all, he's an avid ATV rider as well as a hunter.
School was canceled for Alton and Mikayla today because of snow, but they would have gladly missed a day of class to attend the show. It would have been perfectly fine with the Grant County School District, too.
"We can take a product back from the show and present it in class, and then the absence is excused," explains Mikayla. "It's like an educational trip."
David stops at the end of aisle to learn about flashlights at the Elusive Wildlife booth. "I'm thinking about getting a new coyote light," he says. "My old coon light, one of those ones you wear on your belt, weighs me down."
He shines a couple against the darker corners of the building's ceiling before moving on. Seems like he's thinking about a new coyote rifle, too, as a couple varminters in the Savage Arms booth draw him in. But this is a want, as opposed to a need, the latter of which causes him to pause at the Cobra booth and its racks of paracord.
"We tie our own wrist straps for our bows, and I don't think I have any cord in this color," he notes while picking up a bundle of the stuff in purple. Billie Jo smiles at his choice as David checks out and drops it into Alton's backpack.
Mossberg has rifles on display that causes the entire group to pause. Billie Jo checks out the new Blaze covered in a bright Moonshine Wildfire pattern. Darrell likes the chassis version of the MVP, while David takes a close look at the MVP Scout.
Then they're off to the Outdoor Edge booth. David already has the company's single-blade Razor knife, but he's learned of a new model called the Razor Pro with both a straight blade and a blunt-tip gutting blade. He spots one with a blaze-orange handle on the table and soon money is exchanging hands.
One aisle over, Darrell can't help but pause at the Bushmaster booth to gawk at the company's monstrous .50 BMG bolt-action commanding its own table top. Alton soon spots the Honda ATVs lined up at the end of the hall and makes a beeline for them. He's drawn to the sporty Honda TRX models, but David is interested in the Pioneer side-by-sides with their enclosed cabs.
"I have a Rancher but am thinking about a side-by-side," David says. "They're definitely a lot warmer—and drier."
After closely comparing features of two of the models on display and taking mental notes, David and the group exits the Shooting Sports Hall and heads toward their next destination. A short walk down the "Spine" hallway brings them to the Archery Hall.
They stop right inside the door at the Lancaster Archery Supply booth. Here Darrell finds some circular stickers for the lens-type bow sight he uses for the indoor archery league. He really wants a new 6X lens, but he's satisfied that "these circles will help me focus more with the sight I have now" as he checks out at the register.
The group spends more than an hour comparing bows and archery gear on display at booths set up by both national manufacturers and local shops. David comes away with a stabilizer adaptor for his competition bow and a new Hoyt hat. Alton buys a Trophy Ridge drop-away rest.
"The prices are pretty good," says Billie Jo as she examines a rack of arrow shafts at the Weaknecht Archery booth. "If you get something while you're here, you don't have to pay for shipping. And if you need it now, you can have it now."
After more than two hours of walking and standing, it's time for a break. The gang makes it way to the bleachers of the adjacent hall to watch the action of the 3D archery tournament. But for these West Virginia hunters, the day is far from over.
"I like to fish, and we need to get to the fishing stuff," says Mikayla.
"I'm really looking forward to seeing the mounts in the outfitter section," says Billie Jo.
"Well, we'll try to hit all of it before the day is over," David assures them.
Visit AmericanHunter.org and GreatAmericanOutdoorShow.org for info on next year's Great American Outdoor Show, scheduled for Feb. 6-14, 2016, at the Pennsylvania Farm Show Complex in Harrisburg, Pa.