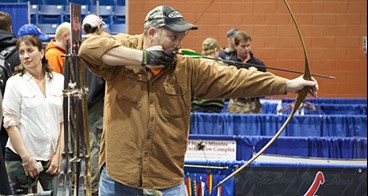 The sign said "Archery Hall," so that's what I was expecting. Upon arrival I've concluded it should be renamed "Bow Hunters' Paradise." Heck, you might as well rename the whole show because that's what it is. It doesn't matter if you're a seasoned bow hunter who tags out every year or a novice whose curiosity has just peaked, this is the place for you.
The poorly named "Archery Hall" is actually an arena filled to the brim with the latest and greatest from the big names you'd expect like Martin and Hoyt as well as the smaller "mom and pop" shops. You'll find it all, equipment from nock to point and everything in between. And expertise; these vendors hold the knowledge and are here to share it. So bring your questions with you. But it also holds perhaps an even greater treasure: the ability to actually shoot some of the newest bows and crossbows on the market. The rear of the arena houses the lanes where you'll find friendly and knowledgeable instructors from Bear Archery, PSE and Kodabow Crossbows, to name a few, who have the toys ready. So step up and let a few arrows loose. If you've never shot a bow before, this is the perfect place to try it out. For the initiated, not only will it give you a feel for the new stuff, but you'll probably walk away with a few shooting tips, too. Talk about try before you buy. With an opportunity like this, try several.
Speaking of the initiated… Think you've got what it takes? Are you a regular Robin Hood? After you're done practicing at the test lanes, walk on over to the Archery Range Hall to prove it and sign up for the 3-D Bowhunter Challenge. Weather you shoot recurve or compound, novice or pro, even crossbows, there is a class for your experience level. Did I mention there is a money class? Well there is, and it pays out $500 to the first place winner, daily! And with well over 50 life-size animal targets downrange, you bet it's going to be a darn good time regardless. I mean, when was the last time you got to sling an arrow at a caribou?
If you didn't come to the Great American Outdoor Show already a bow person, there's a good chance you'll be leaving as one.