by
posted on March 7, 2018
Support NRA American Hunter
DONATE
Turkey hunting gear has come a long way. I am old enough to remember when having a set of military woodland camo made you really hot stuff. We wore some pretty lousy hunting garb back then, but that was all we had and we simply didn't know any better. A lot of camouflage hunting clothes have come down the pike since then, some pretty good, and some not so much.
Those who run and gun for gobblers today demand the clothing and gear they wear stand up to the rigors of turkey hunting. They're also not afraid to tell you how it should be made, and will let you know in a New York minute how many pockets it should have, how the pockets should be placed, what kind of camo it should be covered in, and more importantly, how a shirt or pair of pants should feel when you put them on. If it doesn't feel "right," it's not gonna make it in the turkey hunting world.
Nomad Performance Apparel, in partnership with the National Wild Turkey Federation (NWTF), has expanded its line of NWTF-licensed apparel to provide passionate turkey hunters with the most authentic turkey camo on the market. Nomad Vice President for Business Development Jason Hart is an experienced turkey hunter, to say the least. Every year he starts in Florida and works his way north through the various turkey-season openers. This year, Hart will include stops in Delaware, New York, Nevada and a trip to Mexico for the Gould's subspecies.  "As someone who spends about as much time in the turkey woods as I can, I really demand the best from the equipment I chose to use, so when it came time to design our first turkey vest, it became a project that I put a lot of thought into," he said. Receiving input from hunters and guides across the country in every nook and cranny of the wild-turkey's range was critical in the design of the new NWTF apparel.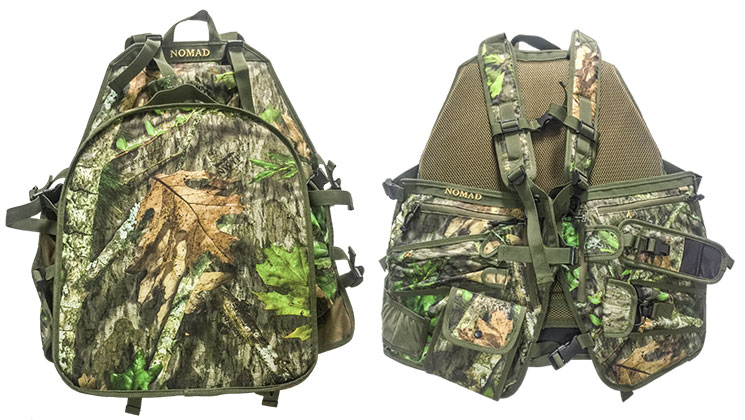 Nomad Mg Turkey Vest
Some of the features on the Nomad Mg Turkey Vest (Mg for Meleagris gallopavo, Latin name for the wild turkey) include padded shoulder straps and chest harness, a triple-mesh-panel removable back cushioning for extra comfort and breathability, four internal pockets to hold essentials (very important to me), eight size-adjustment straps for a custom fit, an external Thermacell pocket, a double-structured friction-call pocket with neoprene dividers, a box-call pocket with adjustable buckle, chalk pouch and locator call sleeve, an adjustable rear game pouch with pockets for your clippers, water bottle and decoy stake. There are also four external pockets—two vertical and two horizontal—that are low-depth for quick access, and there are a couple mesh mouth call pockets to put your diaphragm call in after you have been chewing on it all morning. Last but not least is a removable three-inch-thick seat pad with an adjustment handle for when you're trying to get comfortable in that terrible place the turkey made you sit. MSRP: $129.99; nomadoutdoor.com.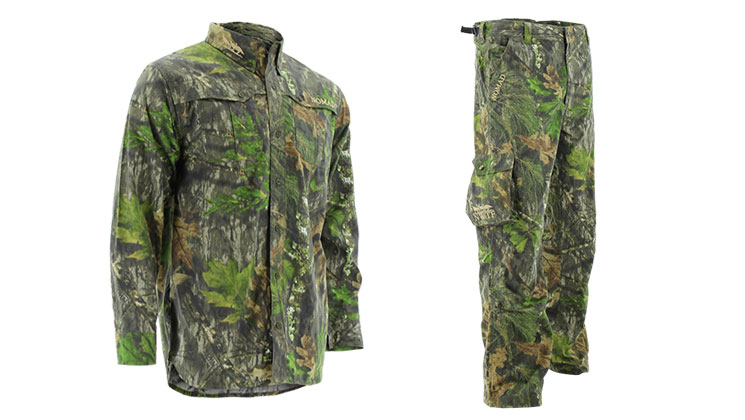 Nomad NWTF Long Sleeve Woven Shirt & Turkey Pant
Also included in the new line of turkey hunting attire is the NWTF Long Sleeve Woven Shirt, a traditional style hunting shirt with a button-down collar and the matching NWTF Turkey Pant, both are made with Nomad's lightweight cotton/polyester canvas. I like the company's canvas material; to me it is just heavy enough to make the grade for the tough stuff that turkey hunters require yet light enough for you to wear all season. A fleece vest, a ¼-zip fleece jacket, and a fleece hoody are also part of Nomad's new NWTF turkey line. MSRP: $59.99; Nomad NWTF Woven Shirt; $59.99; Nomad NWTF Turkey Pant | nomadoutdoor.com.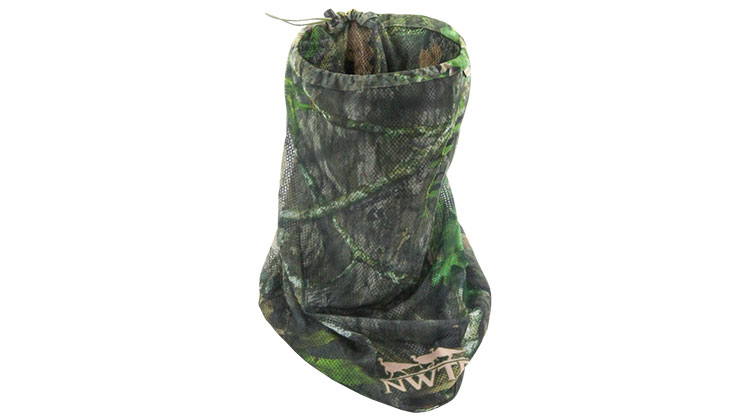 Nomad NWTF Loose Neck Gaiter
It seems good facemasks have become very hard to find lately. That said, the Nomad NWTF Loose Gaiter will be a welcome addition to the turkey-hunters toolbox. I found the gaiter to be comfortable and roomy, and with the draw cord around the top to hold it in place, one of the most effective facemasks I've ever worn. MSRP: $24.99; nomadoutdoor.com.
All items in the Nomad NWTF Turkey Collection feature the NWTF logo and are available in both the exclusive NWTF Mossy Oak Obsession and Mossy Oak Bottomland camo patterns. And the best part, as an official licensed product, a portion of every purchase of Nomad's NWTF Turkey Collection goes back to the NWTF to further support wild turkey conservation and the continued enjoyment of turkey hunting.