by
posted on May 22, 2019
Support NRA American Hunter
DONATE
Most production firearms are made to fit the average measurements of a male shooter; approximately 5 feet, 10 inches, 185 pounds and around a 35-inch arm length. The obvious problem is that not everyone is what is considered the "standard size." Therefore, most of us have used ill-fitting firearms our entire lives and simply didn't know the difference. This is a problem, because as hunters and shooters, accuracy suffers when we're holding onto a stock that doesn't fit us. Most hunters today use a rifle with a scope, therefore accuracy and comfort depend on the height of the comb on the stock, which must be at the proper height for proper eye alignment. This is where the length of the stock and cheek weld comes into play, as the shooter must maintain the correct eye relief on the scope.
Since 1981, Boyds has been a leader in laminated wood stocks, and this year, the company introduced its new At-One Adjustable Gunstock, which features a multitude of adjustment options for a truly custom fit.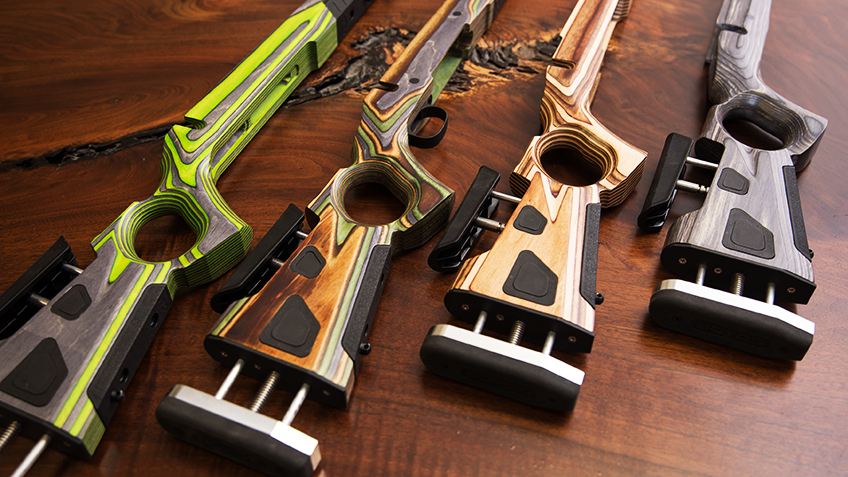 "Boyds' goal was to make a stock for everyone, which is a daunting task due to people's various physical traits and style preferences" said Boyds general manager Dustin Knutson. "The new At-One Adjustable Gunstock allows hunters and shooters the ability to quickly adjust various stock components to fit them perfectly. The stock's length of pull and comb can be adjusted with the push of a button, and an interchangeable grip and forearm allow for comfort and accuracy in multiple shooting positions."
Boyds At-One Adjustable Gunstock Specs
• Bring-It buttpad allows length of pull to be adjusted at the push of a button from 12½ to 14 inches
• Bring-It comb allows for a 9/16-inch height adjustment range.
• Single-point rifle sling mount, also has traditional two point sling studs.
• Lower buttstock guard to protect against bumps in the field.
• Interchangeable grip; choose from the Traditional swept back pistol grip design, or the thicker, more vertical Target grip designed for prone shooting.
• Interchangeable forearm; choose from the Traditional sleek and slender standard forearm or the beavertail style Target forearm.
• Overall Length: 30¼″ with buttpad retracted, 31¾″ with the buttpad extended
• Forearm Insert Width: Standard 1¾″ at rear, 1 7/16" at front; Target 2″ at rear, 1 13/16″ at front
• Recoil Pad: ½″ thick, over-molded rubber
• Weight: approx. 3 lbs.
Testing
The first thing that jumped out about me about the Boyds At-One adjustable stock was how easily the action and barrel transferred to the rifle, a Remington 700 ADL in .308 Winchester, synthetic stock model. Two bolts on either side of the trigger assembly extracted, and the action and barrel went right into the Boyd's stock; I simply tightened the bolts down and was ready to go. While Boyds seems to go to extreme measures to ensure that every stock change is simple, if there is any minor fitting needed, they advise the use of a competent gunsmith. Fit and finish of the At-One stock was excellent. Boyds uses only high grade hardwood laminate for their stocks, and believes this is the best way to achieve the maximum rigidity needed in a gunstock.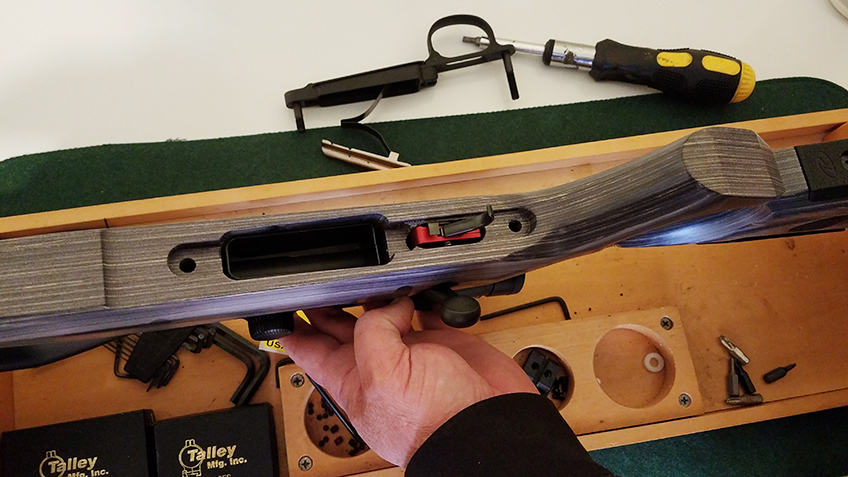 While not the customary classic-style gunstock, it is thoughtfully designed to be ergonomic and functional. The At-One design uses faceted edges that produce and enhance the geometric ply lines inherent in laminated wood products. This gives it an edgy, modern appearance, pulled together with modular components. The At-One stocks are available in 11 color schemes.  
When adjusting the At-One stock to my personal preference, I noticed the buttplate adjustment was a little stiff. When I asked Knutson about this, he said that the adjustable length of pull has many increments of adjustment, and by looking at the screw-type rod, users can see that each groove is a setting that can be engaged by releasing the push button, which allows the length of pull to be adjusted to the individual's specific needs. The tension of the push button and stiffness of the adjustable butt mechanism is designed to absorb the recoil for larger caliber rifles.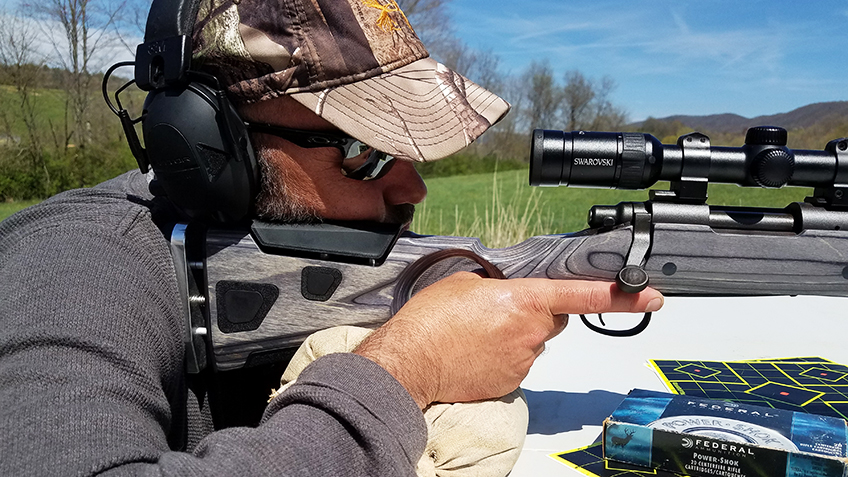 The point of impact when sighting in with At-One adjustable stock remained surprisingly close with the rifle's original stock. A few clicks on my Swarovski Z3 3X-10X-42mm scope and the rifle was back to hole-cutting groups at 100 yards using 168-grain Remington Premier Match and 150-grain Federal Power Shock ammo. All in all, the action transferred extremely easily into the Boyds At-One stock with no hindrance, and my accuracy was greatly improved due to the multitude of adjustment options that made my rifle much more comfortable to shoot.
The At-One adjustable gunstock has taken the mystery out of gun fit, and I imagine hunters will appreciate the company for it. For more information, visit boydsgunstocks.com.