by
posted on March 26, 2019
Support NRA American Hunter
DONATE
Not so long ago, turkey hunters would use the same shotgun whether hunting ducks, pheasants grouse or turkeys. Today, hunters increasingly prefer to own a shotgun built specifically for chasing gobblers. Turkey hunters can be a particular bunch, and most want a shotgun that fits their specific needs. To that point, Remington just may have hit a home run with the introduction of their new V3 Turkey Pro.

The new Turkey Pro is built on Remington's unique, reliable V3 action, which utilizes the VersaPort gas-operated system, although in a new, upgraded version built on a slimmer, shorter receiver designed for 3-inch shells. First offered in the Versa Max in 2010, the revolutionary VersaPort system relies on shell length to expose up to eight gas ports that regulate the amount of gas used to reliably operate the action. With longer, more powerful 3-inch loads, half the ports are blocked; shorter, milder 2¾-inch shells leave all eight ports uncovered, bleeding off excess gas through a pair of compensators in the gas block. What does this mean for you, the average turkey hunter using a V3 shotgun? It means less felt recoil when shooting heavy turkey loads.
A designated turkey gun needs to go boom every time you pull the trigger and must include features beneficial to turkey hunting not found on other shotguns. Therefore, I put the V3 Turkey Pro through my own turkey gun boot camp to see how it measured up.
Functionality: The nicest-looking camo and lots of gizmos on a gun mean nothing if the shotgun won't cycle every time under even the worst conditions. The V3 platform has more than proven itself in this area, but I still burned a lot of powder testing the V3 Turkey Pro. I used Aguila, Federal, Remington and Browning target loads to simply shoot the shotgun: four times quickly, reload and repeat. I shot some of these rounds at clay targets and some on paper, and the shotgun cycled every brand of ammunition and ejected empties at a surprising distance.
Next, I alternated a few turkey loads in a round of low brass shells. The V3 Turkey Pro had no problem loading, firing and ejecting the various rounds. As a side note, I will say that going from a target round to a magnum turkey load in a string of fire will certainly wake you up in the morning.
Patterning: A shotgun that is capable of good patterns at various distances is what most turkey hunters are looking for. Remington include the TruGlo Head-Banger choke tube with the Turkey Pro, and I think it was a wise choice. In talking to Remington engineers and shotgun product manager Daniel Cox, I learned that they chose a choke tube that would deliver the best pattern from all turkey loads on the market today. That's no small task, but the combination did produce a turkey-killing pattern with every load I tested at 40 yards.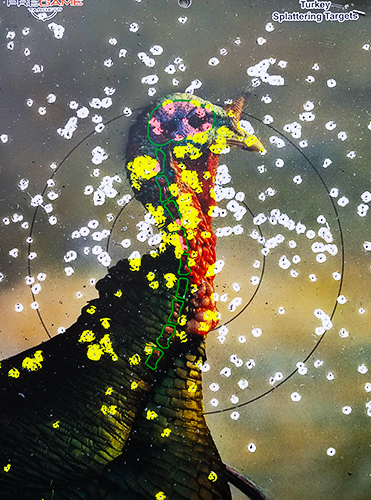 My testing of the V3 Turkey Pro on paper had very similar results. I shot Federal Heavyweight TSS, Winchester Longbeard XR, Browning TSS Tungsten Turkey, Remington Nitro Turkey and the new Kent TK7 Penetrator tungsten load. Every one of these loads delivered a very respectful pattern that no turkey would have walked away from. The Kent TK7 Penetrator load shot the tightest pattern at 40 yards, but the others were not far behind. Could you test various choke tubes for your favorite turkey load and come up with a "better" pattern? Almost certainly, the V3 Turkey Pro is equipped with Rem Choke threads and will accept an almost endless array of aftermarket chokes.
Accessories: The most obvious feature on the V3 Turkey Pro is the TruGlo optic, which comes from the factory mounted on a Picatinny rail. This is a 30mm dual color, red and green dot optic. An optic on a turkey gun takes away the old demon of lifting your cheek off the stock when drawing a bead on a gobbler. If the optic is properly sighted in, the pattern will go where you place the dot. The TruGlo optic has five brightness settings, and should work in any light and foliage situation. The controls on the optic worked well for the few clicks I had to make to sight in. This is one of the features of the Turkey Pro; it should come out of the box bore sighted at 40 yards. If you're a traditionalist, the optic is removable, allowing you to just use the TruGlo fiber optic front sight with a middle bead on the rib.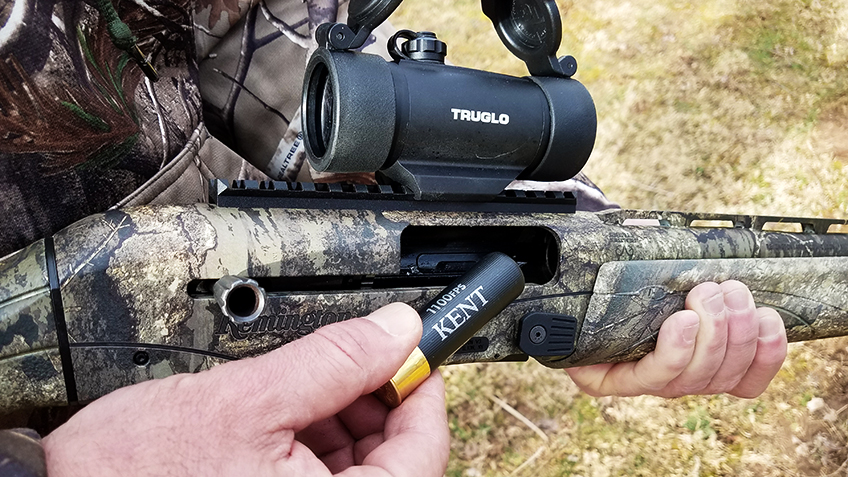 All of Remington's new Pro series shotguns come with an oversized charging handle and bolt release, which is a huge advantage when handling the gun in reloading situations when gloves or too much adrenaline get in the way. The safety is also slightly oversized, and the loading port has been enlarged with some relief cuts for easier loading and prevention of pinched fingers. The gun covered in Realtree Timber camo.
Saving the best for last (in my opinion)—the V3 Turkey Pro has a stock that is 1¼ inches shorter than the standard V3. If you've spent much time sitting at the base of a tree with your shotgun on one knee waiting for a gobbler to show, you may understand. Most standard shotgun stocks have a 14-inch length of pull and are made to be used while standing, usually at flying targets. While turkey hunting, hunters are typically sitting aiming at a somewhat stationary target.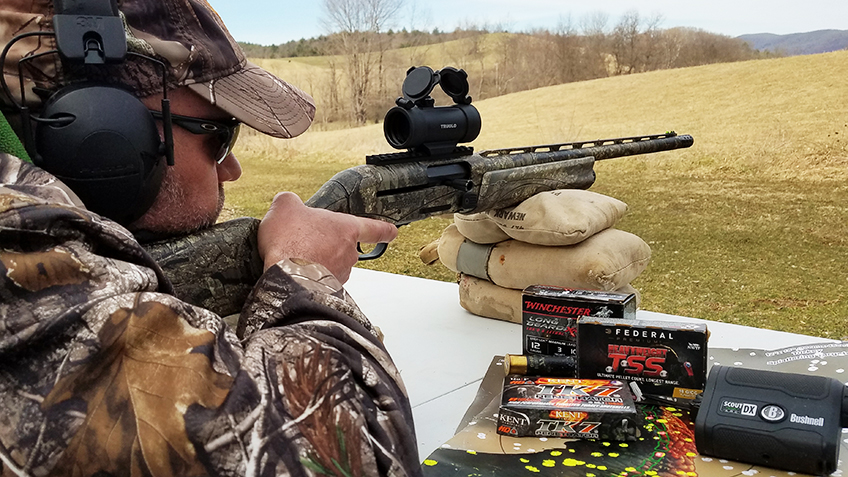 "This stock is 1¼ inches shorter than our standard stock and was selected because it helps make the gun manageable in the field and more comfortable when tucked up tight against a tree," says Cox. "We ship the gun with a length of pull adjustment kit, as well as a stock adjustment shim kit to help fine tune the gun to any shooter regardless of age, sex or size." The V3 Turkey Pro has a 13-inch length of pull, and the minute you sit down and mount the gun as in a turkey calling position, you're going to see the advantage. When using a shotgun with a longer stock you may find yourself "crawling up the stock," that is trying to get your cheek closer to the receiver when sitting down for turkeys.
I tested five different turkey hunters with a standard 14-inch length of pull shotgun and had them sit with their back against a tree as if turkey hunting. Then I handed them the 13-inch V3 Turkey Pro; all five chose the new Remington as the gun that felt more comfortable in this position.
Remington feels that this is the most comprehensive turkey hunting gun that they have made to date and I would agree. The V3 Turkey Pro has a suggested retail price of $1,195. For more information, visit remington.com.