by
posted on November 30, 2017
Support NRA American Hunter
DONATE
Boots are funny things. When preparing for mountain hunts, I agonize over my boot choice for months, as I've experienced absolute torture from ill-fitting boots in the backcountry. On the other hand, when I'm headed out on a bird hunt I often grab the first pair of boots I see in my closet—usually a pair of hiking boots that come untied every 100 yards or so in the tangled briars. Bird hunts can require a lot of walking and, for many hunters, can be the most strenuous hunt of their season. It's time we pay a little more attention to our boot choice for upland hunting.
I've spent the past eighteen years living in the bobwhite quail habitats of northwest Florida and southeast Alabama. Quail hunts are a part of life here; even if, like me, you're mainly a big game hunter. Throw in a pheasant hunting trip on the Great Plains every other fall, and there's certainly justification for a dedicated pair of upland boots. Back in 2016, I started looking for a serious pair of bird boots and decided on the Lowa's Uplander GTX.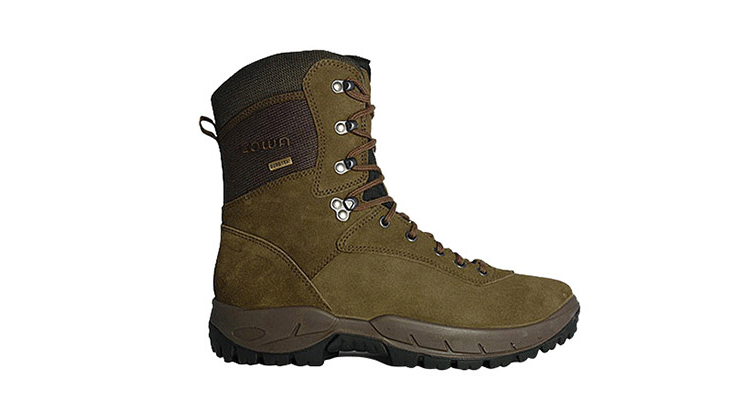 Lowa describes them as a three-season hiking boot. The definition of "three-season" depends a great deal on where you live. To me, three-season means you don't wear them during the summer when it's 99 degrees and humid, but for those who live up north, Lowa must be referring to winter as the fourth season, as these boots are uninsulated. They're Gore-Tex lined and therefore waterproof, but aren't excessively hot in warm weather and breathe well. The boots come in brown swede that stands up to the abrasive terrain that upland hunting often drags one's boots through.
Though designed for upland hunting, they are excellent all-around hunting boots. I've worn the Uplanders on dove hunts, quail hunts, turkey hunts and even deer hunts. They're lightweight, comfortable, durable and quiet. Rather than the heavy clunkers I see many hunters stomping around the woods in, they feel like a supportive set of running shoes. Stiff boots are great when you're wearing a heavy pack in the mountains, but are good for little else than tearing up your knees in a field of ragweed. A few ounces of boot doesn't seem like much until you walk a few thousand steps per day through a CRP field—all of the sudden the heavy boots seem really heavy.
This past spring, some friends and I enjoyed a two-day quail hunt at Otter Creek Farm in northeast Alabama. In addition to being one of the nicest and friendliest lodges I've ever hunted out of, Otter Creek had lots of quail. The terrain varied from flat and relatively open to thick and hilly. Between 5,000 calorie meals, we dug birds out of creek bottoms and chased singles into the pines. All in all, it was an ideal testing ground for a pair of upland boots, and the Lowa Uplanders passed with flying colors. 
I probably have thirty solid hunting days in these boots, and they still look brand new. With an MSRP of $295, whether you're in the market for a lightweight boot for general hunting use or a dedicated boot for upland bird hunting, the Lowa Uplander GTX are worth a look.