by
posted on November 6, 2012
Support NRA American Hunter
DONATE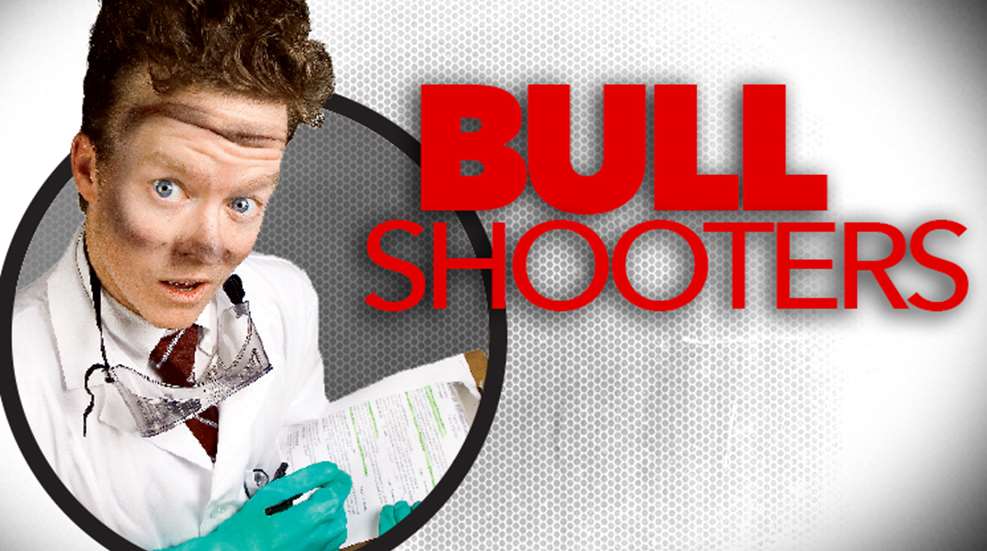 The Credibility Gap
Writers often receive a piece of gear in the mail, examine it in the office, and declare it "the greatest." That's not how we do it at The Bullshooters—we test makers' claims before we recommend that you go out and spend your hard-earned dough. Hopefully this field report helps you make some informed decisions when it comes to choosing gear for your next hunt.
The Disclaimer
With the exception of a couple items that I was loaned, I paid for every piece of this equipment (as well as the hunt) out of my own pocket. In some cases, I did receive a discount. What you'll read below is the unvarnished truth based on my real world experiences with this gear. None of these gear manufacturers sponsor this blog.
The Hunt
Five days elk hunting with Non-Typical Outfitters in Western Wyoming. Everything from my ground transfer to elk numbers were as advertised. We hunted hard and were into bulls every day of the hunt. Every hunter who was physically able had a legitimate chance at a 300+ bull and every hunter in camp that week (out of seven) got at least one opportunity to shoot. Despite hunters' varying capabilities and things like fears of horses and heights, the professional guides worked hard to ensure that everyone's hunt was a success. This is as good as it gets for a general draw elk area, I highly recommend Non-Typical Outfitters and have already booked a deer hunt with them for next year.
The Conditions
Reasonably steep mountain terrain (rock slides, etc.) with cold weather and some rain/sleet. Altitudes between 7,500 to 9,200 ft.
The Daily Routine
3:15 a.m. wake-up followed by breakfast and a 2 to 3 hour pre-dawn mountain ride on horseback. Usually hiked 1000 or so vertical feet as the sun rose and still-hunted the ridgelines. The remainder of the days were spent glassing/still-hunting timber, and hiking before setting-up afternoon "ambushes" before descending in the dark and riding back to camp for a late dinner.
The Gear:
Clothing
I primarily wore several layers of Sitka Gear:
-Merino base layer
-Traverse Zip-T
-Traverse bottoms
-Jetstream vest
-Kelvin Lite Jacket
-Mountain pants
-Cloudburst jacket
-Coudburst pants
-Traverse beanie
I found this system to be lightweight, functional, and durable. We spend an entire day sitting in the rain on a windswept mountainside and I stayed dry enough to keep hunting. I did get cold when glassing so, for October hunts, I would trade the Kelvin Lite jacket for a heavier insulating garment like the Kelvin jacket or a similar "puffy" Primaloft coat.The star of the show was the Mountain Pants—they are my favorite piece of gear from Sitka. Note: Hypothetically speaking, if you get cold and wet and stand too close to a fire in an attempt to get warm/dry out, the knee pads in your Mountain Pants may warp.
I also wore KUIU's Attack Pants and found them to be very lightweight and comfortable. I only wore them for one day and in dry conditions so I cannot comment on their durability.
Gloves
As part of my constant search for the "perfect glove" I tried 3 different types on this hunt: Sitka's Jetsream glove, KUIU's Guide glove, and a cheap pair of USGI wool glove liners. All three pair were functional gloves that I'd recommend but at $5 a pair, the GI wool gloves are the way to go. They're warm, allow enough dexterity for common tasks, and you can afford to lose a few.
Socks
I used liner socks from Wigwam and thick wool socks from Smartwool and Costco. All three were great and the Costco socks are a great value.
Boots
This was where I ran into trouble, my broken-in Kenetrek Mountain Extreme 400 boots absolutely killed me. Despite being fitted by the manufacturer at SHOT, they did not work for my feet and caused me tremendous discomfort throughout the hunt.They were either too lost, causing my feet to slip around inside the boots or, when laced as tight as possible to prevent such movement, I lost all feeling in my feet. Two weeks later, I still haven't regained 100% of the sensation in my toes. Everyone's feet are different so you may have an entirely better outcome- I have friends that swear by them. In their defense, when I sent them an email explaining my problem, they offered to send me a new updated pair designed to address some of the issues that I experienced. I'll give them a try and report the results.
After struggling with the Kenetreks, I traded them out for my lightweight Lowa Zephyrs and never looked back. These boots were light, comfortable, and did great on the steep terrain despite their "light hiker" appearance.
Rifle
I carried an MG Arms Ultralight rifle in .300 WSM for the duration of the hunt. This rifle was ideal for the mountain terrain and was a pleasure to carry. Despite weighing only 6 pounds, 1 ounce with a Leupold scope and Talley lightweight mounts, it repeatedly shot sub-MOA groups (.65-.75" at 100 yards). This is an awesome setup for mountain hunting.
Scope/Mounts
Seeking simplicity, light weight, and durability I chose the Leupold FX-3 6X42mm scope with LR Duplex reticle and CDS turret. 6X is plenty of magnification on game the size of elk and the CDS dial gave me "dope" as far as I was willing to shoot. On the evening of the first day of the hunt, I was walking fast on a rock slide trying to keep pace with the guide. Tired and sloppy, I tripped and fell with my entire body landing DIRECTLY on my scope on the rocks. I landed so hard that I thought for sure I'd broken the lenses—the knees tore out of my long johns on impact. When we checked my zero the next day, the scope hadn't move a bit—kudos to Leupold and Talley for their quality control!
Pack
I used my "go to" Kifaru Late Season pack throughout the hunt. Not only did this pack double as an airline-approved carry-on, it served me well throughout the hunt. It was comfortable, durable, and functional.It was the one piece of kit that the guides appeared to be most-impressed with. The accessory "gunbearer" held my rifle securely during hikes and the Platypus water bladder was great for hands-free drinking on the hike or on horseback—next time I'll bring a hose insulator though as it froze on cold mornings.
Other "honorable mentions", these products all worked flawlessly:
-MSR Pocket Rocket stove
-Leki CarbonLite Trekking Poles
-RedRam merino wool long johns
-Princeton Tec headlamp