by
posted on November 19, 2015
Support NRA American Hunter
DONATE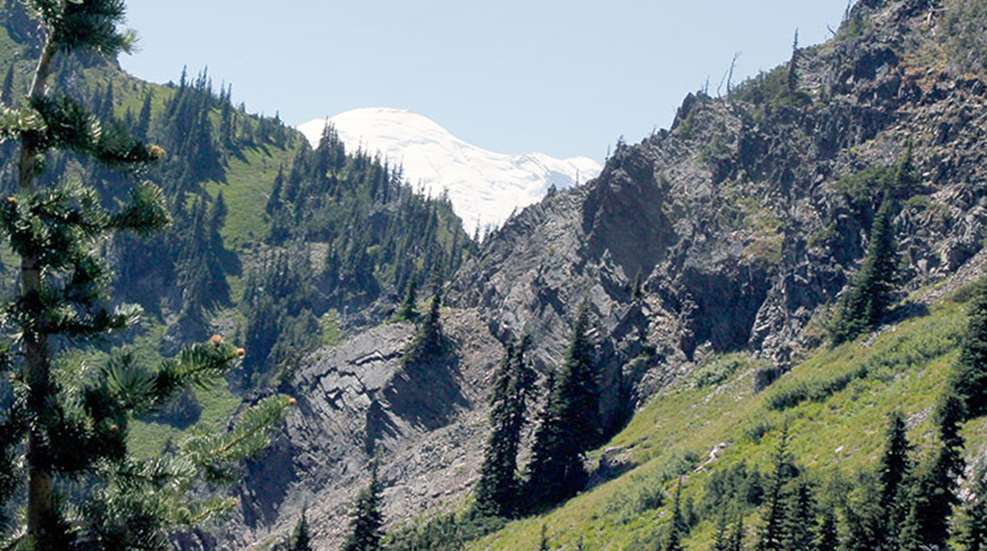 Each morning started at 3 a.m., with a hurried breakfast followed by a 2 to 3 hour horse ride and a steep hike to a glassing spot. My $400 boots weren't fitting worth a darn, despite an extensive break-in and much experimenting with different insoles and socks. I'd have to lace my boots loosely to prevent loosing circulation on the long rides and then tie them painfully tight for the hikes that followed. The ill-fitting boots made a tough hunt in brutal country even tougher and I didn't regain the full sensation in my toes for nearly six months afterward. Choosing the right boots for serious mountain hunting is probably the most important decision one can make. Crabby guides can be sweet-talked, bad rifles can be fixed, broken scopes can be traded-out, but bad boots will absolutely put you through hell in the mountains. Most boots advertised for hunting aren't useful in places where the sheep and goats call home—quality trekking or hiking boots are a must.
Boots for mountain hunts, especially backpack hunts, must be sufficiently stiff to support the weight of you and your gear without rolling, durable enough to stand up to sharp rocks, scree and miles of hiking, lightweight to keep from exacerbating fatigue and should incorporate features that make them useable in the field. Fit is crucially important but it totally subjective—a boot that fits me perfectly may leave you crippled and vice-versa. There are some decent choices on the market when it comes to boots for the mountains, but I do my best to only talk about products that I've actually used in the field. We will examine the three top-tier boots that I've taken into the high country over the past three seasons.
Kenetrek Mountain Extreme 400
Kenetrek's flagship mountain hunting boot is the only insulated boot that we tested. Sweaty feet are a significant cause of blistering so you don't want the 800-1000 gram insulated boots that are commonly used for static hunting. The 400-grain fill was about perfect for a late season elk hunt and these boots are also available without insulation for warmer environments. Kenetrek's boots are made in Italy (most high-end mountain boots are made in Europe) and are built for the kind of abuse that the mountains dish out. Thanks to this tough construction, Kenetrek's are very stiff when new and you'll likely walk like Frankenstein during the nearly 100-mile break-in that the company recommends. Being stiff is a good thing, though, when carrying all of your gear plus an elk quarter on your back and these boots are very stable in steep country.
Kenetrek's boots are made from thick leather and are waterproof. A tall rubber rand protects the leather from sharp rocks and prevents separation where the uppers meet the sole—a common failure point. These are high-quality boots that will last a hunter several years.
The Mountain Extremes are the boots that I mentioned in the opening paragraph—despite their quality, they simply aren't right for my feet. They may be perfect for you, so don't take my lack of success with them as a dig on the company or its product. When I got back from that hunt I sent them a letter and they replaced the well-worn boots with a brand new pair made on a different last. I haven't worn the new pair enough to pass judgment, but I appreciate the company's customer service. MSRP: $455.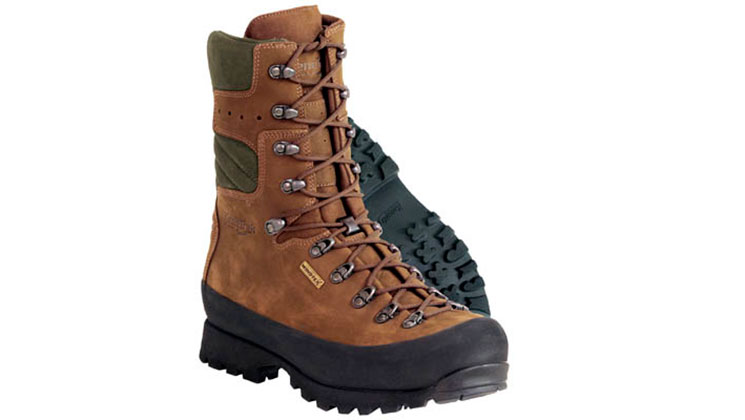 Lowa Tibet GTX
Lowa is a German company known for producing quality mountaineering and hiking boots. The Tibet GTX is an uninsulated backpacking boot with a mid-rise upper (taller uppers and insulation are available). Tibets are designed for carry heavy loads on your back while being light and nimble. These boots are compatible with crampons if the conditions dictate their use.
The uppers are Nubuk and, like the Kenetrek's, use a high rubber rand to protect the transition. These boots are Gore-Tex lined and are, therefore, waterproof. My favorite feature of these boots is the ability to lock the laces halfway up the foot to prevent heel slip—the fourth eyelet on either side of the boot flips downward to lock your foot into position before you begin to lace upward. The Lowas fit me very well and will be my choice whenever I'll have more than a simple daypack on my back. They are heavier and stiffer than light hiking boots, but they don't feel like bricks on your feet. If these boots fit you, they are just right for most mountain hunting and may be the perfect boot for backpack hunters. MSRP: $370.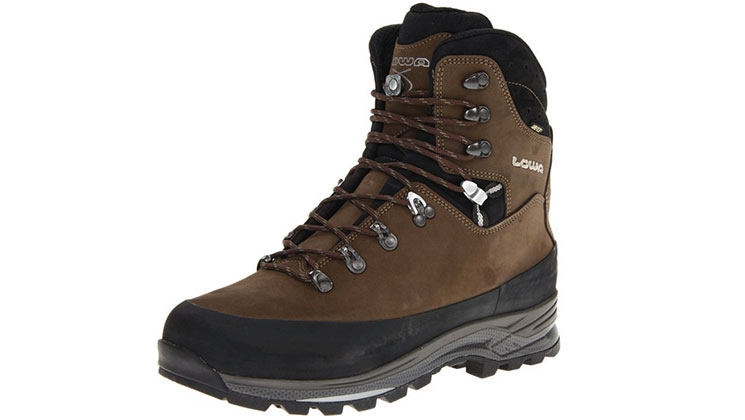 Salomon Quest 4D GTX
I bought the Salomons at the suggestion of several friends, many of whom have worn them extensively in the mountainous areas of Afghanistan. If you think about it, the boot needs of hunters and special operators are not so different: the ability to move comfortably, quickly, and quietly over rough terrain while carrying moderate to heavy loads is vital to the success of both endeavors.
Quests are lightweight boots and you feel like you're hunting in running shoes when wearing them. That said, they are stiff enough to support reasonable loads in the mountains. They are waterproof though; if snow were on the forecast, I would definitely add a pair of gaiters to the mix since they are ankle boots. I wore these boots for five days in a very steep corner of Wyoming last year and was blown away by their performance. I'm not so sure how they would hold up under a heavy pack, but they provided plenty of support for the load I carry on guided hunts. 
Like the Tibets, the Quests provide a mechanism for locking the laces off during the tightening process. The break-in period of the Quests was, in my experience, zero. Unlike the Lowas and Kenetreks, which are specialized mountain boots, these Salomons are versatile enough for all types of terrain and weather. These are the most comfortable boots that I've ever owned and I wear them on an almost daily basis. MSRP: $230.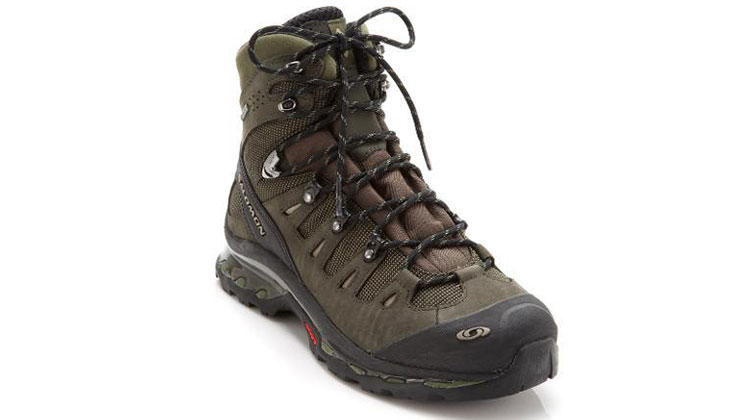 There are other quality brands designed for the hills such as Hanwag, Meindl and Scarpa, but I have no personal experience with them. Finding a boot that fits is crucial, and experimenting with various socks and insoles is a great way to fine-tune a pair of boots for your feet. If at all possible, test the boots in steep terrain before you take them on a hunt of a lifetime—boots that feel great on flat ground may become a nightmare on a hillside. Do your homework, try on as many brands as possible, and buy the boots that are truly right for your hunt.