by
posted on January 4, 2023
Support NRA American Hunter
DONATE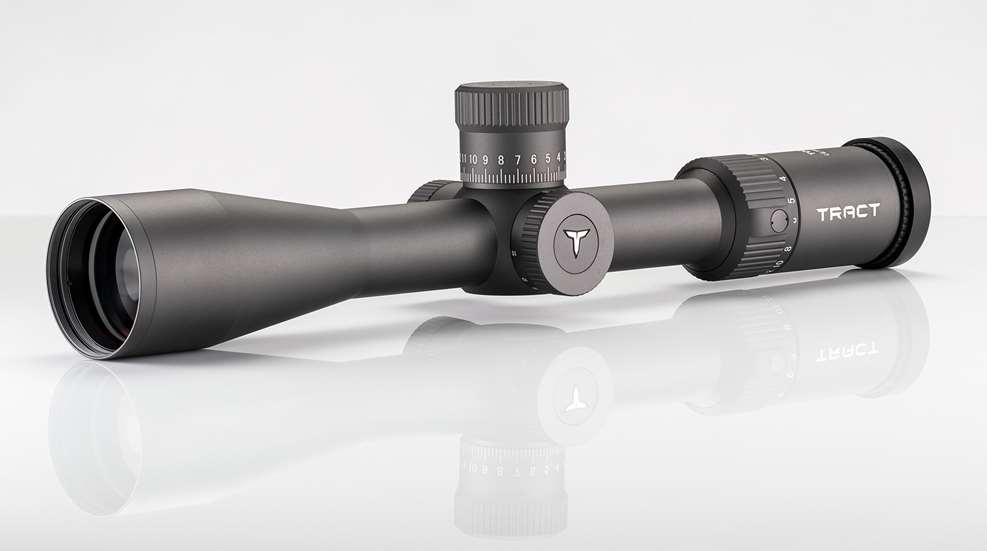 Tract Optics is a direct-to-consumer company that's been around for seven years now. It offers high quality optics at outstanding prices as there is no middleman. Jon LaCorte and Jon Allen are the co-owners and have been in the hunting optics business for a combined billion or so years, so they know optics.
Their new TORIC UHD 30mm 2.5-15X44 First Focal Plane MOA Hunting Rifle Scope is a great example of their vision. It's a hunting scope masquerading as a long-range target scope or vice versa. A good description might well be a "cross-over" scope that is at home in both worlds.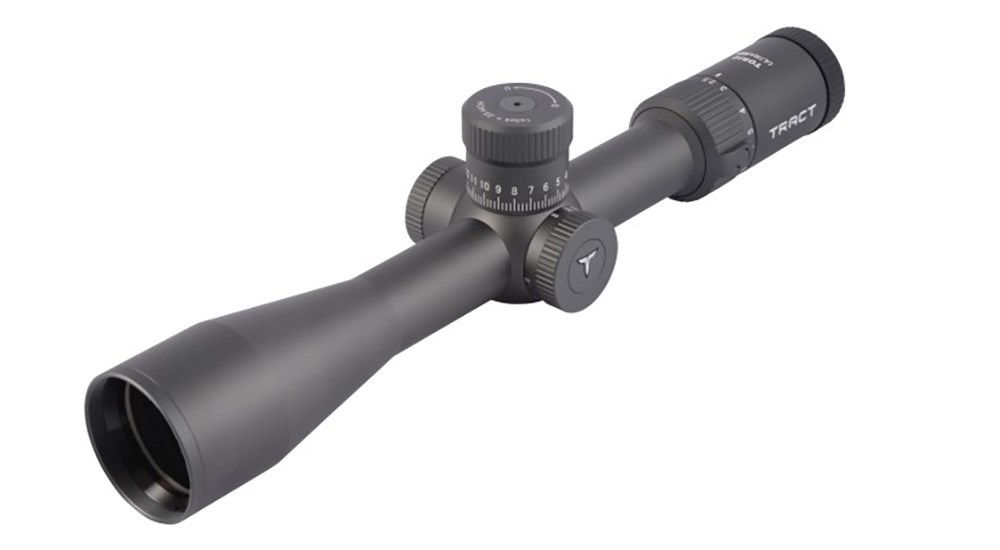 It was developed for use by today's long-range hunters and designed to be light and small enough to be at home on a rifle used for hunting, but it's not out of place on a precision rifle either.
This scope provides the long-range hunter with the optimal magnification range so that he or she can handle any shot from up close to "way the hell out there." The 44mm objective size works great in low light, but isn't so giant that the shooter's cheek weld is down by his Adam's apple. On most hunting rifles, the Tract can be mounted low enough to the bore to allow the shooter's eye to be correctly positioned behind the optical center with a proper cheek weld.
The scope is available with adjustments and reticle points in MOA or MRAD. In my never humble opinion, most hunters will do best with the MOA version. Both versions have the same range of adjustment; the only difference is that the MOA is ¼ inch per click where the MRAD is .36 per click at 100 yards. MOA (minute of angle) closely approximates inches. (It's actually 1.047 inches at 100 yards.) This allows the hunter to do the math much easier, both for zeroing the scope and for figuring long-range drop. When there is a giant whitetail waiting at long range, a signal is sent to your brain that shuts it down. So, the familiar "inch" is much easier to remember.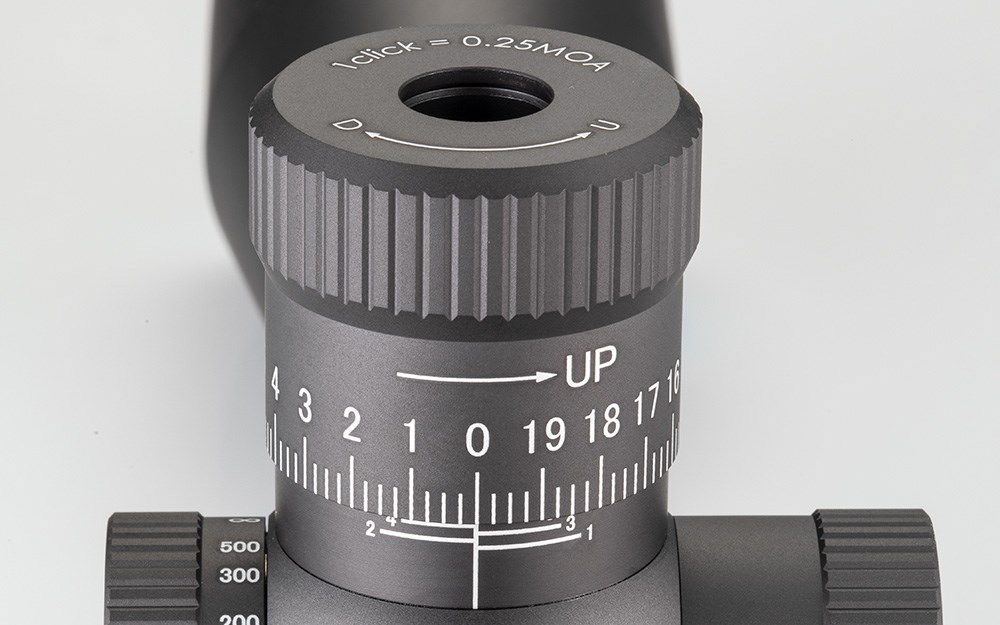 This scope offers two methods to make a long-range shot. First, by dialing up the elevation. There are 100 inches of total elevation adjustment, enough to handle any ethical hunting distance. The second is by using the reticle with 1 MOA hash mark spacing. You can match your exact load using Tract's Impact Ballistics program, available online or via the mobile app.
I have the scope mounted on the ultra-accurate Savage Magpul Hunter in 6.5 Creedmoor. Using the Impact Ballistic program on my phone, I plugged in the data for the Hornady 143-grain ELD-X hunting load, including measured muzzle velocity and a 200-yard zero.
To hit a deer, elk, coyote, woodchuck or steel plate at 400 yards I must use the seventh line. Or I can dial up 6.1 MOA using the elevation turret. With the zero stop feature it's easy to return to my 200-yard zero after the shot.
These features work as well for shooting targets as they do for four-legged critters. In fact, it's a good idea to practice long-range shooting on steel plates. If you plan to hunt at long range, you owe it to the critters to be as proficient as possible. Besides, it's a lot of fun! I have shot this setup out to 500 yards and find that a "head shot" on our IPSC-style steel plates is pretty easy at 500 yards, once the scope is dialed in to the distance. I promise you will giggle the first time you do that. Everybody does.
Tract's Fully Multi-Coated, Ultra High Definition optical system utilizes an extra-low dispersion (ED) lens to eliminate color fringing as well as highly prized Schott HT (high transmission) glass to provide superior light transmission and bright, clear images even in low-light hunting conditions. All glass is fully multi-coated, and the reticles are etched into the glass. Bottom line? This scope is as bright and clear as anything you have ever used.
The scope has a quick-focus eyepiece and a side-focus parallax adjustment on the left side. Tract Optics scopes are water- and fogproof and are purged with argon gas. The reticle adjustments can be hand turned without tools.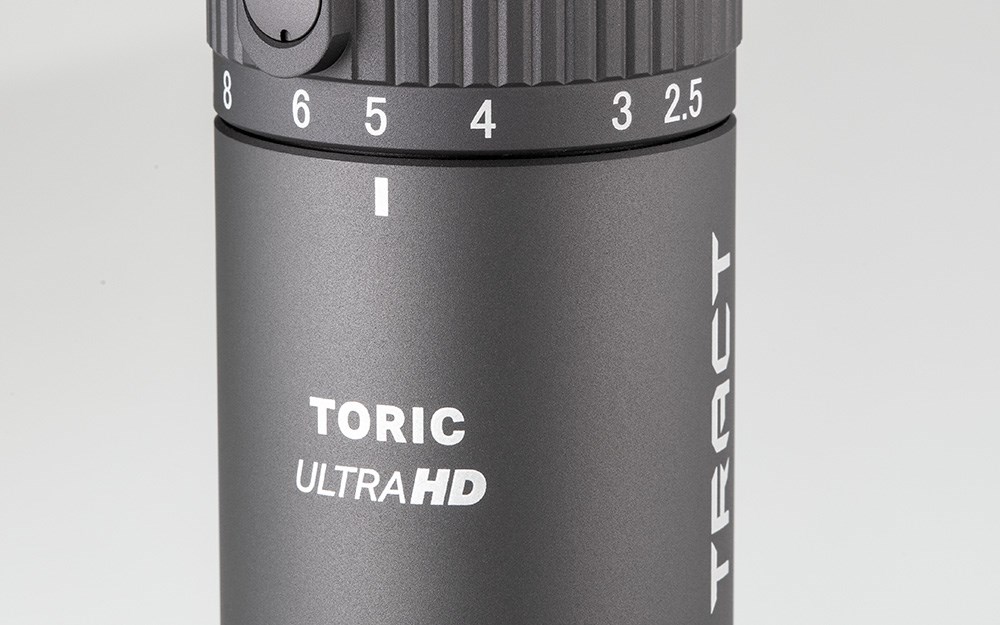 I tested the scope on a Champion Redfield Precision Sight-In Target with five diamond aiming points. After zeroing for 100 yards I fired a group in the center of the target. I then moved the scope's adjustments up and to the left to hit top left diamond with the center hold. Then I moved it down 9 inches to hit the bottom left diamond. Then to the bottom right and the top right. All center hits. Then I turned the dials to return to zero and impacted in my original group. That's 44 inches in total adjustment in all directions. A perfect return to zero indicates the mechanics inside the scope track extremely well.
Next, I turned a 4x8-foot sheet of foam on end and pasted targets from top to bottom. I measured up for each target from the bottom target and turned the adjustments the indicated amount. I aimed at the bottom bullseye and each shot impacted on a target above. The scope tracked well all the way to the end of the adjustment and then returned to zero. This rifle is so accurate and the scope so precise that I could predict the impact almost exactly with every shot.
I plan to use this rig for long-range target shooting and maybe to put a little venison in the freezer. I have no doubt that I have the best optic to cross over and do both.
Technical Specifications
• Type: variable-power riflescope
• Magnification: 2.5X-15X
• Objective Lens Diameter: 44mm
• Eye Relief: 4" (2.5X); 3.9" (15X)
• Exit Pupil: 11.4mm (2.5X); 2.9mm (15X)
• Field of View @ 100 Yards: 41.7' (2.5X); 7.1' (15X)
• Reticle: FFP, MOA
• Adjustment Range/Click Value: 100 MOA/.25 MOA
• Coatings: fully multi-coated
• Dimensions: 30mm tube diameter; length 14"; weight 28.3 ozs.
• Construction: one-piece tube; graphite gray finish; ED lens; Schott HT glass; argon purged; waterproof; fogproof; side parallax adjustment
• Accessories: sunshade, lens covers
• MSRP: $994; tractoptics.com