by
posted on May 29, 2021
Support NRA American Hunter
DONATE
Every year it seems we start looking sooner than ever for standouts amid all the gear produced annually by the shooting, hunting and outdoor industry. The past 12 months stand as testament to that. Indeed, the list we tabulated includes products covered as far back as 11 American Hunter print issues—such are the lengths we go to be sure no stone is left unturned in our spirited search, review and debate of the best of the best firearms, ammo and gear produced for hunters.
Golden Bullseye winners are selected by a seven-member committee from NRA Publications that represents more than a century of collective experience in the shooting and hunting industry. To qualify for consideration, a product must have been: recently introduced and available to consumers prior to nomination; used/tested by an NRA staff member or trusted contributor; reliable in the field, meeting the consumer's expectations; innovative in design and function; readily perceived as a value to the consumer; styled in a manner befitting the shooting, hunting and outdoor industry and its enthusiasts.
The NRA Publications Golden Bullseye Awards will be presented during the 2021 NRA Annual Meetings and Exhibits scheduled for Sept. 3-5, 2021, in Houston.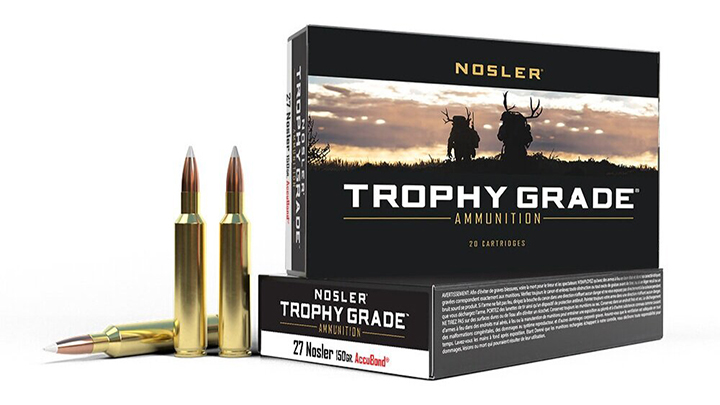 2021 Ammunition Product of the Year: 27 Nosler
The .270 Winchester is almost a hundred years old, and over its lifetime at least two "new and improved" versions of it, the .270 Wby. Mag. and .270 Winchester Short Mag., have been introduced. But the problem with all three cartridges is and always has been twist rate; they just don't stabilize heavy-for-caliber bullets very well with what is typically a 1:10-inch twist rate. Nosler took note of this, and to its family of big-game cartridges based on the .404 Jefferey in 2020 added the 27 Nosler, now clearly the "shootin'nest" .270 of all.
Nosler equipped its long-action .27 caliber with a 1:8.5-inch twist rate to handle perfectly its 150-grain AccuBond and 165-grain AccuBond Long Range bullets. Advertised muzzle velocities of 3250 fps and 3158 fps, respectively, are faster than the .270 Wby. Mag. or .270 WSM firing 150-grain bullets. Indeed, at that velocity, the new Nosler 165-grain AccuBond Long Range is, as our man wrote, "in uncharted waters."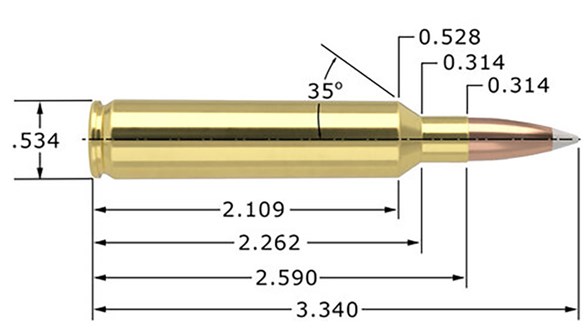 Trajectory and accuracy are fabulous. With a 200-yard zero, "the two bullets hit within an inch of each other, striking 5.5 inches low at 300 yards, 15.8 inches low at 400 yards and 31.5 inches low at 500 yards." At 500 yards, the 150-grain AccuBond delivers energy of 1,768 ft.-lbs.; the 165-grain AccuBond Long Range delivers 2,123 ft.-lbs. Our man's range sessions produced three-shot groups of .51 inch for the 165-grain and .81 inch for the 150-grain, with averages inside an inch. That's a walloping good time at any range for hunters.
The all-around 27 Nosler is good for anything on this continent short of big bears or bison. MSRP: $81.50-$84.50 (per 20-rnd. box); nosler.com.