by
posted on June 4, 2016
Support NRA American Hunter
DONATE
The evolution of sighting aids dates back to the first crude, iron sights on the matchlock firearms of the 16th century, and has morphed into the high-tech telescopic sights we all love. There are not only riflescopes, but holographic sights, tritium sights that seem to glow, and a host of other ingenious forms of sighting a firearm. Laser sights—such as those produced by Crimson Trace—are an amazing tool; they are very handy when mounted in the grips or on a rail attached to a handgun. While they aren't for everyone, I have found them to be an aid for those shooters who have trouble focusing the traditional handgun sights.
A Sight of a Different Color
When asked to consider laser sights for hunting purposes, I immediately began to think of a good handgun application. However, upon examining the literature for the Crimson Trace sights, I saw that the very same sight that fits on the common pistol rail—just in front of the trigger guard—would fit on any Weaver-style base or rail. This immediately set me thinking—why couldn't I simply mount the Crimson Trace sight on the Weaver cross slot-base of a rimfire rifle? I picked up a Crimson Trace Model CMR-206 sight—in neon green—and set to tinkering.
Yes, it would technically be upside down, but in theory it would work. I grabbed my wife's favorite .22—a Savage Mark II BRJ—which has a set of Weaver cross slot bases and would be perfect for this experiment, and mounted the Crimson Trace sight. I've used their sights in the past; they come with a tiny Allen wrench for adjustment of both windage and elevation, as well as one of the easiest mounting techniques available: you simply screw it on. I did just that, and within five minutes, I had the laser properly aligned with the bore of the Savage rimfire. Five test rounds at 25 yards had verified that the rifle was indeed hitting just a whisker higher than where the green dot was pointing—for a good 50 yards zero.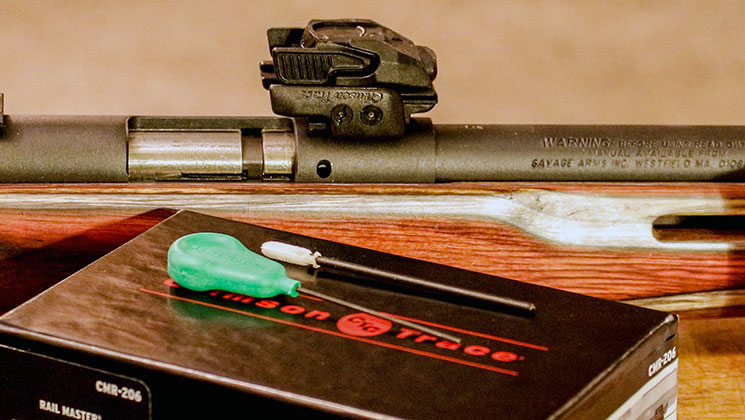 The Influx of Pests
My own backyard rifle range is just outside my surveying office, which I share with my father, in the basement of his house. My dad—Ol' Grumpy Pants—has been experiencing an epidemic of both chipmunks and red squirrels, which have eaten holes in the soffits of his barn, as well as the wiring of his boat. When I was sighting the rifle at lunchtime, he came out to see "what the hell I was shooting at." One look at the Savage BRJ with the laser sight, and his 65 years were reduced by 50; he was like a little kid.
"Does that thing actually work?"
"Yeah Pop, look at the group, right on the bull."
"Good. Gimme that, I have work to do."
With that, he grabbed a healthy supply of Winchester 333 ammo and headed off, behind the shed, where the enemy was stationed. The entire way he was walking with a spring in his step I haven't seen in years; he would check the laser sight on several inanimate objects, head sweeping side to side seeking the furry little foes, acting like he was Audie Murphy in the European Theater.
It wasn't long before I heard the mild report of the Savage rifle, followed by a victorious laugh, one that came from deep within the old man. Score: Grumpy Pants: 1; wire-eating varmints: 0. The next half-hour was spent watching my dad use the laser sighted rimfire like a pro, and he reduced the population of destructive varmints significantly.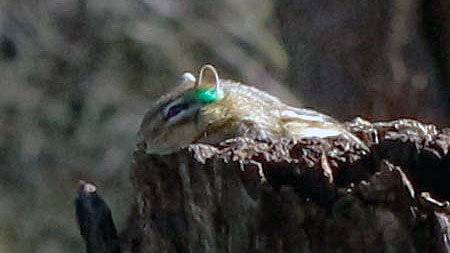 Night Hunts
We spent the afternoon at work discussing the merits and potential of the Crimson Trace laser sight on a .22 rimfire. Obviously, it was a ridiculous amount of fun shooting a Terminator-style gun at nasty varmints. But, as my very first hunting experiences were chasing coonhounds through the dead of night, Grumpy Pants and I soon came to the conclusion that the bright green laser would be absolutely perfect for taking a treed 'coon, high up in a hemlock or pine tree. As anyone who's ever hunted raccoons knows, you can shine their eyes easily enough, but it's often difficult to align iron sights or even a scope when the flashlight is bobbing around up through the limbs. However, when I realized that the laser sight will reflect in the raccoon's eyes, I knew this would make a good choice for the 'coon hunter.
Other Applications
The next thought that popped into my head was the possibility of mounting this sight on a shotgun. Many of the modern shotguns are drilled and tapped for scope sights, like my Stevens Model 320, and it wouldn't be a big deal to screw a Weaver base onto the receiver and mount the Crimson Trace sight onboard. It'll require further testing to see how this sight would stand up to a stout 3" magnum 12-gauge load, but based on my previous experiences with Crimson Trace products, I don't anticipate any issues.
I also noticed while sighting in the rimfire rifle that using a laser sight really helps with the follow-through of the shot. Because of the very design of the sight, your eyes are focused downrange only, and you can really see the weebles and wobbles associated with the shot. It caused me to noticeably concentrate on the follow-through, and that's a good thing.
The Crimson Trace sights—especially the green variety—are vibrant, even in the brightest sunlight. I had no problems picking up the green dot out to 40 or 50 yards, and while it was much more noticeable in the shadows, I used it at lunchtime without issue. The battery life is over three hours of cumulative running, which is pretty good. Crimson Trace supplies the first battery with the package. Using a laser may not be for everyone, but Dad and I certainly enjoyed it. It's a different type of shooting—as it is with a handgun—but sometimes different is a whole lot of fun.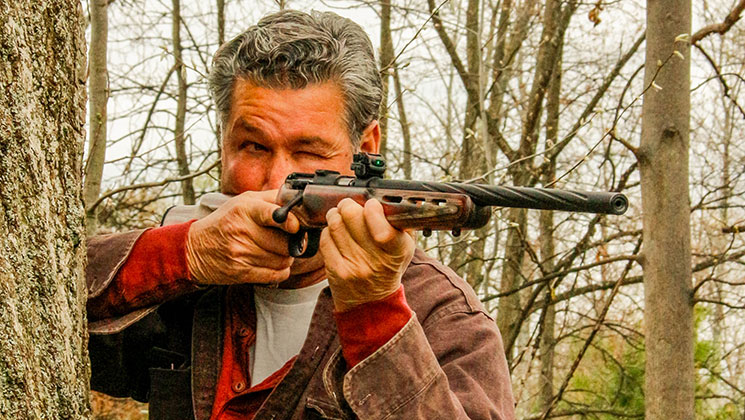 Want to read more from Philip Massaro? Check out the stories below:
• How to Choose a Gun Safe
• Best Gun Cases for the Traveling Hunter
• An Ode to the .30-06 Springfield
• Top 5 Boutique Bullet Companies
• Top 5 .22 Long Rifle Loads
• 5 Reasons Round-Nose Bullets Are Still Cool
• Top 5 Dangerous Game Loads
• Top 5 Turkey Loads
• 5 Rifle Cartridges That Need to Make a Comeback
• Top 5 Safari Calibers
• 5 New Year's Resolutions for Hunters
• What Your Favorite Rifle Cartridge Says About You
• America's Most Wanted Cartridges
• America's Strangest Game Laws
• What Your Favorite Rifle Cartridge Says About You, Part II
• Top 5 Overrated Rifle Cartridges
• Top 5 Underrated Rifle Cartridges
• 5 Cartridges You Might Not Know About
• Top 5 Wildcat Cartridges
• An Ode to the Ruger Mini-14
• Top 5 Hog Loads
• Top 5 Deer Bullets
• Why .30-30 Winchester Will Never Die