by
posted on March 3, 2023
Support NRA American Hunter
DONATE
X-Vision Optics' long-range Impact Thermal Scope (TS300) boasts a 640 x 480 thermal sensor that can detect big game well past 3,000 yards. With ten reticle styles, six color options and six different palettes to choose from, hunters can fine-tune the device to their preferences. With an IP67 weatherproof rating and a durable chassis, the TS300 is built to withstand any and all conditions, providing both day and night use for hunting.
With its 3,100-yard detection range, 1,400-yard recognition range, high frame rate of 50 Hz and 12 µm pixel size, the device captures sharp thermal images and smoothly tracks rapid motion in the distance. The objective lens is 35 mm in diameter and has a field of view of 70 feet at 100 yards. This thermal scope has 2X to 16X magnification giving access to all its thermal core has to offer.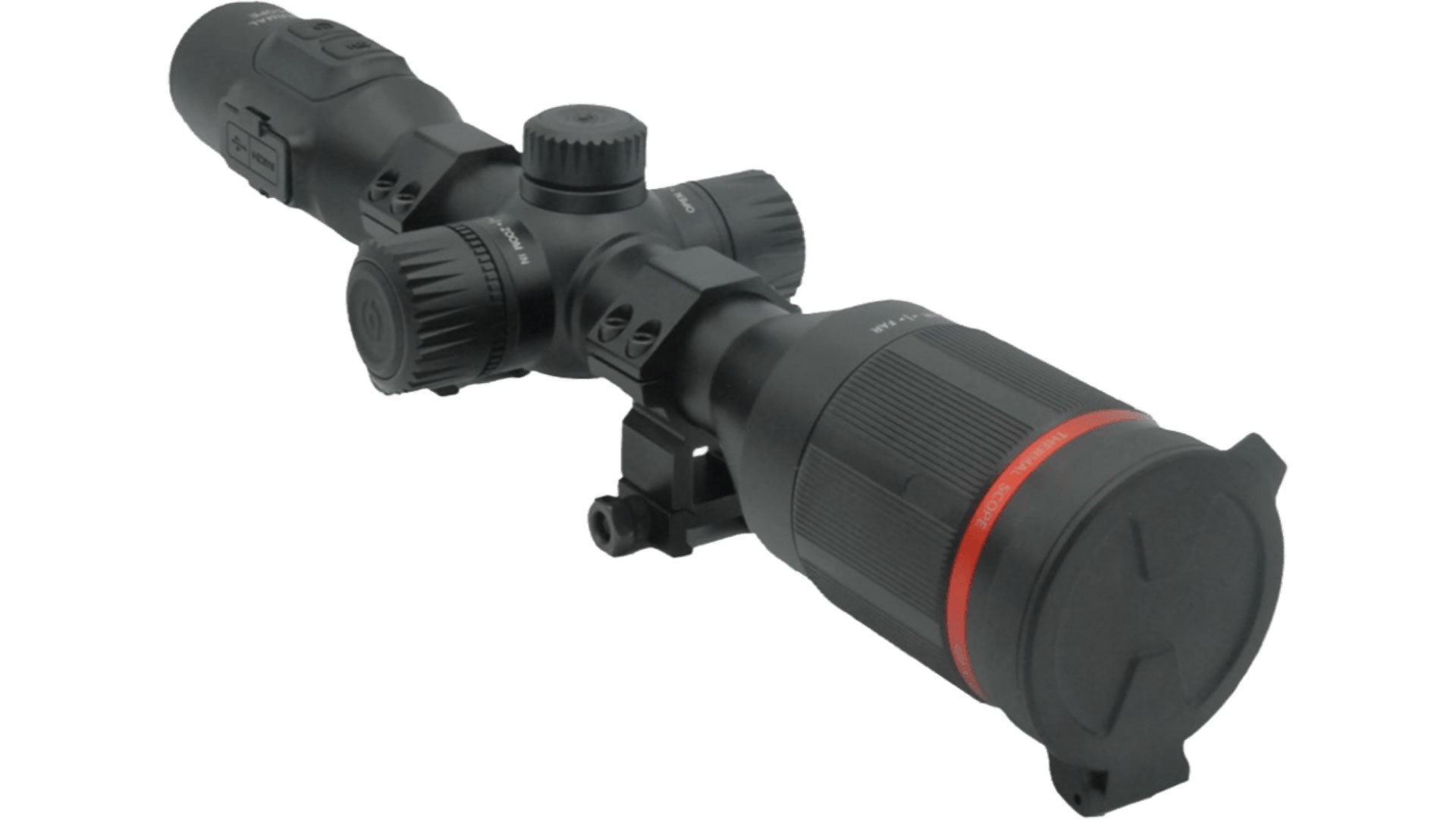 The TS300 emits its own Wi-Fi signal, which means multiple devices can be connected to the scope at the same time, so no need to rely on cellular data. This allows for a long-range connection, giving devices the ability to connect to the scope up to 150 yards away. The scope comes with free applications for both IOS and Android devices, allowing for pictures and videos to be saved on the connected device or on the 16GB of internal memory.
The unit has optional hotspot tracking which uses a small crosshair to pinpoint and follow the hottest object in its field of view, making it easier to detect game at long ranges, in dense terrains, and while on the run. Along with this, the scope has a stadiametric rangefinder, giving clarity on exactly how far away the target is. The picture-in-picture feature allows the user to see the scope's max magnification (16x) in an adjustable subset of the screen.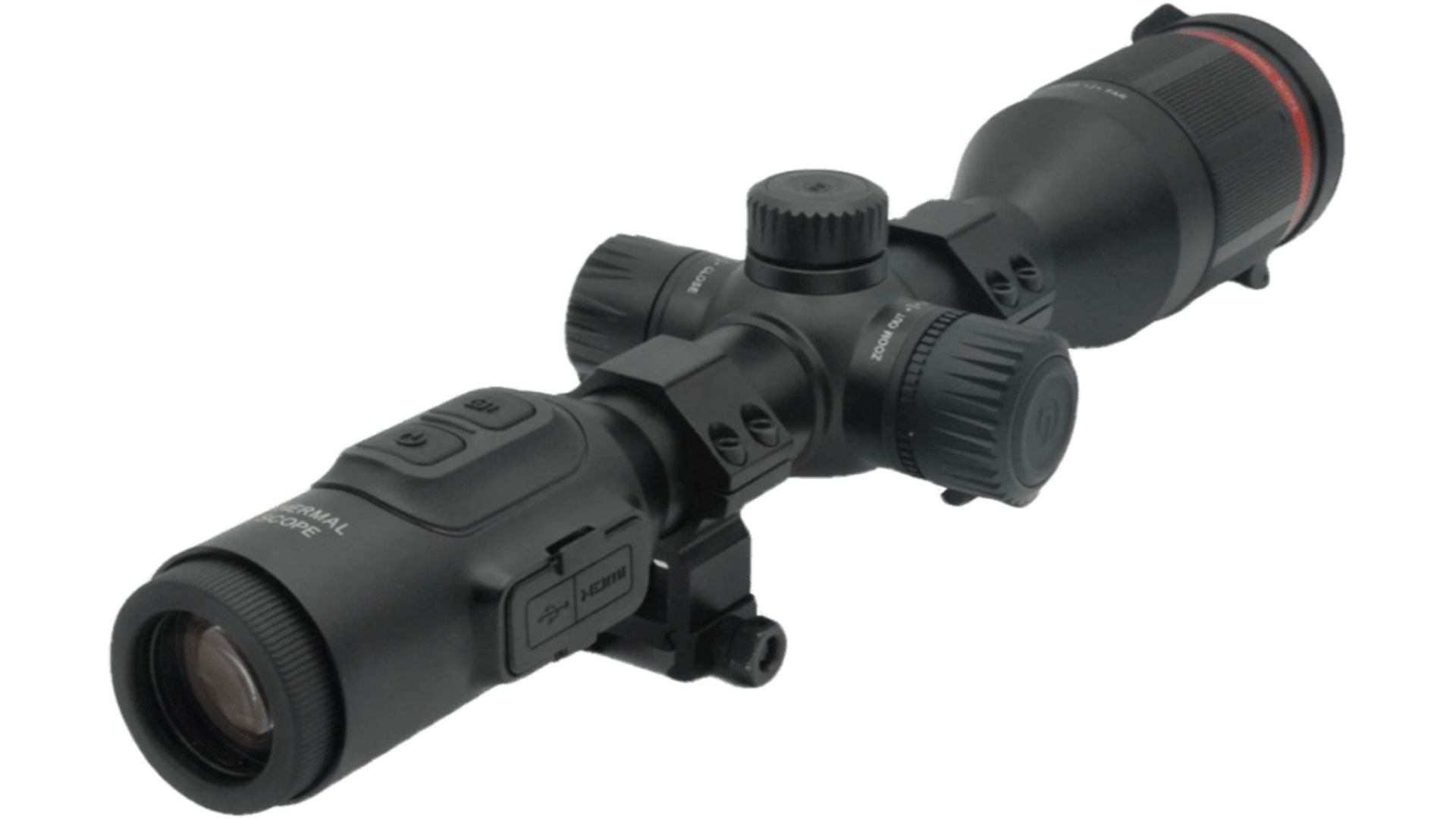 The device has ten reticle options along with six reticle color options. The unit can save six sets of zeroing data, allowing for quick and easy mounting on multiple firearms. This scope is capable of handling over 54 ft.-lbs. of recoil, allowing compatibility with a large variety of firearms. Along with a multitude of included accessories, this thermal scope comes with two interchangeable rechargeable 18650 batteries.
For more information, visit xvisionoptics.com.
SPECIFICATIONS:
Magnification: 2-16x
Thermal Sensor: 640 x 480
Pixel Size: 12 µm
Frame Rate: 50 Hz
Objective Lens: 35mm
Field of View: 70 feet @ 100 yards
Detection Range: 3,100 yards
Recognition Range: 1,400 yards
Hotspot Tracking: Yes
Stadiametric Rangefinding: Yes
Picture in Picture: Yes
NETD: ≤30 mk
Temperature Variation Detection: 0.05° F
Display Resolution: 1024 x 768 OLED
Reticle: 10 patterns and 6 color options
Color Palettes: 6
Power Supply: Rechargeable 3.6v Lithium-Ion (2 inc.)
Battery Life: 5 hours
IP Rating: IP67
Dimension: 14.4 x 4.2 x 2.7 inches
Weight: 2.1 pounds
Internal Memory: 16 GB
Mount: 30mm Scope Rings (included)
Wi-Fi Capability: Yes
Photo and Video: Yes
Applications: Apple iOS & Google Play
MSRP: $5,999.99