by
posted on February 6, 2012
Support NRA American Hunter
DONATE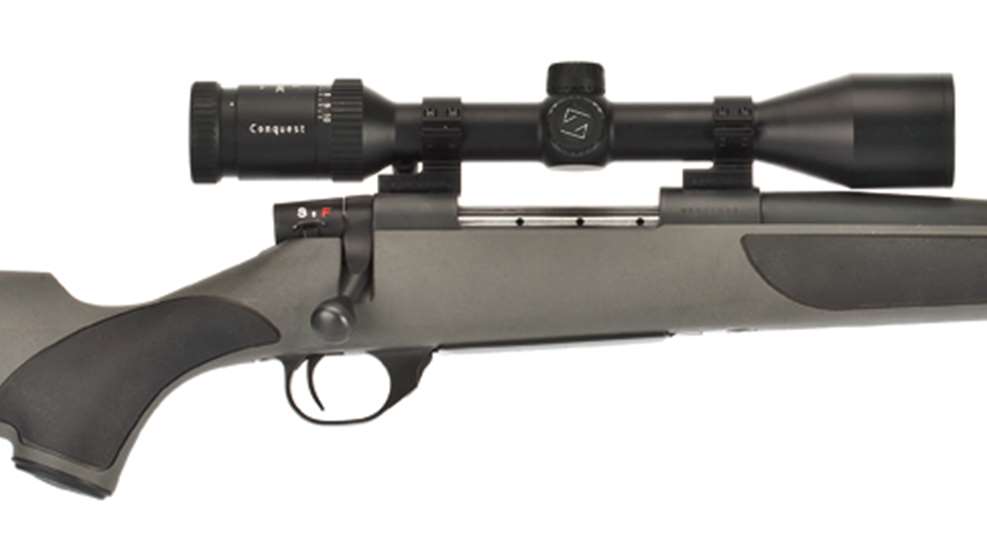 When I was growing up in small-town Vermont in the '60s, a Weatherby rifle was a mysterious thing. There was talk, but nobody I knew had actually seen one. Hunting was socially acceptable even in Hollywood in that era, and movie stars and other beautiful people were having great adventures in exotic locations—always (it seemed) with Weatherby rifles. Magazines were filled with advertisements showing people like John Wayne with a Weatherby. Weatherby rifles achieved mythological status; they were not like our common, everyday rifles. Weatherby rifles were, like limousines, caviar and Hollywood contracts, the objects of dreams.
Even then the legendary Mark V rifle was expensive and well beyond the means of my blue collar brethren. Some bragged around the gun shops about owning a Weatherby, but never seemed to produce tangible proof of ownership.
Roy Weatherby was a very smart man and he recognized that he was missing a big market by pricing his rifles past the means of the average hunter. So in 1970 he contracted with Howa in Japan to produce the affordably priced Vanguard rifle.
The trouble, as many hunters saw it, was that it couldn't be a true Weatherby rifle, because it was not offered in Weatherby
 cartridges. According to the book Weatherby, The Man, The Gun, The Legend, the .270 and .300 Weatherby were the first of the proprietary cartridges offered in the Vanguard, and that was 18 years after introduction, in 1988. But, finally, they made the Vanguard truly a "Weatherby" rifle, at least in the eyes of a lot of consumers.
In 2004, the year I got my first Vanguard, the .257 Weatherby was added. As memory serves, that was also the year that Weatherby discovered the phenomenon that lead to the introduction of the "M.O.A. Vanguard" in 2005. It had always had its 1.5 MOA accuracy guarantee, but in testing rifles before shipping they discovered that a consistent percentage of the rifles shot much better than that standard. So they started isolating these rifles and selling them with a 1 MOA accuracy guarantee. The "M.O.A." is being replaced this year by the "Range Certified" Vanguard, with the same accuracy guarantee and a target proving it, signed by Ed Weatherby.
My Vanguard rifle is one of those "good shooting" guns, but it had a problem that was common to the Vanguard then—the trigger was not all I'd hoped. I fixed my rifle with a replacement Timney trigger. Now, it's one of the most accurate hunting rifles I own.
Weatherby is always striving to improve its products, so in 2011 they introduced the new Vanguard Series 2 rifle. One of the biggest changes for this rifle is the trigger. The Vanguard Series 2 is taking a rather unorthodox approach to triggers on the modern hunting rifle—it comes with a two-stage trigger.
I'll be honest. I was not a huge fan of two-stage triggers in general and certainly not on a big-game rifle. So, I went into this with a pre-existing condition: a severe bias against the trigger. Then I actually shot the gun and spent quite a bit of time prying my shoe out of my mouth.
The trigger on my test rifle uses 8 ounces to complete the first stage. Then the second stage breaks clean and crisp at 3 pounds exactly. That means that in reality I am applying 2.5 pounds to make the gun fire. My finger is already holding the half pound of the first stage and with 2.5 more pounds of pressure the gun goes bang. While I am pulling 3 pounds, it feels like 2.5 pounds. Either way, even at 3 pounds, that's remarkable in a production rifle. I remember vividly the days when most production rifles had 7- or 8-pound trigger pulls and were so rough that they felt like I was dragging a logging chain down a gravel road. In those days, gun owners would have spent a lot of dollars with a gunsmith to get the kind of trigger pull that comes standard on the Weatherby Vanguard Series 2 today.
Why is the trigger important? Simple: It controls everything. A good trigger is the key to shooting well with any firearm. No rifle can live up to its accuracy potential unless it has a good trigger. But then, on a hunting rifle going much below a 3-pound pull has some safety concerns. So the key is to keep the pull around 3 pounds, but keep it clean and crisp—just like this rifle's trigger.
The truth is that I am becoming (kicking and screaming) a much bigger fan of two-stage triggers for hunting. In addition to this rifle I recently installed a Geissele Automatics two-stage trigger on a DPMS LR243 rifle that I have been using for coyote hunting. I found that the transition and learning curve for a two-stage was just about non-existent. It's natural to pull tension on the first stage, pause and then break the shot. Target shooters have been using two-stage triggers forever, but they have not been popular with hunters. However, I can see that changing with the introduction of this new Weatherby rifle.
The Series 2 is available in blued or stainless steel and in 15 different cartridges. For this test rifle I selected the classic .257 Weatherby. Since its introduction in 1944 the .257 has been a top-selling cartridge for Weatherby. It is one of the ultimate long-range cartridges, one that bridges the gap between high velocity and manageable recoil. Factory ballistics with the 80-grain Barnes TSX show a muzzle velocity of 3870 fps from a 26-inch barrel. With a 300-yard zero it is 2.6 inches high at 200 yards and only 6.4 inches low at 400. That's a flat-shooting cartridge and a worthy companion for the new Vanguard Series 2 rifle
The other major change in the Vanguard Series 2 is stock design. The new stock has what Weatherby calls Griptonite inserts in the injection-molded stock to provide a better gripping surface at the fore-end and pistol grip. The stock is gray while the inserts are black. The buttstock, of course, has the Weatherby raised comb Monte Carlo design. It also has a right-side palm swell. The stock has sling swivel studs and is fitted with a 1-inch black recoil pad.
The safety is a three-position unit located on the right side of the receiver. Back locks the gun on safe. The center position is still on safe but allows the bolt to open for loading and unloading safely. Forward is fire.
The bolt has two forward, opposing locking lugs. The extractor is a spring-loaded .25-inch-wide claw. The ejector is a spring-loaded plunger in the bolt face. The bolt body is fluted.
My test gun shot very well, living up to the M.O.A. advertising claims. I fitted it with a 3x-12x scope and with three ammo products, one from Hornady and two from Weatherby. The average of nine, three-shot groups was .994 inch at 100 yards. Using three, three-shot groups, all three ammo products shot within one-tenth either side of an inch. So it's not fussy about ammo either.
I have always said that you can learn a lot from a gun writer by watching what he uses when he is on his own dime. Our deer season opens three days from when I am writing this and I have this rifle zeroed and ready to go hunting.
Specs:
weatherby.com
Type: bolt-action centerfire rifle
Calibers: .257 Wby. (tested); 15 chamberings from .223 Rem. to .338 Win. Mag.
Barrel: 24 inches; hammer-forged rifling; 1:10" RH twist
Magazine: hinged floorplate; 3-round capacity
Sights: none, drilled and tapped for scope
Trigger: two-stage; stage-one pull weight .5 lb.; stage-two pull weight 2.5 lbs.
Stock: injection-molded synthetic with rubber inserts; Monte Carlo style; length of pull 135/8"; drop at heel 5/8"; drop at comb 1"
Overall Length: 44.5 inches
Weight: 7 lbs., 8 ozs.
MSRP: $599; $1,099 Range Certified