by
posted on March 4, 2013
Support NRA American Hunter
DONATE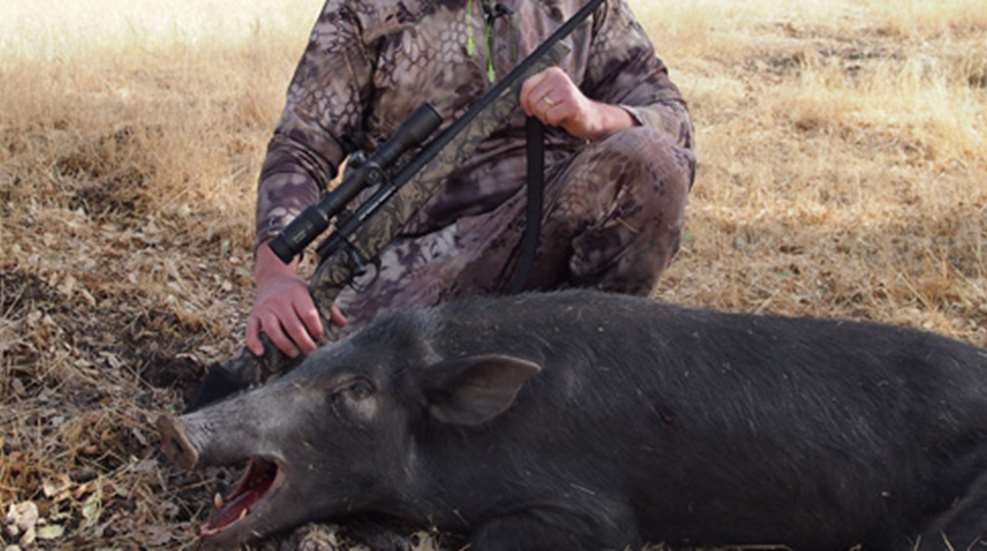 At the 2013 SHOT Show, Weatherby unveiled its entry into the growing wild pig hunting market, the Hog Reaper. Part of the rifle maker's new Weatherby-X line, the Reaper is available in .223 Rem., .243 Win., 7 mm-08 Rem. and .308 Win. Essentially a carbine-length version of the rifle maker's popular Vanguard series, the Reaper sports a 20-inch barrel (four inches shorter than the Vanguard), and an edgy, unique hog skull camouflage pattern on its composite stock.
While I haven't had a chance to give it a thorough bench test, I used two different Hog Reapers on two separate hunts last fall: a .243 Reaper on a Wyoming antelope hunt and prairie dog shoot; then, a .308 model during a central California hog hunt.
My first impressions? Hog hunters in the market for a new rifle should give the new Reaper serious consideration for these nine reasons:
1) It's accurate. Weatherby gives the Reaper a SUB-MOA accuracy guarantee—a three shot group measuring .99 inches or less at 100 yards with specified Weatherby factory or premium ammunition.
As noted, I haven't been able to print any paper with the rifle, but I took down an antelope at 120 yards and a 230-pound boar at 180 yards, one shot and done in both cases. Now, those aren't tiny animals and any respectable rifle should be able to score hits at those ranges. But I also knocked down over a dozen Wyoming prairie dogs with the .243, half of them at 200 to 250 yards, almost all with one shot.
2) The shorter barrel lets you swing quickly on a running target, especially when the shooting's up close and fast. With the Reaper, I took down a 150-pound black sow running furiously from my right to left at 50 yards.
3) A solid rifle but not heavy, the Reaper weighs 7 pounds and was light on the shoulder, even when hiking up and down some really steep California ravines and slopes.
4) The stock's hog skull camo, by Proveil Camouflage of Wisconsin, is very cool. At least, I think so. Some shooters probably won't like it. That's OK—more for those of us who do!
5) The Hog Reaper has a match-quality two-stage trigger, with a crisp let off, and it is adjustable down to 2.5 pounds.
6) The Mauser-style bolt action, with dual-opposed lugs, works smooth and locks up positively.
7) Since it comes without open sights and is drilled and tapped for optics, you could buy a new scope, too.
8) The rifle's three-position safety is a real plus. Located to the right of the bolt sleeve, the safety can be set on Safe (S), Fire (F) and "|"for unloading. When set to "S" or "|", the rifle's sear is blocked to prevent an accidental discharge.
9) You can own a Weatherby for under $750!