by
posted on January 25, 2019
Support NRA American Hunter
DONATE
For 2019, Weatherby has introduced its new Vanguard Badlands, a versatile big-game rifle that looks like it should cost more than it does.
Long before the current glut of affordable bolt-rifles hit the market, Weatherby's Vanguard was setting the standard for low-cost, extremely accurate turnbolts. Built in Japan by Howa, the Vanguard rifles feature a push-feed action with a dual-lug one-piece fluted bolt, and all of them are backed by a sub-MOA accuracy promise.
The basic Vanguard model is basic (in terms of aesthetics), but the new Badlands is a show-stopper. As the name implies, the polymer stock is slathered in Badlands Approach camo, and the metalwork is treated with a Burnt Bronze Cerakote finish. Magnum chamberings come with a 26-inch barrel, and standard chamberings receive a 24-inch pipe. Both magnum and standard versions have a No. 2 contour cold hammer-forged barrel, and the rifle weighs about 7.5 pounds unloaded.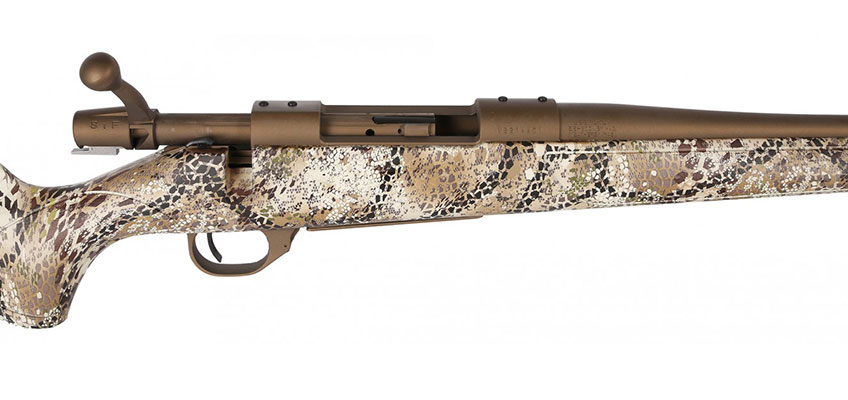 Key features on the Vanguard Badlands include an enclosed bolt shroud, two-position rocker safety and a hinged floorplate with the release positioned at the front of the trigger guard. The two-stage trigger is exceptionally good, with minimal, light take up for a clean and predictable trigger break.
The stock features texturing on the forearm and pistol grip for a secure and comfortable hold, and is outfitted with a raised cheekpiece that aligns the eye with a scope. Vanguard receivers are drilled and tapped to accept Remington 700 bases and base/ring combos, so mounting an optic is a simple process.
The recoil pad does a good job handling pushback, which is important, as the Vanguard Badlands is chambered in some pretty powerful cartridges including both the .300 Win. Mag. and .300 Wby. Mag. Other chambering options include .25-06 Rem., .270 Win., 7mm-08 Rem., 7mm Rem. Mag, .308 Win., .30-06 Sprg., the ubiquitous 6.5 Creedmoor, as well as two additional Weatherby Magnum offerings—.257 Wby. Mag. and the smoking-hot 6.5-300 Wby. Mag. No matter the game or the distance, there's a Vanguard Badlands model that's suitable for your hunting needs.
I've long been a big fan of the Vanguard rifles, and the new Badlands doesn't disappoint. It's well-balanced—neither too heavy nor too light—and it's built to very high standards that help it achieve excellent accuracy. I've yet to run across a Vanguard that didn't shoot extremely well—these rifles are in contention for the best hunting rifles under a grand.
The new Vanguard Badlands has an MSRP of $849, which means it's likely to retail for under $800—an exceptionally fair price for a rifle that is good-looking, built to such high-quality standards and shoots extremely accurately.
While the Badlands is available in a slew of popular and affordable caliber options, if you're looking to delve into the Weatherby Magnum cartridges, the Vanguard rifles are the most affordable option. And while Vanguard rifle itself isn't new, the Badlands represents a step forward for a superb family of affordable hunting rifles.
For more information, visit weatherby.com.