Support NRA American Hunter
DONATE
The spring turkey season has officially arrived, and there are some excellent new products on the market to help you be successful. Here's a list of the top new turkey loads and gear for 2018.
Federal Premium Grand Slam
This is a copper-plated lead shot with buffering that provides dense patterns and lots of energy down range to take that big tom down. A very cool option is on the actual shell (12- and 20-gauge only) where you can measure your bird's spurs right on the spot. This is the most cost effective and versatile of all three new ammunition offerings from Federal, as it's available in 10 different loads in 20-gauge, 12-gauge and 10-gauge. MSRP: $14.95-$23.95 per 10-rnd. box; federalpremium.com.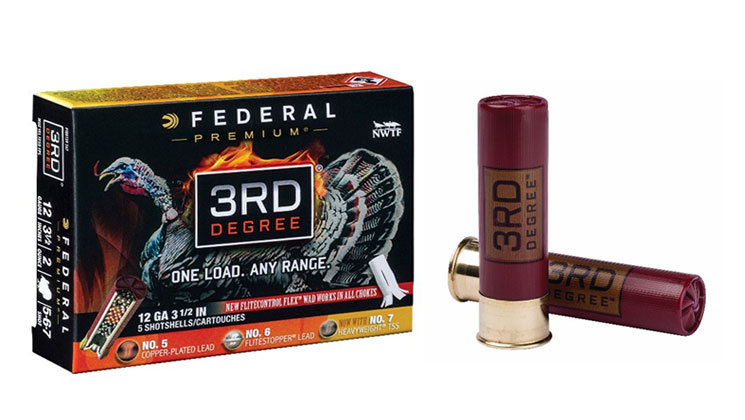 Federal Premium 3rd Degree with Heavyweight TSS
Rather than simply patterning tightly like conventional loads, 3 rd Degree uses a three-stage payload consisting of 40 percent No. 5 copper-plated lead which is lethal for mid-range shots, 20 percent No. 6 FliteStopper lead for the close in work and 40 percent of No. 7 Heavyweight TSS shot to deliver extra-dense, high-energy patterns at 40-plus yards. 3rd Degree has the potential to save a lot of marginal shots at any distance with its number of pellets and different size shot. Available in 12- and 20-gauge. MSRP: $21.95-$25.95 per 5-rnd. box; federalpremium.com.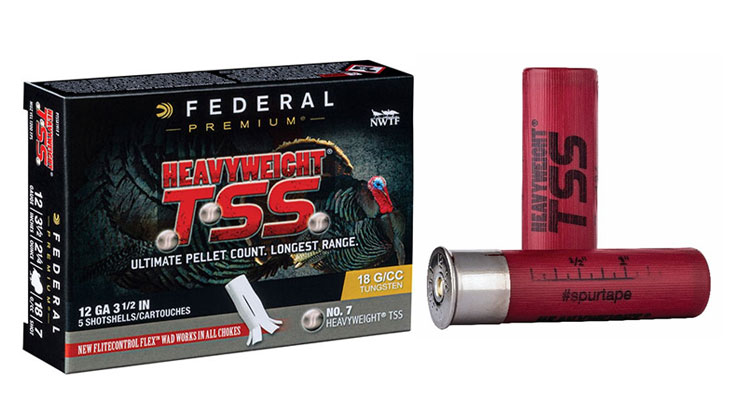 Federal Premium Heavyweight TSS
Federal's new Heavyweight TSS provides the highest pellet count possible—almost twice the pellet count of lead No. 5 loads of the same weight. The tungsten-alloy material's 18 gm/cc density is 22 percent higher than standard tungsten and 56 percent more than lead. It also has full-length wads to protect the barrel of your favorite turkey gun. Available in 12-gauge, 20-gauge and .410-bore. I'm hoping my 10-year-old son gets his first turkey this year with this load. The side of the shell features a #spurtape to measure your bird's spurs on the spot. MSRP: $29.95-$49.95 per 5-rnd. box; federalpremium.com.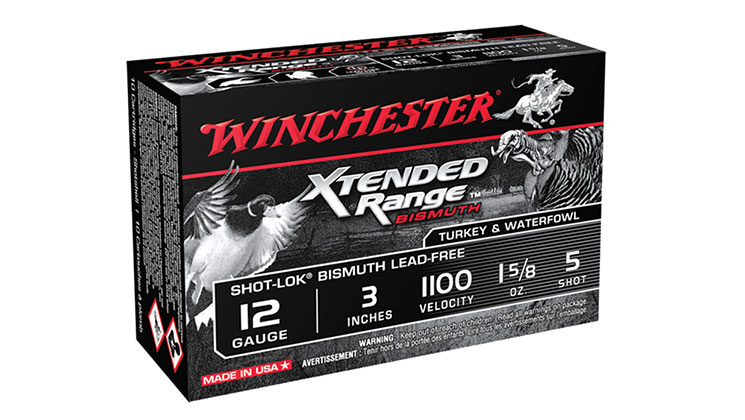 Winchester Xtended Range Bismuth
For 2018, Winchester introduced their new Xtended Range Bismuth shotshells in 3-inch 12-gauge, loaded with 1 5/8 ounces of No. 5 Bismuth shot, at a muzzle velocity of 1,200 fps. The company's Shot-Lok technology is used to protect the bismuth shot from fracturing, which improves pattern density and increases downrange energy when compared to standard lead loads. MSRP: $35 per 10-rnd. box; winchester.com.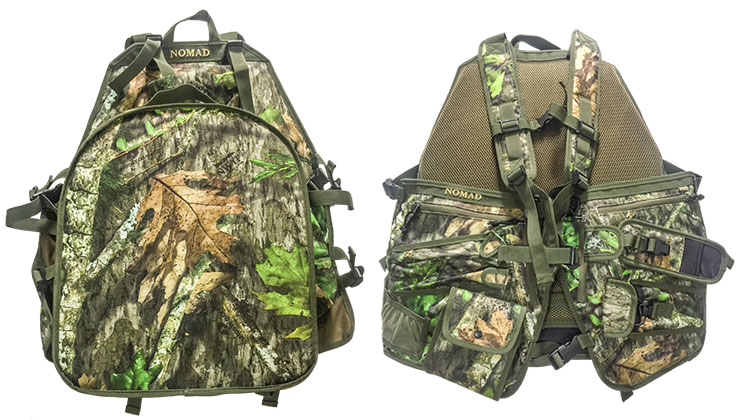 Nomad Mg Turkey Vest
The Nomad Mg Turkey Vest is designed for the turkey hunters who have the utmost passion for the wild turkey. The "Mg" in the vest's name stands for "Meleagris gallopavo"—Latin for wild turkey. With input from hunters, guides and professionals across the country, the Nomad Mg Turkey Vest is engineered from decades of first-hand experience in the turkey woods. Tons of features on this pack make it perfect the spot-and-stalk turkey hunter. Reinforced shoulder straps with a chest harness are appreciated when covering a lot of ground, and a triple mesh panel helps keep you cool. The vest's external Thermacell pocket is the first of its kind on a turkey vest. This will come in handy for those southern seasons that start early where bugs are thick. It has pockets for your box call, friction calls, mouth calls, strikers and a game pouch that also has extra pockets in it for storing your water bottle, clippers or anything else you take with you. It has a removable 3-inch thick seat with buckle and triple magnetic attachments, so you can quickly and easily flip it up and get chasing when the time comes. The vest comes in the new NWTF Mossy Oak Obsession camo, Mossy Oak Bottomland and Mossy Oak Greenleaf. MSRP: $129.99; nomadoutdoor.com.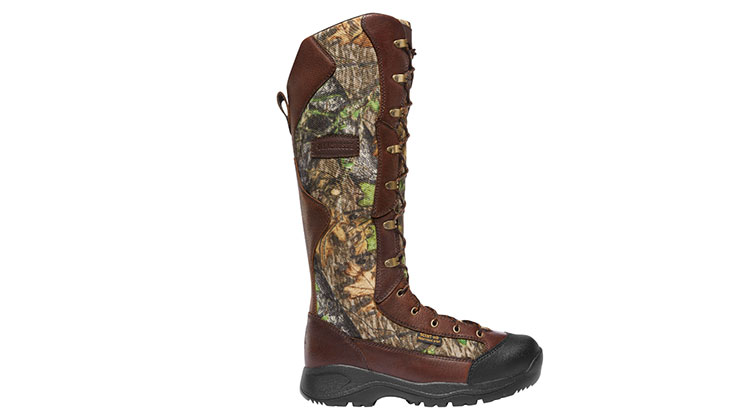 Lacrosse NWTF Venom Snake Boot
With any luck, you'll never need the protection afforded by the Lacrosse Venom Snake Boot's ultra-flexible Snake Guard, but if you ever happen to stumble upon a venomous snake, you'll be glad it's there. They also come with Scent Dry, a highly engineered lining that wraps the entire boot for 100 percent waterproof protection, with an antimicrobial treatment applied that fights odor-forming bacteria. Typically, when you think snake boots, you think of a rigid and uncomfortable boot, but I can tell you these are some of the most comfortable snake boots I've ever worn right out of the box. They use a flexible snake protection fabric between the liner and exterior of the boot to give you complete snake protection without weighing you down. The low-lugged outsole allows you to be quiet and quick through the turkey woods. A waterproof side zipper also makes the boots easy to put on and take off. If you are in snake country these are a no brainer this year. Total weight is 5 lbs. per pair. MSRP $199.99; lacrossefootwear.com.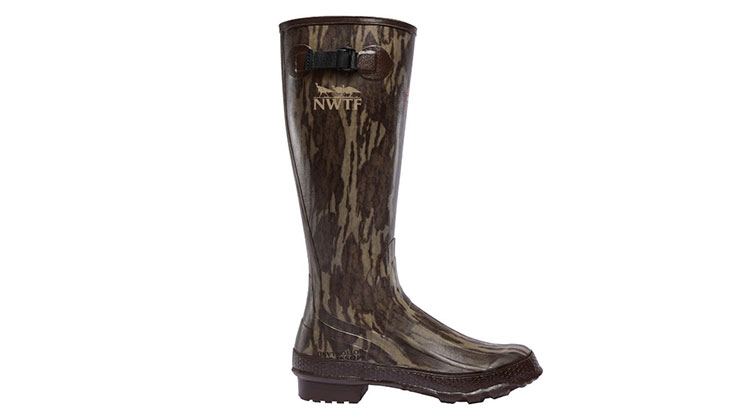 Lacrosse NWTF Grange Book
The NWTF Grange Boot from Lacrosse is waterproof, durable and extremely comfortable. It has been a staple rubber boot on turkey hunts for generations, and this version is no different. The rubber is naturally waterproof and they have proven to remain durable and waterproof year after year. In Mossy Oak's original Bottomland camo pattern, this boot offers the same ability to blend into dark environments and obscure your outline from a turkey's point of view. It has an adjustable top strap for a secure fit around your calf as well as a secure and comfortable fit around your ankles. You can feel confident that when you have to get moving to get ahead of those birds on the run, these boots will be right there with you. Total weight is 4.5 lbs. per pair. MSRP $99.99; lacrossefootwear.com.
Browning 17″ X-Vantage 800g Rubber Boot
The Browning 17″ X-Vantage 800g Rubber Boots are fit to perform, featuring a rubber overlay gusset in the back with adjustable webbing and closure clasps for a customized fit that you can trust for chasing that old tom turkey. With 800g of Thinsulate Ultra, these Browning insulated rubber boots provide advanced protection without the bulk. They have a ground-grabbing lug pattern for superior traction and maximum displacement, and are designed with protective rubber toe and heel overlays, providing additional durability, protection and a kick-off ledge for easy removal. Available in Mossy Oak Mountain Country or Realtree Xtra. MSRP $149.99; browninglifestyle.com.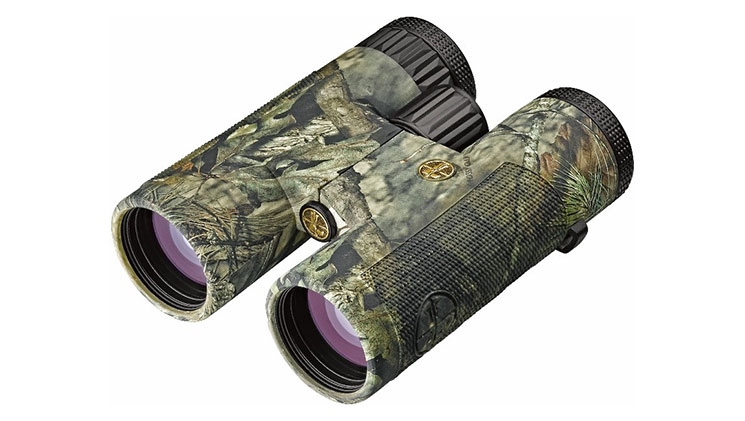 Leupold BX-2 Tioga HD Binoculars
Leupold's BX-2 Tioga HD binoculars bring the perfect amount of brightness, clarity, contrast and reach to earn a spot around your neck this spring. You also get an added edge: Leupold's Twilight Max HD Light Management System, which gives you the power to put those turkeys to roost late at night or find out what direction they're heading once they pitch out of the roost in the morning. The durable aluminum housing is shrouded in a rubber armor coating that provides a great grip in wet conditions or for glassing over long periods of time. The large, tactile focus dial is easy to find and use, even with gloved hands, which gives you the precision focus to decide which long beard you're going to set your sights on. The diopter focus paddle allows you to precisely focus your binoculars, compensating for differences between your eyes. This is great for us old folks or anyone who wears glasses. Of course, the BX-2 Tioga HD binos come with Leupold's proprietary nitrogen sealing process. I thought the twist-up eyecups allowed generous eye relief for comfortable extended viewing. Total weight is 23.5 ounces—great for spot-and-stalk hunts. The BX-2 Tioga HD binoculars are available in Mossy Oak Break Up Country or a Shadow Gray finish. MSRP $419.99; leupold.com.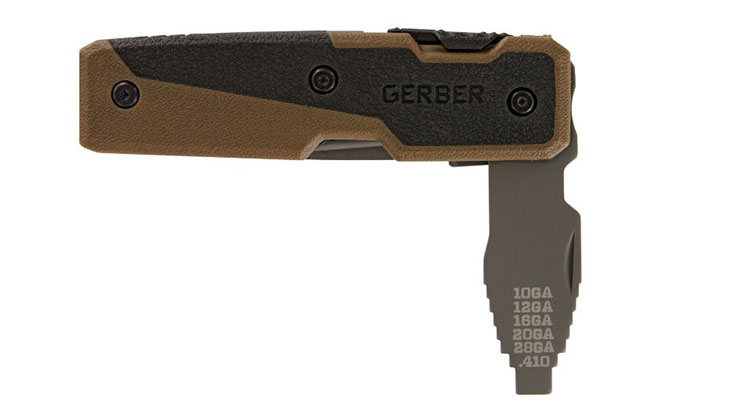 Gerber Gear Myth Shotgun Multi-Tool
The Gerber Gear Myth Shotgun Multi-Tool was built to turkey hunt with—seriously. It has all the things you need if things go right or wrong in the woods. It's a clean, compact unit with six essential components that provide the most frequently used shotgun-specific tools. This includes a choke tube wrench, a pin punch, as well as a small pruning saw and fine edge knife blade. The other item is a 12-inch retractable ruler that will solve the great debate of how long the beard and spurs are, so you can measure up to your friend's bird. Finally, it comes with an 18-inch bird lanyard that turns it into a T-handle for carrying your birds down the trail and back to your truck. This item has been in my blind bag for waterfowl, in my backpack for predators and inside my turkey vest in the spring—I never leave home without it. All components lock in place during use to enhance both safety and overall effectiveness. MSRP $49; gerbergear.com.
Gerber Gear Myth Ratcheting Pruners
The Myth Ratcheting Pruners are a must-have for turkey hunters when you're settling in with your back against a tree or in some brush. These pruners will get limbs or brush out of your way so you have a better sight line, or if you need to cut some to put in your way to break up your position. It's slim, lightweight and durable, with a structured ratcheting system and easy-to-pull rubber handles. There's also a lock situated between the handles so they open smoothly, but also keeps them safely closed while carrying or when stored away. MSRP $25; gerbergear.com.