by
posted on May 18, 2015
Support NRA American Hunter
DONATE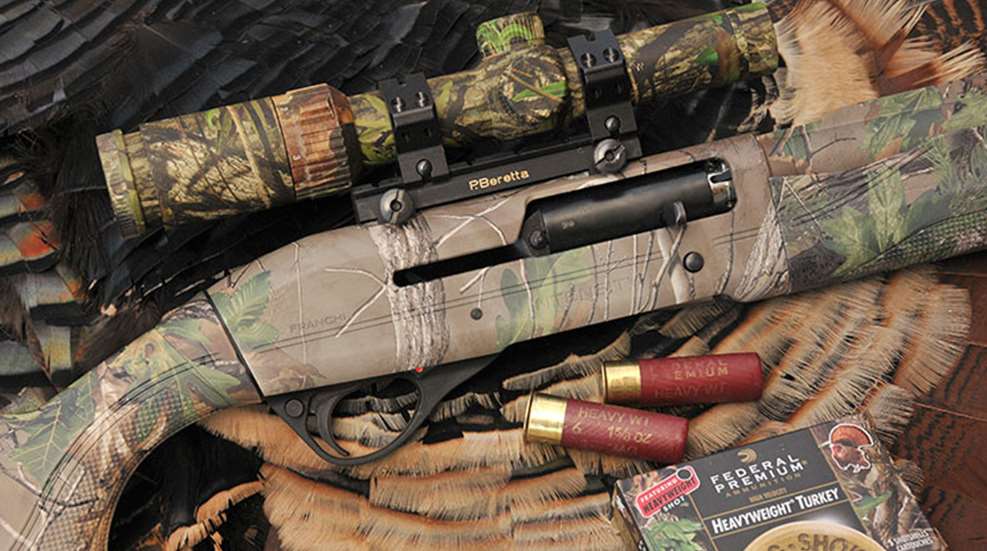 Editor's Note: Bryce Towsley discusses the gear he used on his recent Merriam's turkey hunt, detailed here.
While Merriam's turkeys live in wide-open spaces and are known for pushing hunters to take long shots, I think the longest shot we took at one was maybe 20 yards. Most were 10 to 15 yards. Bringing them in so close with aggressive calling and Cally Morris' decoying methods makes for heart-pounding, can't-breathe, adrenaline-rush turkey hunting.
The trouble is, it's the close birds that you miss. The "pattern" from a turkey gun at 10 yards is only a few inches wide and a turkey head is a small, always moving target. Over the years I have learned that an optical sight on a turkey gun is by far the best option to reduce misses. You still have hunter error. No optic can fix panic-infused stupidity, and every turkey hunter on Earth is going to experience that now and then. But the optic eliminates aiming errors common to shotguns with beads.
I used a Franchi Intensity shotgun in Realtree Xtra Green camo, equipped with the new Weaver KASPA 1X-4X-24mm turkey scope with the Vertical Zone Turkey reticle.
I stoked it with Federal Mag-Shok Heavyweight 1 5/8-ounce No. 6 shot. If you have never hunted with tungsten-based, Heavyweight turkey loads, you will not believe how deadly these pellets can be. They simply switch off turkeys. 
We were filming, so I had to look pretty. I draped myself head to toe in Bass Pro Redhead clothing in Realtree patterns. I looked like a newbie out there in my unsullied camo, but I got it blood-stained pretty fast. I can say without reservation that it's great hunting gear.