Support NRA American Hunter
DONATE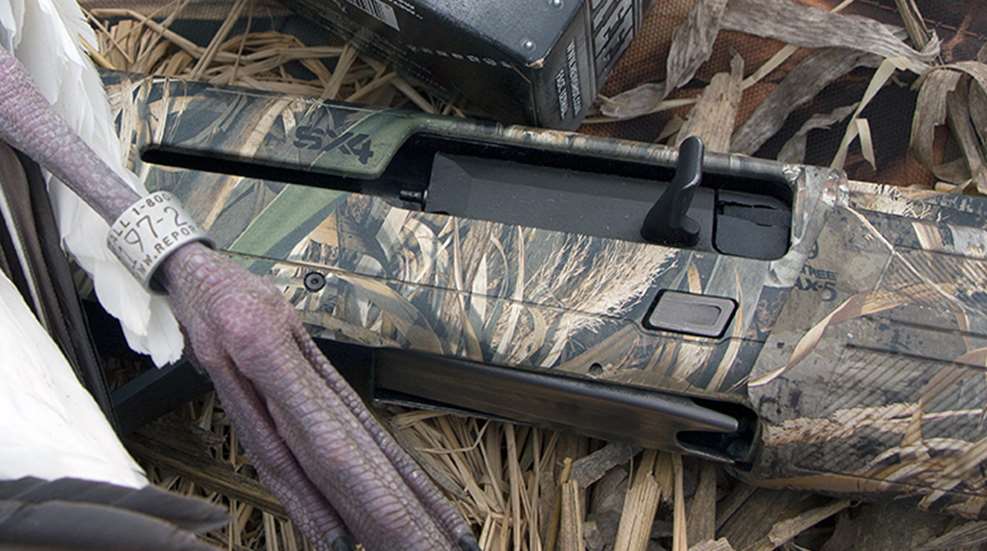 Shotguns are among the most versatile tools in the hunter's safe. A shotgun can be used to take birds on the wing, turkeys on the ground, small game, deer-sized creatures with slugs or buckshot, predators such as coyotes and can double as a target or home-defense gun. I have a hard time imagining a gun hunter who doesn't own a shotgun or five.
Shotgun technology certainly hasn't changed fundamentally in decades but minor innovations from year to year have given us guns that shoot a wider variety of loads with better patterns and less felt recoil than most of the guns our fathers or grandfathers carried. This year is no exception and a host of new models were released to the public in January. Too many new models to digest? We're going to do it for you. In no particular order, here are our picks for the best new shotguns of 2017.
Benelli Super Black Eagle 3
The latest iteration of Benelli's flagship semi-auto was released in 2017, nearly a quarter of a century after the original Super Black Eagle hit the market. The SBE III is an incremental evolution of the previous model in the series, and incorporates some of the innovations that have gone into recent Benelli introductions such as the Vinci into the SBE. The most notable changes have been ergonomic—the SBE III includes the Comfort Tech 3 stock which uses 22 synthetic chevrons, a variable comb and a gel recoil pad to tame the felt recoil. I take numbers like these with a grain of salt, but Benelli claims that this system reduces felt recoil by "48 percent over the competition." The bottom line is that the Super Black Eagle III is comfortable to shoot and gives the user the same durability, light weight and reliability that has put this gun near the top of the semi-auto hunting heap for years. SBE II owners won't see too many differences between this gun and theirs, but the differences are significant enough to justify the change in model. MSRP: $1899.
Franchi Instinct Catalyst
Many upland bird hunters and target shooters prefer the simplicity and inherent safety of an over/under shotgun. There are plenty of over/unders on the market but few, if any, designed to fit a woman's frame. Franchi's offering to female hunters and shooters is the Instinct Catalyst, a 12-gauge with 28" superposed barrels. The stock dimensions of this gun were specially engineered so that the cast, drop, pitch, grip, and length-of-pull would be more properly dimensioned for the female body. Just as every traditional shotgun won't fit every male body perfectly, this gun won't be right for every woman but it's a big step in the right direction. This gun has an overall length of 45" and weighs 6.9 pounds. The stock is walnut, the receiver is color case hardened, and the barrels are attractively blued. MSRP: $1599.

Winchester SX4
Winchester's new autoloader is a fast-cycling gas-operated shotgun designed to work reliably with a variety of loads. Invector choke tubes are standard, as is a TRUGLO fiber-optic front sight, a chrome chamber and bore, and an oversize bolt handle and release button. The barrel is back-bored and the stock is adjustable via removable spacers. Southpaws will appreciate the reversible safety button and the removable trigger group makes cleaning the gun an easier task. The SX4 is available with a wood or synthetic stock and the Waterfowl Hunter model shown is covered in Mossy Oak Shadow Grass Blades camo. MSRP: $939.

TriStar Viper Max
It's almost a rule that semi-auto shotgun prices start at a grand and go up from there. Not everyone can or will spend that kind of money on a shotgun which is where TriStar Arms comes in. The company's latest 12-gauge gas-operated autoloader has many of the features that you'll find on pricier guns: 3.5" chambers, Realtree camo coating, fiber optic sights and a 5-year warranty—but are available at a significantly lower price. Available barrel lengths vary from 24" to 30" and they are threaded to accept Benelli chokes (Improved Cylinder, Modified, and Full chokes are included). MSRP: $730.

CZ 620/628 Field Select
CZ has a reputation of building quality guns at reasonable prices and this pump gun is no exception. This 5.4-pound scattergun, available in either 20 or 28 gauge, features a Turkish Walnut stock, a blackened aluminum receiver, and a blued barrel with a vent rib. A light and handy arm for walking hunts, this shotgun really is a throwback to some of the classic hunting guns of the 1950s and 60s. The chamber on the 28-gauge 628 is 2¾" while the 20-gauge 620 is 3". Both models come with 3 chokes (Full, Modified, and Cylinder) both come standard with 28" barrels. MSRP: $429.

Henry .410 Lever-Action
I guess I didn't realize how passionate lever-action fans were until I started writing for outdoor publications. Folks who love lever-actions can't seem to get enough of them, and constantly remind the editors that they have been slighted when one of their beloved guns doesn't make its way into an article. Well guys (and gals), here's your medicine. Henry Repeating Arms produces the widest variety of lever action firearms that I am aware of—best of all, they are all made in the United States ("or not at all", according to the company's slogan). For 2017, Henry has released a lever action .410, available with either a 20" or 24" barrel. The 20" barrel is a smooth bore without choke with rifle sights while the 24" version uses a full choke and a brass front bead only. Both models wear American Walnut stock and blued steel. MSRP: $850/$902.