by
posted on October 16, 2017
Support NRA American Hunter
DONATE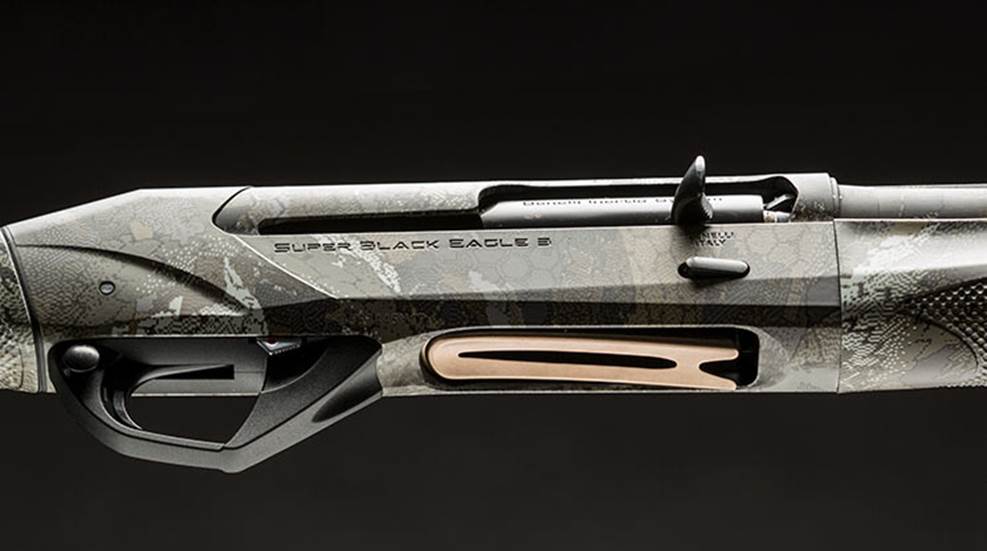 Benelli's Super Black Eagle 3 (SBE 3) represents nearly 120 years of shotgun evolution. Semi-automatic Benelli shotguns have not been around that long, but John Moses Browning created the world's first semi-auto shotgun, the A5, in 1898. It went into production in 1900. Engineers, gunsmiths and major manufacturers have been modifying and tweaking the semi-auto platform ever since. Even though the Benelli SBE 3 is based on a different mechanical system, it represents one of the latest evolutions of semi-auto design.
The original Super Black Eagle wowed the waterfowling world in 1992 for at least two reasons. Its Inertia Driven action didn't use powder gases to drive function, thus it didn't foul with carbon like most gas-cycling semi-autos. It could also fire the then-new 31/2-inch shells, the first semi-auto shotgun to do so. In a hunting enterprise where steel shot was the only game in town, duck and goose hunters were striving to offset pellets having a lower specific gravity with those having a larger diameter—and more of them. Size mattered. As a versatility bonus, the SBE would function perfectly with 3-inch and even 23/4-inch shells. Mix and match. Didn't matter. Pragmatic hunters saw this as one gun and done.
At just more than 7 pounds, the SBE was light and fast. Its reliability proved to be high, but so did recoil. Waterfowlers sucked it up, bore the SBE's bite like a badge of honor and swore allegiance—until the SBE II hit wetlands in 2004. Here was a refinement aimed squarely and blatantly at recoil reduction. Comfort Tech were the buzz words. They referenced a radical new stock engineered to function as a glorified recoil pad. The side walls of the synthetic buttstock were cut in multiple places and fitted with rubbery, shock-absorbing wedges. The buttplate was anchored with a deep pad of what I'm sure was the best shock-absorbing material Benelli could uncover. A similar slab of material was set into the comb to reduce cheek slap. An improved recoil tube in the stock, an enlarged trigger guard, cryogenically treated choke tubes and barrel, and a slightly trimmer shape overall completed the upgrade.
So why version 3? Even more recoil-reducing refinements, sleeker lines, smoother function and, maybe most importantly, a mechanical improvement borrowed from the Benelli Ethos to eradicate the "Benelli click." Let's not beat around the bush here. The phrase "Benelli click" exists for a reason, and it's inherent in the gun's inertia-operated, bolt-locking system.
A coil spring enclosed by the bolt body pushes against the rotating, locking head that serves as the breechblock. A long action rod connects the "floating" bolt body to a recoil return spring in the buttstock. Upon firing, the gun recoils against the force of the ejecta. Because the bolt head is locked into the barrel breech recesses, it moves backward with the rest of the gun. The bolt body, tied to the gun only through coil springs, remains in its resting position due to inertia. The coil spring between the bolt head and body compresses. When the gun's recoil is halted against the shooter's shoulder, this loaded spring "uncoils," pulling the rotating bolt head out of its locking recesses. The entire bolt then slides back against the recoil return spring in the butt, ejecting the empty shell. Meanwhile the next round in the magazine is kicked onto the carrier. When the recoil return spring shoves the bolt forward, the carrier rises up, the bolt head pushes the fresh shell into the chamber and a camming action rotates the bolt head into the locking recesses. The gun is ready to fire the next shot.
A slight glitch with the system is in-herent in that spring-powered, rotating breechblock. If the bolt is eased forward without sufficient energy, it may not lock into battery. Jar the gun just right—like setting it down a bit too hard on its buttstock in the blind—and the block may come out of battery. Pull the trigger and you get click instead of bang. Benelli addressed this with a spring-loaded, ball detent mechanism in the bolt body of the Ethos a couple of years ago. The company included this refinement in the SBE 3.
It's still possible to carefully thumb the bolt back to take it out of battery, but jarring doesn't seem to do it. No matter how many times I bumped the gun, no matter how hard or softly, I could not get it out of battery. During five days of waterfowling in winds gusting to 70 mph, driving rain, snow and saltwater spray, the SBE 3 never failed to function. During hot, dusty dove shoots, it never had a glitch. I shoved 30-year-old shells, new shells, wet shells, dirty shells, 23/4-inch shells, 3-inch and 31/2-inch shells indiscriminately into the magazine and loading port. Everything from 1-ounce loads to 2-ounce loads, bismuth and tungsten to lead and steel, the Benelli digested them and asked for more.
Reliability? Go to the head of the class.
So what else is worth investigating? Well, there are a bunch of little things, and they all add up. The Comfort Tech recoil-reduction system has been upgraded to Comfort Tech 3, mainly with a larger Combtech pad that effectively takes any bite out of cheek slap. It's more like a facial massage now. Different-height pads can be swapped to tailor gun fit. Ditto buttpads for LOP adjustments. Just snap in and out. Three shims permit four different drop positions and two cast positions.
Recoil reduction? Give it an A.
The bolt-release button, handle and safety have been enlarged for easier engagement with cold and gloved hands. Shoving shells into the magazine should be easier thanks to a sculpted, grooved and beveled loading port, carrier and trigger bow. Little tweaks like these are easily overlooked, but in practice they work. You can keep your eyes glued to an incoming flock while pushing shells home without a hook, catch or stop. Slick and quick. Five cryogenically treated chokes come with the gun: full, improved modified, modified, improved cylinder and cylinder.
Easier to feel than see is what Benelli calls "improved grip-to-trigger geometry." Just how this feature coordinates with various shooter hand sizes mystifies me, but through vigorous field research I did determine it works with mine. My first seven shots at geese resulted in seven geese: three flaring over the decoys, three passing 50 yards overhead and one crossing right to left at 40 yards. We won't discuss the dove shoot …
Changes to the gun's lines are more aesthetic than functional, although a subtle swell in the fore-end does aid control during recoil. Checkering is surprisingly sharp and effective for a synthetic stock. A triangular magazine cap is a small stroke of genius for alleviating the frustrations of trying to get a grip on that part. The SBE 3 weighs right at 7 pounds and comes with a 26- or 28-inch vent-ribbed Crio barrel in black and three camo patterns.
Ergonomics and handling? Another A.
Aesthetics? Let's wait for the SBE 4. (Hey, are we out there to win beauty pageants or shoot ducks?)
All things considered, the Benelli SBE 3 is a well-planned evolution of not just the SBE platform, but semi-automatic shotguns in general. The dominance of the pump gun is over, never to return.

Technical Specifications:
• Type: inertia-operated semi-automatic shotgun
• Gauge/Chamber: 12/31/2"
• Barrel: 26", 28" (tested); vent-rib; Crio-treated; threaded for Crio choke tubes
• Sights: red fiber-optic front, metal mid-bead
• Magazine Capacity: 3 rnds.
• Trigger: 6-lb. pull weight
• Safety: cross-bolt
• Stock: synthetic w/Comfort Tech 3 and Combtech; black, Gore Optifade Timber, Mossy Oak Bottomland, Realtree Max-5 finish; LOP 143/8"; drop at comb 13/8"; drop at heel 21/8"
• Metal Finish: black, Gore Optifade Timber, Mossy Oak Bottomland, Realtree Max-5
• Overall Length: 49.6"
• Weight: 7 lbs.
• Accessories: 5 Crio choke tubes (C, IC, M, IM, F) and wrench; shim kit for adjusting drop and cast
• MSRP: $1,899-$1,999