by
posted on November 5, 2019
Support NRA American Hunter
DONATE
It may have been the gun that won the West, but the lever gun hasn't always gotten the love it deserves in a modern world dominated by semi-autos and bolt guns. The newest ammunition offering from Hornady, however, is bound to spark a resurgence in the American love affair with the lever action.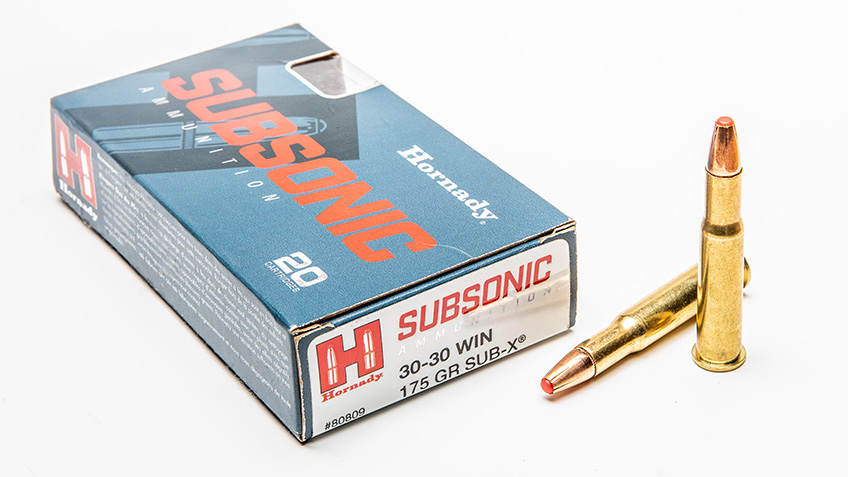 Already available in .300 BLK, Hornady extended its Subsonic family of ammunition for 2020 to include .30-30 Winchester, .45-70 Government and .450 Bushmaster. While subsonic .450 Bushmaster and .300 BLK loads make a ton of sense given the popularity of AR and bolt-action platforms on the market today, perhaps what's most eye-catching are the two lever gun offerings. The Subsonic load features Hornady's Sub-X bullet with a lead core and flat-nosed polymer Flex Tip that prevents clogging and aids in expansion. The .30-30 offering features a 175-grain bullet with a generous hollow point cavity to allow for expansion at subsonic velocities and close ranges.
A subsonic, suppressor-friendly offering in lever gun calibers may not be the first thing that comes to mind for many hunters, but as Hornady did with LEVERevolution, it's bound to revolutionize the platform.
"The idea for a subsonic load in .30-30 and .45-70 came about because many of the folks within our walls are huge lever gun enthusiasts," Neal Emery, senior communications manager at Hornady, said. "At first, many people may not get it. But once you shoot the Subsonic load you quickly realize how much fun it is."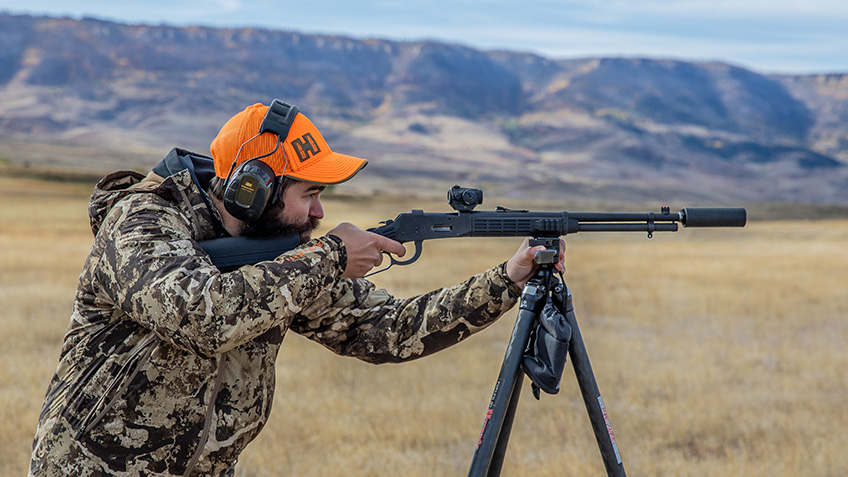 I joined Emery on a pronghorn hunt with Heart Spear Outfitters near Casper, Wyo., to see what all the rage was about. Our rifle of choice was Mossberg's 464 SPX with a threaded barrel, which is itself not what you'd expect from a lever gun. Featuring an AR-style adjustable buttstock, all black synthetic stock and Picatinny rails for accessorizing, the 464 is uniquely designed for use with a suppressor. Because of its small profile and the subsonic compatibility, we selected a SilencerCo Omega K can for the hunt. Likewise, we attached an Aimpoint Micro for close range run-and-gun hunting on the open plains of Wyoming.
A modern twist on a classic rifle design, we setup a target board and got zeroed with the 464 SPX at 75 yards, which made for an inch or so of drop at 100. Remarkably quiet, the rifle and Subsonic load produced minuscule groups and quickly became a source of delight as we took turns shooting. As I watched our guides, Kody and Jordan Glause, take turns behind the rifle, their smiles validated Neal's claim that shooting really is believing.
Later that afternoon, Kody spotted a group of antelope at a watering hole just a short distance from us. As we glassed the bunch, Kody's dispassionate refrain, "just a buck," quickly transformed into excitement. "There's the buck we're looking for!"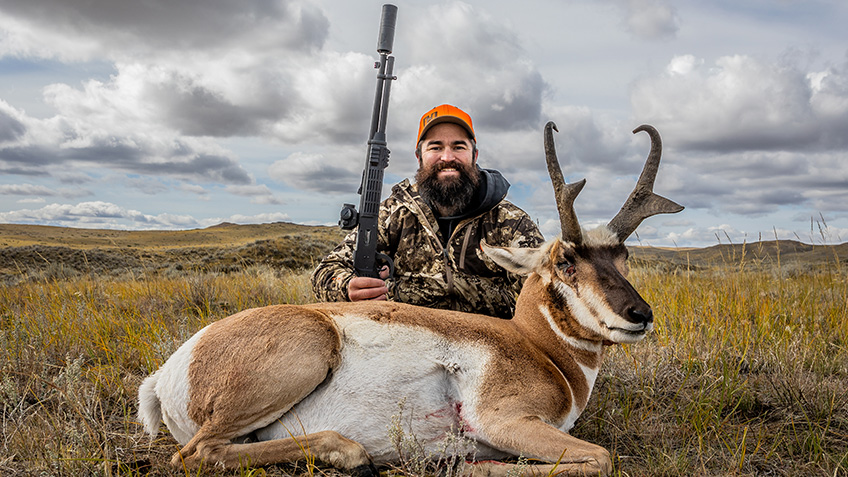 Neal, Kody and I got as close as we could, then started the army crawl through sage brush and cactus as we tried to shorten the 200 yards between us and the goat. As we crested the ridge, there he stood, 127 yards on the nose. I setup the shooting sticks, steadied the rifle and Neal gave me the dope he'd worked out in his head. I held the red Aimpoint dot at the top of the buck's back, directly above the vital zone. As the suppressed shot cut the crisp air of opening day, there was a split second in which we all wondered if the mark was true.
The buck darted 10 yards straight ahead before wheeling back around, which is when Kody noticed the massive exit wound and blood spray on the goat's side, exclaiming, "You got him. He's done for." We walked up to the buck just 20 yards from where he stood at the shot.
How did the bullet perform? As it turned out, Neal's dope was spot on: The bullet went straight through the heart, leaving a massive wound channel and passing completely through the vitals. We didn't recover the bullet, but its effectiveness was more than obvious. Travelling below the sound barrier at roughly 1050-1100 fps, the Sub-X bullet expanded fabulously and was as accurate as you could have asked for.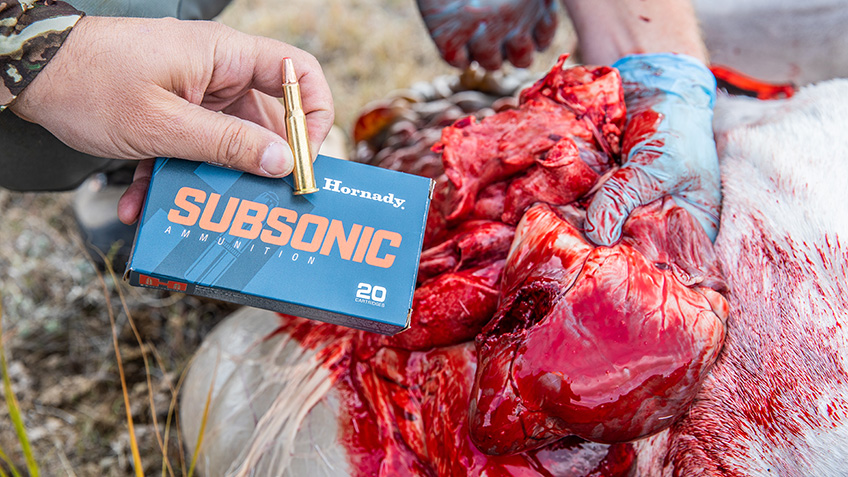 As Neal promised it would, the Subsonic .30-30 load gave me every reason to fall in love with the lever gun all over again. Adding a suppressor not only protects the hearing of everyone in the group, but also makes for a ridiculously addictive shooting experience. The rifle setup and load would work equally well for close-range critters of medium to large size, and the minimal recoil and noise make it a perfect pairing for instilling a hunting passion in youngsters and new shooters. While it's yet to be determined what the bullet weight of the .45-70 will be, the Subsonic load in that caliber will be the next on my bucket list for elk and hogs.
Quiet, lethal and suppressor-friendly, there's a ton to love about Hornady's new Subsonic load. It's great for game species of every size at close ranges and features a Sub-X bullet that delivers reliable expansion and solid bullet construction. Let the Lever Revolution begin again!