by
posted on October 23, 2015
Support NRA American Hunter
DONATE
Have a vintage shotgun—without Damascus, twist, or laminated steel that is in safe shooting condition—that you've been yearning to take waterfowl hunting? You're certainly not alone. The secondhand firearm market is rife with perfectly serviceable shotguns, such as Remington's Model 11, 17, 31, and 11-48, Winchester's Model 12, 24, 42, 50, and 59, Browning's Auto-5, Parker's side-by-sides, and Ithaca's Model 37, that, given their quality of materials and construction, represent tremendous values. They're perfect for the duck blind, too. Problem is, these field-proven, often-fixed-choke long guns were built well before leadless shot was required for waterfowl hunting, so they weren't designed to handle shot approaching, equal to, or exceeding the hardness of the barrel steel. Value-priced, hard-hitting steel loads and those with shot featuring high percentages of tungsten, making them heavier than lead, are a no-go for these guns. But, using the innovative products mentioned below, you could satiate your need for nostalgia while also sacrificing nothing with regards to performance and the protection of your treasured scattergun. They'd also pull double-duty for upland hunting (including turkey) where the use of lead shot is prohibited. 
Rio Bismuth
Bismuth was one of the first other-than-steel options to emerge with the full ban of lead for waterfowl hunting in 1991. Because bismuth (9.79 g/cc) is 86 percent as dense as lead (11.3 g/cc), its external and terminal ballistics are similar; however, there is one notable difference, and that's bismuth is relatively brittle. Squeeze a chilled or magnum lead pellet with pliers and it'll flatten, but the same action with bismuth shot will result in fracturing. During setback and when encountering especially thick bone, some bismuth pellets will break. Still, bismuth is one of the best substitutes for lead for field applications, and its "softness" enables its use in older shotguns.
Ever since bismuth shot debuted in the early 90s, production and availability has been notoriously inconsistent; in fact, several companies offered it only to stop and/or fold shortly thereafter. The latest company to bring bismuth to market is Rio Ammunition, Inc., and its loads are surprisingly affordable. For example, Natchez Shooter's Supply sells 10-count boxes for $20. More than steel? Absolutely, but it also offers lead-like downrange performance and is safe for treasured shotguns. As such, I consider it to be a great value. Currently, Rio Bismuth is available in .410 bore, 28, 20, 16, and 12 gauge in No. 3, 4, 5, 6, and 7 shot. Depending on the specific load, velocities range from 1175 f.p.s. to 1400 f.p.s., so these no-nonsense loads. Three-inch offerings are available in .410 bore and 12 gauge.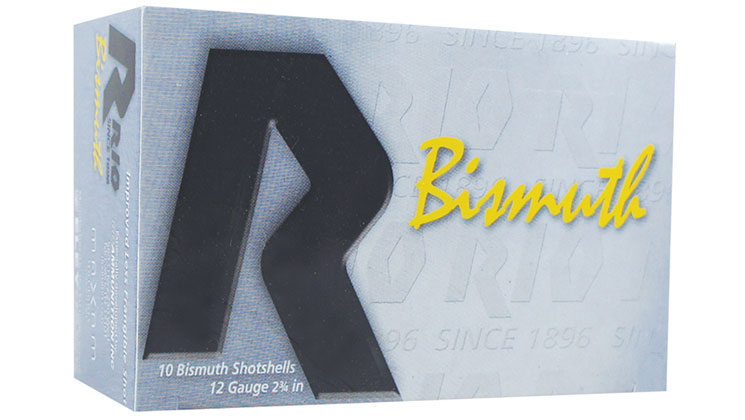 HEVI-Shot Classic Doubles
An early entrant into lead-free waterfowling scene, ENVIRON-Metal's HEVI-Shot is likely the best-known leadless shot that's not steel; it's also the one against which other tungsten-based pellets are judged. Comprised of a blend of tungsten, nickel, and iron, HEVI-Shot is, as the company's tagline says, "heavier than lead." Density-wise, the standard pellets are around 12 g/cc, which is slightly denser than lead. The company's HEVI-13 pellets are denser yet, but, thanks to the ratio of tungsten, both blends are too hard for use in older shotguns. Fortunately, the company recognized the need for a "softer" pellet suitable for vintage fixed-choke shotguns. Enter Classic Doubles.
Introduced in 2007, Classic Doubles' pellets are 9.7 to 9.8 g/cc, which is less dense than standard HEVI-Shot and similar to lead. But, the decreased tungsten content makes the pellets safe for your treasured scattergun. Lead-like performance can be expected. Unlike the original HEVI-Shot, which was non-uniform in shape and absent a mid-section band, Classic Doubles' pellets have those features. The wound-enhancing band is becoming more commonplace among lead-free shot. Under the pressure of pliers, Classic Doubles pellets revert to their powdered form. On game, they're unlikely to act similarly.
On Natchez Shooting Supplies' website you'll find .410 bore and 28, 20, 16, and 12 gauge with shot sizes ranging from No. 2 to 7. There are 3" options, too. Unlike Rio Bismuth or Kent Tungsten Matrix, at 1150 f.p.s. Classic Doubles have smallish payloads pushed relatively low velocities, but there's still sufficient pellets and oomph to down distant birds. The low recoil also makes them a boon for the recoil-shy hunter. Priced at $30 to $40 per 10 shells, Classic Doubles are by no means inexpensive, but if you want to take your vintage shotgun waterfowling, they're among the few—and best—options available.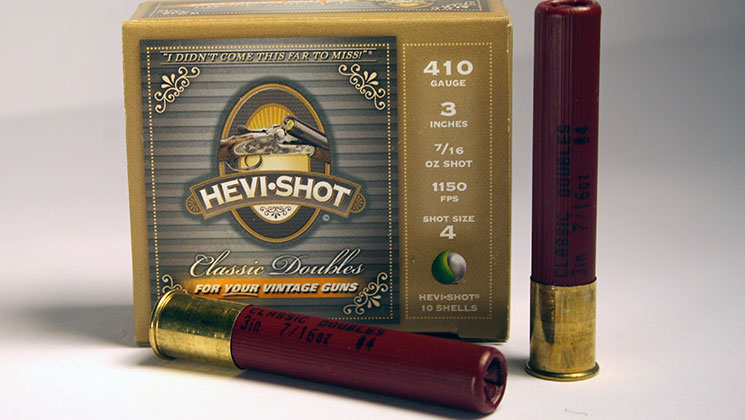 Kent Tungsten Matrix
Perhaps the most popular shotshells for vintage shotguns (and new guns, for that matter) are Kent's Tungsten Matrix loads. Made from tungsten powder in a polymer matrix (hence the name), Tungsten Matrix were developed to match the ballistics and malleability of lead-alloy shot, thereby enabling their use in older, fixed-choke shotguns that are safe to fire. Kent Tungsten Matrix shells hold nothing back with regard to velocity; in fact, the 12-ga., 3", 1¼-oz. loads attain 1525 f.p.s. High velocity coupled with lead-like qualities results in geese swatted like gnats with oversize flyswatter. The only drawback to Kent Tungsten Matrix is its price; depending on the load, 10 shells cost between $33 and $54 at Cabela's—about $3.50 to $5.50 per shell. Currently, Tungsten Matrix is offered in 12-ga. 2¾", 3", and 3½", and 20-ga. 2¾" and 3". Shot sizes range from No. 3 to 6. Kent also has 20-ga., 2¾", 1-oz. No. 5 and 16-ga., 2 3/4", 1 1/16-oz No. 6 options in its Tungsten Matrix Upland line. The velocities are 1350 f.p.s. and 1315 f.p.s., respectively.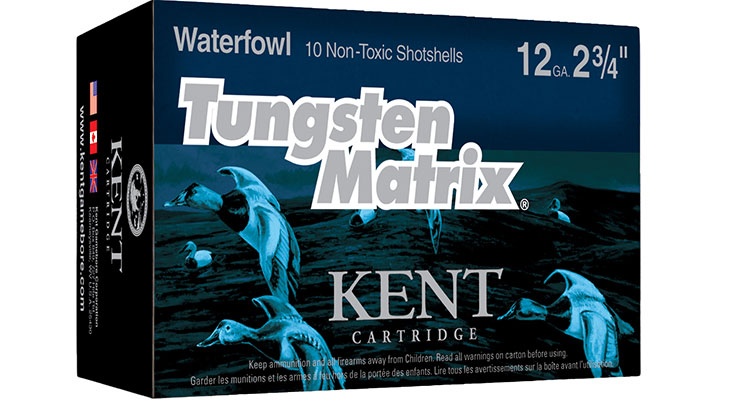 Ballistic Products, Inc. ITX Original-10 Package
Handloaders are afforded yet another option in Ballistic Products, Inc.'s ITX Original-10 2¾" (or 3") Package, which includes a 7-lb. bag of TomBob Outdoor's lead-free ITX Original-10 shot (in BB, No. 2, 4, or 6 size), 100 12-ga., 2 ¾" new, primed hulls, 100 TPS 12-ga. 41 mm wads, and an ITX loading manual. The only other item needed is the propellant. Hodgdon Universal Clays, Alliant Steel, and IMR-PB are the preferred propellant choices using the provided components; upward of 1425 f.p.s. are achievable with 1-oz. loads and 1375 f.p.s. with 1 1/8-oz. loads.
As for ITX Original-10 shot, it's manufactured from compressed powdered tungsten and iron with a binder. The result is a pellet with a 10 g/cc density, making it similar in density to lead for similar downrange performance, and it's safe in nitro-proof barrels. Like lead and bismuth, ITX doesn't register on the Rockwell "C" for hardness, the baseline of which 27.0. Enhancing its lethality is the band circumscribing the pellet's midsection. ITX Original-10 Packages are available with BB, No. 2, No. 4, or No. 6 shot.
Given ITX's lead-like performance, I would generally opt for 1-oz. No. 4 or 6 loads for ducks (outside of large sea ducks, such as eiders) and 1 1/8-oz. BB or No. 2 for geese. Priced at $170 for the aforementioned 12-ga., 2¾" package, and taking into account the price of the propellant, you'll get about 112 1-oz. loads at a cost of $1.75 each. Using the 1 1/8-oz. recipe, you'll end up with right at 100 shells at a cost of about $2.00 each. As you're get "premium,' custom-loaded ammunition for your elder fowling piece, consider it a bargain. These loads would also excel for upland game, especially pheasants, where lead shot is prohibited. Ballistic Products, Inc., also sells ITX Original-10 shot separately if other components are preferred, or want to load for .410 or 28, 20, 16, and 10 gauge.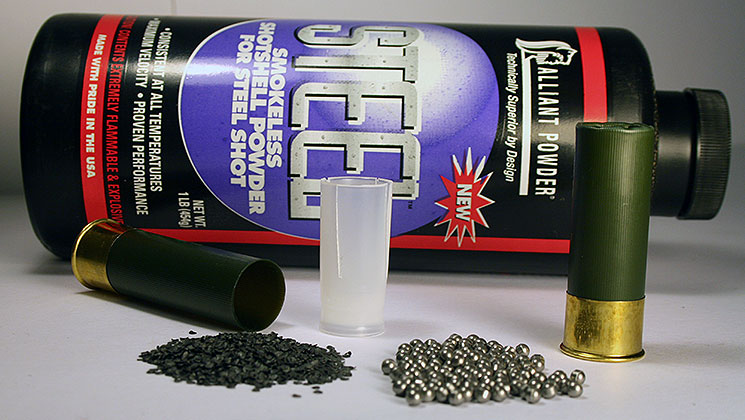 As you can see, there are several good options for hunters looking to get their vintage shotgun back into the duck blind. Go ahead, get a box (or handload) and take that scattergun back to its rightful place.