Like a good glass of wine, the right beer can elevate your meal. When pairing beer and wild game, plan how flavors will compare and contrast. Malt and hops—two of the main ingredients in beer—are strong enough to stand up against the bold flavors typical of traditional wild-game dishes. Note that hops can cut through fat and carbonation will cleanse the palate. There's also the beer's body to consider; as a general rule the richer the food, the more full-bodied the beer should be. That's a lot to think about, so to get you started, here are five popular wild-game dishes and the perfect beer pairings for each. 
Seared Duck Breasts
The best duck dishes have a lot going on. Whether roasted whole or just a seared breast, ducks are meaty and rich, with a thin layer of fat and a crisp skin that provides a salty crunch. That's a complex profile, but luckily, the right beer is simple—Lindeman's Kriek Lambic. Rather than overpower the duck with a strong hoppiness, fruit beers complement it with a combination of tart and sweet. Cherries, just like those used in this lambic, are a traditional duck accompaniment because they cut through the fat, leaving a fresh palate for the next bite. Lindeman's, like all lambics, it only lightly carbonated—think sparkling—which also lends itself to a light, clean drink that finishes dry. At just 2.5% alcohol by volume, you can also drink more than one with that second (or third) serving of delicious duck.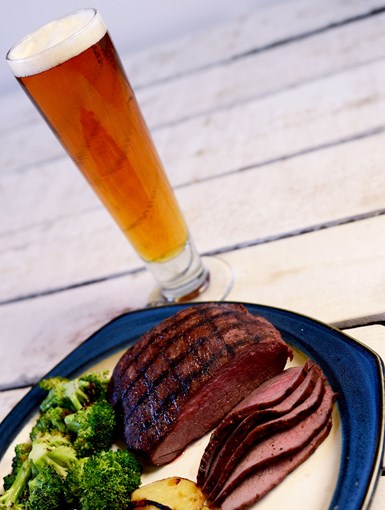 Roast Wild Pig Loin
You know that classic image of a suckling pig spread out on a silver platter with an apple in its mouth? That piece of fruit isn't just there for looks. Apples are to pork what Richie was to the Fonz—a straight man to someone who was just a little wild. Part of the reason is seasonality—traditionally pigs are taken in the fall, when apples are ripe. The flavors work well together too—both are clean and the acidity in the apples cut the pork fat. Think sweet cider playing off savory pork. Okay, so cider isn't a beer, but it just works too well to leave it off this list. Angry Orchard's Green Apple blend is perfect for pork loin. Not too sweet. A little tart. Refreshingly drinkable. Like most ciders, the ABV starts to creep up there, hitting 5%.
General Tso's Pheasant
With its Chinese heritage, the ringneck pheasant is a natural for Asian-inspired dishes, the hotter the better. Like ying and yang, the light, white breast meat just takes on that spiciness so well without conflicting it with heavy or rich gaminess. General Tso's is also sweet, so we're fighting that contrast as well. Skip the Tsingtao or Kirin. As tempting as it is to suggest a Sison here, instead reach for a domestic India Pale Ale. Long Hammer from Red Hook is an approachable IPA, leaning closer to a Pale Ale, with just enough hops to temper the spice without amplifying the heat or overpowering the flavor of the dish. There's also a bit of orange-peel citrus that goes well the sweetness of General Tso's and a dry finish to cut the oil of the fried pheasant.
Grilled Elk Backstrap
An elk (or any venison) backstrap, whole or quartered, is at its best lightly salted and cooked over a searing-hot fire so the outside is crisp leaving a blood-red interior. So incredibly simple to prepare, the complex taste almost come as a surprise, whether it's the first time you've bitten into a piece, or your fiftieth. Bold on the exterior, with a mild, yet meaty, finish, grilled backstrap is the perfect pairing for an all-American beer like full-flavored Samuel Adams Boston Lager. The caramelized surface of the steak plays well with the maltiness of Sam Adams, giving both the meat and the beer deeper, richer flavors. There's a bit of hoppiness as well, which, like all hops, cuts through the butter (Always finish any steak with a thick pat of butter.) and leaves the mouth clean.
Venison Burger
It's hot. You've worked outside all day. You're hungry and thirsty. The last thing you want to do is cook a big meal and choke down a big-bodied beer. You need fast and light, but not too light. Time for a venison burger with all the toppings and frosty cold bottle of Miller High Life. Your dad drank it, and his dad did too. So stop putting on airs with your fancy microbrew and respect your heritage. This is America after all. Like a burger, High Life is straightforward—you know what you're going to get when you twist the top, but most importantly, it's crisp and satisfying. All that carbonation is refreshing on a hot day, but it's not heavy so you can have several without filling your gut. You need that room for another burger and that bag of Cool Ranch Doritos I know you're going to finish.