by
posted on May 14, 2019
Support NRA American Hunter
DONATE
The .22 LR cartridge is truly a catch-22; inexpensive, non-plated bullets are easy and exciting to expend in volume, but doing so also results in significant leading of the bore and sound suppressor. The tedious task of extra-challenging cleaning is the end result of a full day of fun.
To reduce leading, some manufacturers offer costlier .22 LR bullets that have a copper coating (i.e. plating)—not a true jacket—that reduces the amount remnant lead in the barrel and suppressor. The cost is justified for some shooters, but like lead, the copper can accumulate in the aforementioned locations, too. CCI offers a solution to this quagmire with its recent introduction of Clean-22 series of target ammunition.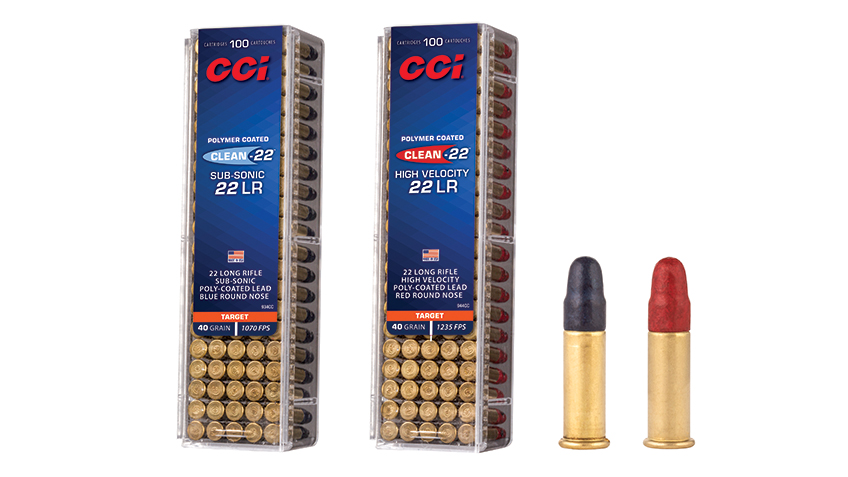 Utilizing polymer-coating technology applied in Federal Syntech handgun ammunition, Clean-22 has a durable coating that fully encapsulates the lead, 40-grain round-nose bullet, which is purportedly shaped optimally for top accuracy. The benefits of the polymer coating are many: for instance, the heavy (and harmful) metal is fully encased by polymer, thereby reducing exposure while handling and firing it. Given that many youth are introduced to the shooting sports via the .22 LR and are especially susceptible to the effects of lead, this is a noteworthy element.
Beyond the aforementioned advantage, the polymer coating—red for the 1235 fps high-velocity offering and blue for the 1070 fps round—is touted as significantly reducing the buildup of lead in the barrel and suppressor—the latter by an astounding 60 to 80 percent, and it's not supposed to leave a residue, either. Does this sound too good to be true? It did to me, so I put it to the test.
Testing
Using a modified Ruger 10/22—including a Timney trigger, Tactical Solutions barrel, Yankee Hill Machine Co., Inc. Mite suppressor, and topped with a Vortex 4X-12X-40mm Diamondback scope—I conducted a series of tests pitting Clean-22 against several comparable CCI loads utilizing lead and copper-plated lead bullets with identical velocities. The analogous loads were the Standard Velocity 40-grain round-nose and Mini-Mag 40-grain copper-plated round-nose.
To maintain objectivity, before each new load was fired, the barrel and suppressor were thoroughly cleaned. As for the cleaning (and examination) protocol, after 50 rounds, the barrel was swabbed once with a Southern Bloomer .22-cal. patch soaked with Montana X-Treme Bore Solvent, followed by five sets of the bronze brush being pushed in and out. Then, another solvent-soaked patch traversed the bore, followed by a subsequent series of clean patches until one came out visibly clean. There were collected and counted. All attempts were made to be consistent and objective. Lastly, the suppressor was disassembled, inspected and cleaned before the next test.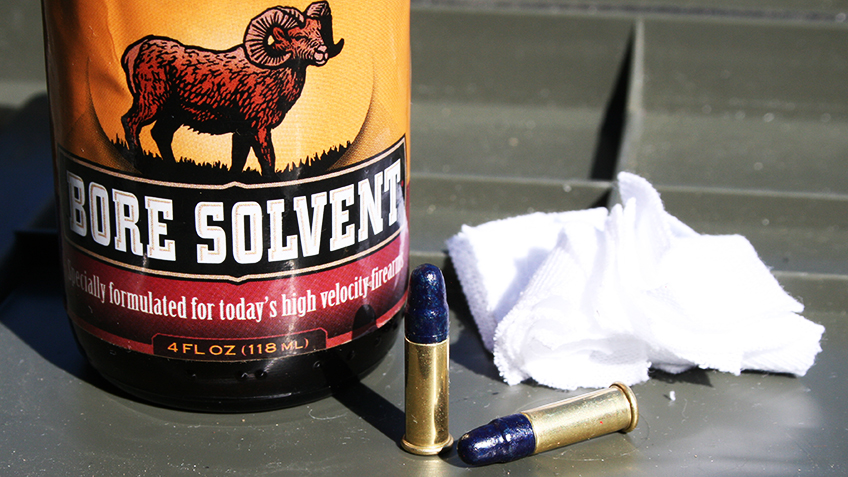 First to be evaluated was Clean-22 Sub-Sonic. Using the process outlined above, it took seven patches to clean the bore. Its high-speed sibling and the Mini-Mag load both required two additional patches. Still, there was no sign of plastic residue with Clean-22 High Velocity. Unsurprisingly, the exposed-lead Standard Velocity ammunition was the most difficult to clean; in addition to requiring four more patches than Clean-22 Sub-Sonic to tidy the barrel, the suppressor had significant leading—again, a real headache. The Mite sound suppressor had minimal fouling with the Clean-22 loads, and no plastic particles were located. Similar cleanliness was found with the copper-plated bullets of the Mini-Mag offering.
Due to the 16.5-inch length (sans suppressor) of the Tactical Solutions barrel, velocities at 10 feet were understandably slower than advertised. Clean-22 Sub-Sonic posted a 10-shot average velocity of 1035 fps, while its high-speed brethren went 1170 fps standard deviations (SD) were 23 and 19, respectively.
It's worthy to note that the 1070 fps velocity of the 40-grain CCI Clean-22 Sub-Sonic round is the same as the CCI 40-grain Standard Velocity. That's why functioning was flawless; the company's other low-noise, quiet, subsonic and suppressor ammunition has lower velocities—sometimes significantly so. Therefore, functioning in semi-automatics isn't guaranteed to be reliable with them. Not the case with Clean-22. The Standard Velocity load had an average velocity of 1039 fps—within 4 fps of the Clean-22 Sub-Sonic—and an impressive SD of 9. Boasting the same 1235 fps published velocity as Clean-22 High Velocity, it makes sense that the Mini-Mag load was close in speed, too; in fact, at 1166 fps, the 10-shot average was also only 4 fps different than the Clean-22 High Velocity.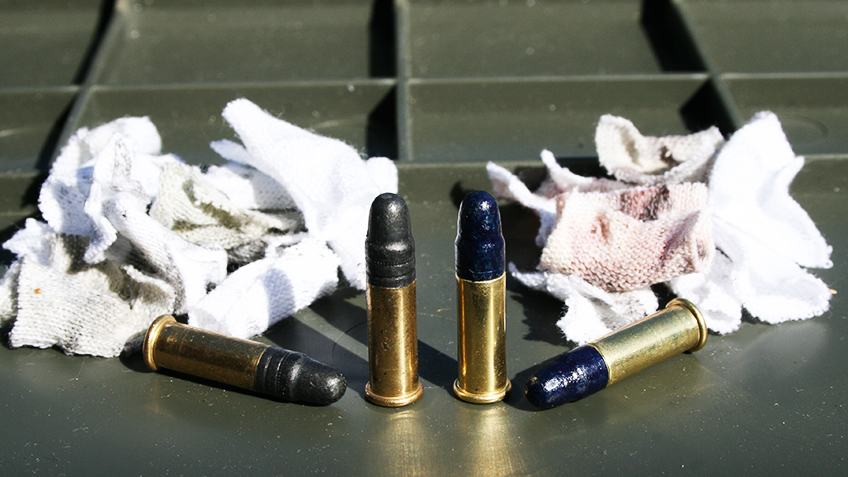 In addition to evaluating cleanliness and velocities, I also shot five consecutive, five-shot groups with each load at 50 yards from a sandbag rest. Often in life there are tradeoffs, and in my .22, the tradeoff for ease of cleaning was accuracy degradation. Unfortunately, both Clean-22 loads couldn't match the accuracy from their predecessors. Whereas the Clean-22 Sub-Sonic averaged 1.10-inch, Standard Velocity generated a 0.62-inch average. Similarly, Clean-22 High Velocity produced a mean of 1.16-inch, and Mini-Mag averaged 0.69-inch. Functioning was a non-issue with all loads.
While some will chide Clean-22 because it was not as accurate as its peers, one mustn't forget the primary intent of this new offering—cleanliness. Indeed, the results revealed that it was equally, if not more, clean than its copper-plated sibling, and far better than the traditional lead bullets. The time you save not scrubbing your bore and suppressor can be used for better things, such as enjoying shooting your rifle instead of constantly cleaning it.

Notes: Velocities recorded by a Competition Electronics chronograph from a 16.5-inch (without suppressor) Tactical Solutions barrel at 10 feet. Accuracy is the average of five consecutive five-shot groups at 50 yards from a sandbag rest.
• Temperature: 67 degrees
• Humidity: 38%
• Abbreviations: CPRN (copper-plated round-nose), HV (High Velocity) LRN (lead round-nose), RN (round-nose), SD (standard deviation), SS (Sub-Sonic), SV (Standard Velocity).