Support NRA American Hunter
DONATE
Small but mighty is the best way to describe TenPoint's new Nitro X crossbow. At just 7 inches wide when cocked, the new Nitro X shoots 370-grain arrows an impressive 440 fps, generating a deer-dropping 159 ft.-lbs of kinetic energy and shocking downrange accuracy.
The reverse-draw limbs feature RX7 cams for maximum rotation and TenPoint's Sling-Shot technology that acts as a turbo boost. From cables to limbs, the Nitro X is built for strength and stability, including a machined 7075-T6 aircraft-grade aluminum riser, assembled with a 20-inch aluminum barrel that dramatically reduces the weight of the crossbow.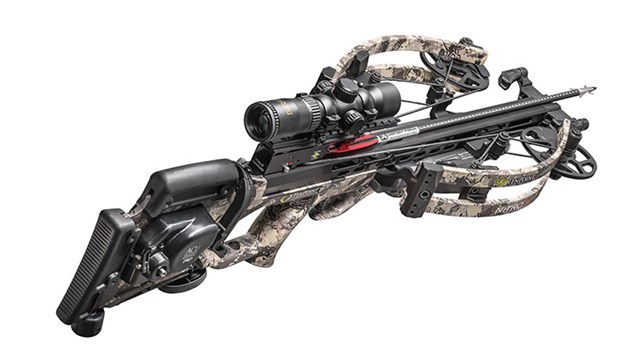 Add a 3.5-pound auto-engaging safety trigger, and improved accuracy is noticeable. Like all TenPoint crossbows, it is equipped with anti-vibration dampeners, boasts a dry-fire inhibitor, and includes a three-piece stock that is lightweight and adjustable.
The entire setup weighs 7.8 pounds, and measures only 30.7 inches long. The Nitro X comes completely assembled and is available has an MSRP of $1,999.99 for the standard Nitro X package, and $2,199.99 for the elite package.
For more information, go to tenpointcrossbows.com.