by
posted on January 14, 2019
Support NRA American Hunter
DONATE
TenPoint Crossbow Technologies has announced the introduction of its new Nitro XRT crossbow. At just 7 inches wide when cocked, the Nitro XRT shoots 370-grain arrows at an impressive 470 fps and delivers 25 percent flatter arrow trajectory, resulting in impressive downrange accuracy and exceptional knock-down power.
The Nitro XRT is engineered with a reverse draw bow assembly featuring a center-mounted riser that provides superior balance. By shifting the riser from the front of the crossbow to its center, the design eliminates the "nose-heavy" feel of traditional crossbows, making it easier to hold steady and keep the crosshairs locked on target. The reverse draw design is also more efficient than traditional crossbows; drawing the string through the riser creates an elongated power stroke, which generates greater speeds with less poundage, leading to a smoother, lower-vibration shot that TenPoint says is 3 times quieter than competing models.

Fueled by TenPoint's RX7-Cams and Sling-Shot technology, the reverse-draw bow assembly generates the unprecedented power. The innovative cam system rotates 404 degrees which powers the Dual Flex limbs, while the Sling-Shot technology provides an extra turbo boost to produce the Nitro XRT's record-breaking speeds up to 470 fps. The assembly's Vector Quad cable technology utilizes four cables instead of the traditional two for increased strength and stability. Connecting at the cam, wrapping around the turnbuckle and terminating on the riser, the cable system creates level cams, generating straight-nock travel and increased down-range accuracy.
The Nitro XRT assembly's foundation is a lightweight CNC machined 7075-T6 aircraft-grade aluminum riser featuring the company's Tri-Lock pocket system that ensures perfect alignment between the pocket and limbs for increased accuracy.
The bow assembly is mounted to a 20-inch Tac-Lite fluted aluminum barrel that reduces weight and increases the accuracy of the crossbow. Its weaver-style dovetail is fitted with a nylon-filament arrow retention brush that improves arrow grip and alignment to reduce noise and vibration and improve accuracy. Additionally, the Nitro XRT is equipped with TenPoint's new T5 trigger, which features an auto-engaging safety and a DFI (Dry-Fire-Inhibitor). An integrated string stop system is also included that fits into the end of the barrel to further reduce noise and vibration.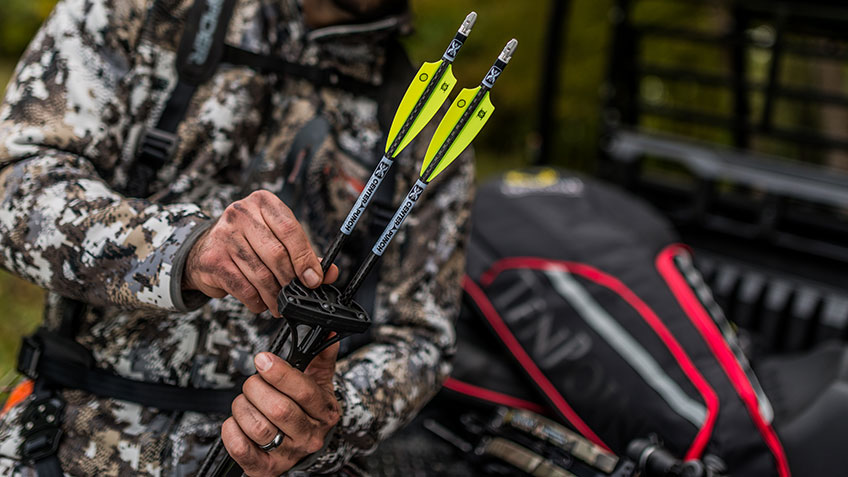 Weighing in at just 7.4 pounds with an overall length of 30.7 inches, the Nitro XRT's lightweight C3 stock is designed to reduce weight, noise and vibration, and features an adjustable cheek piece and buttplate. The rubber cheek piece adjusts to three positions by removing the screws and sliding it to create ideal eye-level alignment, and the rubber butt plate adjusts to two positions to match the shooter's length of pull. The Nitro XRT is also equipped with dual-purpose rubber safety wings to reduce noise and vibration, and help keep the shooter's fore-grip hand safely below the flight deck.
Covered in Kuiu Verde 2.0 camo, the Nitro XRT ships completely assembled and is available with an extensive Ready-To-Hunt package, which includes the ACUdraw PRO silent cocking device, Evo-X Marksman Precision Scope, TenPoint STAG Hard Crossbow Case, six Evo-X CenterPunch premium carbon arrows with new Alpha-Nocks, dovetail bubble level, noise-dampening integrated string stop system, TenPoint Neoprene sling and a three-arrow instant detach quiver with an ambidextrous side-mount quiver bracket.
Technical Specifications:
• Draw Weight: 225 lbs.
• Velocity: 470 fps w/370-gr. arrow
• Dimensions: length 30.7″; axle-to-axle width 12.5″ uncocked, 7″ cocked; power stroke 16.5″
• Weight: 7.4 lbs.
• Accessories: ACUdraw PRO silent cocking device, Evo-X Marksman Precision Scope mounted on a machined aluminum ⅞ fixed dovetail mount, 6-pack of Evo-X CenterPunch 445-grain premium carbon arrows with new Alpha-Nocks, integrated string stop system, TenPoint STAG Hard Crossbow Case, TenPoint neoprene sling and a 3-arrow instant detach quiver w/ambidextrous side-mount quiver bracket.
• MSRP: $2,549.99
For more information, visit tenpointcrossbows.com.