by
posted on July 2, 2016
Support NRA American Hunter
DONATE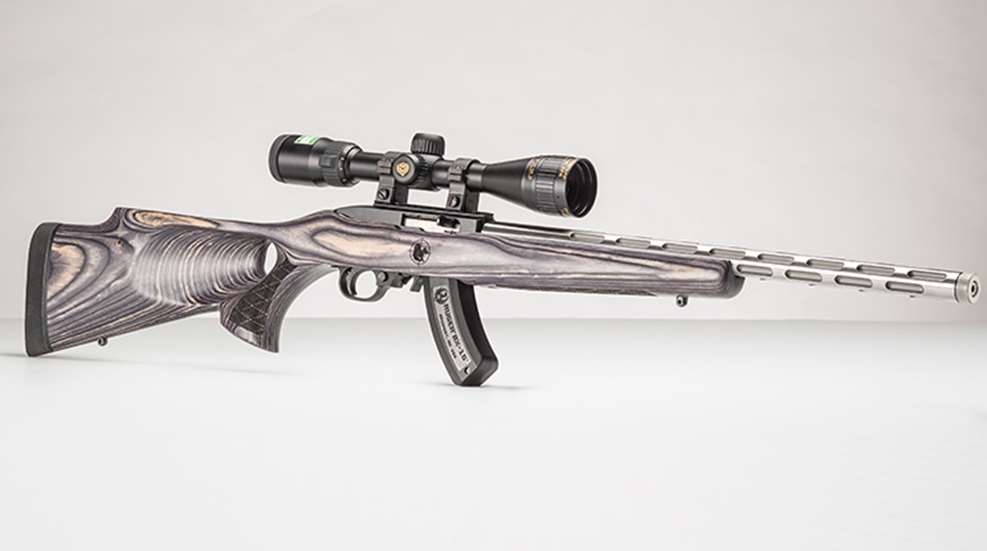 Despite the draw of young women and parties, my 18th birthday meant one thing: I was now of legal age to purchase a long gun, and I knew exactly what I wanted.
Five years prior, give or take, my father had purchased what I thought was the be-all and end-all of .22 LRs: a Ruger 10/22, and it was a thing of beauty. She wore a maple stock the color of golden wheat that lent a softness to her that instantly told you she was refined—in a class far above her common sisters. In natural light, her stainless steel bull barrel would pick up the yellow hues and hold on to them as if she were hoarding treasure. Her massive silver optic looked like it was born on her stainless steel receiver and put me so close I could count the feathers on a starling's rear end. I felt like a sniper shouldering that rifle. Unfortunately, Dad must have felt equally akin and thus made a point to keep his son's "break anything" hands far from her. Shouldering that rifle under close supervision was as far as I ever got.
Well, I didn't have deep pockets like the old man, so when my 18th came around I was forced to settle for the base model with synthetic stock. I spent the following years decimating the squirrel population in various states, content with my rifle, but knowing someday I'd use her to re-create my version of Dad's perfect little rimfire.
That day was May 3, 2016.
First up: stock options. Thumbhole. That's what I started with, and I knew, just like Dad's, I wanted wood in my hands. Nothing against a synthetic stock, but this was to be an adult rifle, deserving of real American hardwood. Boyds Hardwood Gunstocks, a family-owned business in South Dakota, was where trusted recommendations led me. Through Boyds' website I was able to design the specifics of my custom stock: Rimfire Thumbhole with a .920-inch barrel channel and a matte Pepper Laminate finish. Options included a Limbsaver recoil pad, skip-line checkering on the grip and fore-end and, of course, the squirrel-in-crosshairs engraving. All told, my custom stock cost $221.

Again, like Dad's, my action would have to be set behind a bull barrel. But I wanted to have the best, and after a quick consult with a colleague, I made a call to Scott Volquartsen of Volquartsen Firearms. If the name doesn't ring a bell, well, you've never looked for barrels.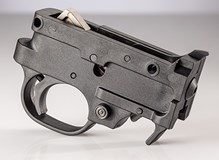 Scott informed me of the options, and though he sells lighter barrels with high-tech carbon-fiber sleeves, weight wasn't an issue for me. I wanted heavy. Heavy and accurate. "This is the most accurate barrel we make for the 10/22," he said. Sold. He then asked a question I wasn't ready for: "Do you want it threaded for a suppressor?" Two days later I had a .920 I-fluted stainless steel bull barrel, threaded for the eventuality of inevitability. Total cost: $411.
I'd had my eye on Ruger's new factory BX-Trigger and BX-Magazines for the 10/22 and figured this to be the perfect place to try them. Installation was easy, and while the trigger has a bit of travel, it breaks at an advertised 2.5-3 pounds. As for the BX-15 and BX-25 magazines, well, unlike failed efforts by some in the past, these high-capacity rotary magazines actually feed. Cost: $89.95 for the trigger, $33.95 for the BX-25 and $28.95 for the BX-15.
The Prostaff Target EFR from Nikon fit the build nicely. EFR stands for Extreme Focus Range, and the 3x-9x-40mm scope features high-quality glass and coatings, zero-reset turrets and a quick-focus objective bell that precision tunes focus from 10-300 yards. At $189, it's an impressive setup for sure.
Components acquired, my first stab at gun building, using some Allen wrenches, screwdrivers, hammer and punch, a little bit of elbow grease and a whole lot of faith, took me 3.5 hours to complete.
With my dream rifle in hand, I'll head to the woods this fall, snipe a few squirrels then visit the old man. If he's gentle, I may allow him to shoulder the gun.