by
posted on June 30, 2018
Support NRA American Hunter
DONATE
Of all the appetizers I serve during wild-game dinners, one comes to mind as the all-time favorite that people continually request: venison egg rolls. It's easy to make and impressively delicious. Even better, if there are any leftovers, which is rare, they can be frozen. Since egg roll wraps come in packages of 20, I make 60 to 80 egg rolls at a time, then vacuum pack them in smaller quantities and put them in the freezer. When company comes, they're thawed and popped in the oven until warmed throughout. 
Ingredients
• 1 lb. ground venison
• 1 medium onion, chopped
• 3 tablespoons cooking oil
• 20 egg roll wraps
• sliced cheese of your choice (cheddar, longhorn, Monterey Jack, etc.) cut in 3-inch strips, ½-inch by ½-inch
• 1 ½ cups chopped green chilies (from a can) 
• 1 egg, whipped
• salsa of your choice (optional)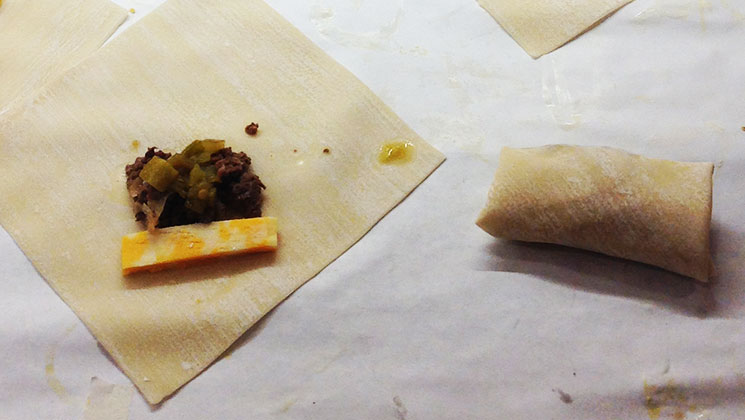 Directions
1. Brown ground venison and onion in oil
2. Place egg roll wrap on clean surface, and place one cheese strip, one tablespoon of meat/onion mixture and one tablespoon of green chilies on the wrap.
3. Roll in wrap, sealing all edges with egg, and brown in oil in a skillet. Dip in salsa if preferred.
4. When golden brown on each side, lay them on a paper towel to drain. (These cook extremely fast.)
*Tip: Egg roll wraps dry out quickly, and will crack if too dry when they're in an opened package and you're working on others. Put a damp rag or paper towel over them to keep them moist. Wraps have a simple diagram on the package to show you how to make the egg roll. If desired, you can cut them on a diagonal to produce bite-sized pieces.