by
posted on July 13, 2019
Support NRA American Hunter
DONATE
Swan is often given a bad rap as table fare, but this recipe will have you looking skyward for white birds with long necks and wide wingspans. Browning and braising meat with aromatic vegetables build flavors that will have you craving waterfowl. The sweet cherries are an addition that blends well with waterfowl. Don't be afraid to try this with ducks or geese, as well!
Ingredients
• 2 tablespoons olive oil
• 1 tundra swan, breasts, legs and thighs
• 1 large can of sweet canned cherries
• 2 medium yellow onions, quartered
• 2 carrots, coarsely chopped
• 2 lemons, quartered
• 2 sprigs fresh rosemary
• 2 bay leaves
• ½ bottle red wine
• 4 tablespoons butter, divided
• 1 large red onion, diced
• 1 lb. mushrooms, sliced
• 1 tablespoon flour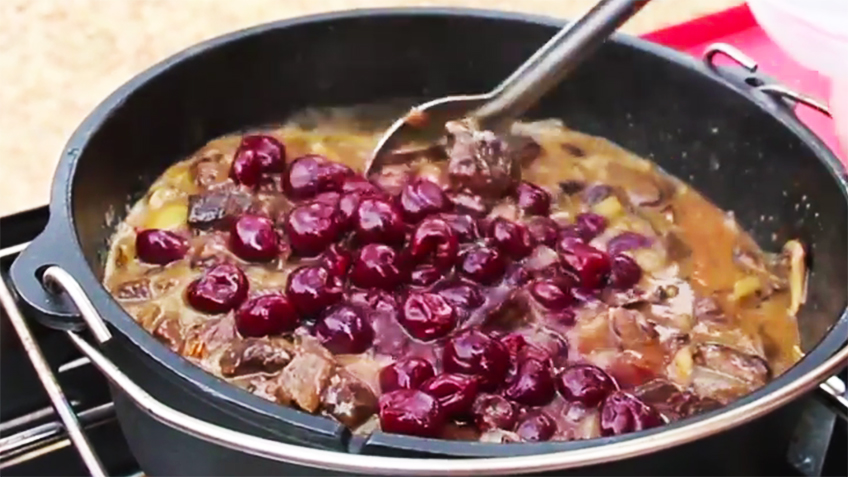 Directions
1. Heat olive oil in a cast iron Camp Chef Dutch oven, and brown swan pieces over medium-high heat.
2. Add onions, carrots, lemons, rosemary, bay leaves and red wine to the swan and cover with Dutch oven lid. Let the ingredients simmer for 4 hours on low heat.
3. Melt butter in a Dutch oven and add red onion and mushrooms. Sauté for 5 minutes until onions start to turn translucent.
4. Drain liquid off the swan and set aside to make gravy. Discard vegetables and lemons.
5. Remove all pieces of a swan and cube the meat into one-inch pieces and add to mushrooms and onion.
6. Melt two tablespoons of butter in a large Camp Chef cast iron frying pan and stir in flour to make a roux. Add stock from swan and stir rapidly to make gravy.
7. Pour the gravy over the mushrooms, red onion and swan meat in the Dutch oven and bring back to a simmer.
8. Add canned cherries, with the liquid drained off.
9. Serve hot.
*Check out the video embedded above for a step-by-step tutorial on how to make this recipe.