by
posted on October 17, 2020
Support NRA American Hunter
DONATE
Goose seasons are underway across the country, and hunters are taking advantage of the burgeoning populations of big honkers. When suitably prepared, a Canada goose has similar texture and flavor to that of beef. The best-kept-secret about the hefty honkers is the legs and thighs.
The legs of ducks and geese do not have the delicate bones found in most upland bird species. The connective tissue is similar to that found in shank or neck meat from a big-game animal. Braising is a great way to render the connective tissue to create meat that will fall off the bone when done.
Braising is typically done in a roasting pan, at low heat, in an oven. A crockpot is ideal for long, slow cooking to create tender meat. The newest device on the market is the Instant Pot. This multi-function pressure cooker allows hunters to cook goose legs to perfection in less than an hour. This recipe can be used for a traditional braise, in the crockpot, or with an Instant Pot.
Save the goose legs and thighs, as they will quickly become a favorite in hunting camp and at home.
Korean Marinade Ingredients
• 1 cup soy sauce
• ½ cup water
• 1 cup dark brown sugar
• ¼ cup mirin
• 2 Tbsp sesame oil
• 2 Tbsp rice wine vinegar
• ¼ tsp black pepper
• ½ tsp red pepper flakes
• 1 Tbsp Sriracha sauce
• 1 Tbsp fresh grated ginger
• 2 Tbsp fresh grated or crushed garlic
Goose Leg Ingredients
• 8 goose legs, thigh attached
• 3 Tbsp olive oil
• salt and pepper
• sesame seeds
• green onion, chopped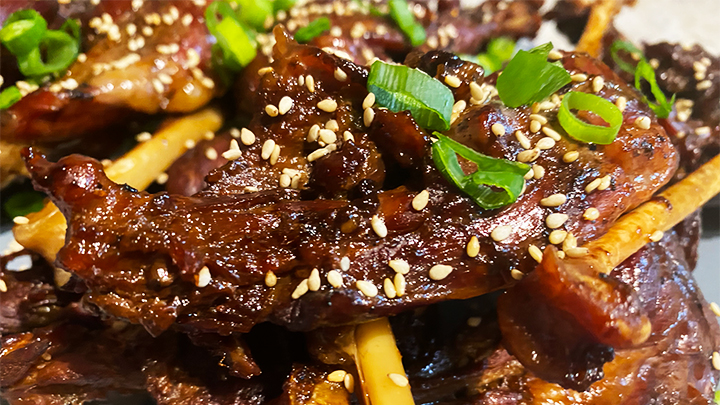 Directions
1. Combine the marinade ingredients in a saucepan and bring to a boil. Stir to blend ingredients, reduce heat and simmer for 5 minutes.

2. Season the legs and thighs with salt and pepper. Heat olive oil in a Camp Chef cast-iron frying pan and brown the goose n both sides.

3. Place the legs in an Instant Pot, pour the Korean marinade over them, and set on high pressure for 45 minutes. Let the Instant Pot depressurize ("Natural Release") for 30 minutes before opening. If you don't have an Instant Pot, the legs can be placed in a crockpot on high for six hours, but extra water may be required to submerge the goose partially.

4. Remove the legs and thighs from the marinade and place them on a hot grill to char. Sprinkle with sesame seeds and chopped green onions. Serve immediately.
For more delicious wild-game recipes, click here.