by
posted on April 18, 2018
Support NRA American Hunter
DONATE
Pickling or corning meat has long been an excellent way to preserve valued protein, and a superb way to turn a tough cut into a tender meal. Corned meat and boiled cabbage is an Irish tradition. Layers of thinly sliced corned meat, swiss cheese, sauerkraut and hot mustard between two pieces of dark rye bread is better known as a Reuben sandwich.
Beef briskets are used to make corned beef found in delicatessens, but hunters need to save the cut of meat off the breastbone of elk, moose or bison to make wild corned meat. If you run out of brisket, you can use round roasts, as the long-grained meat of the rump takes on the same appearance and flavors. Bear hinds make tremendous corned meat, and with the long cooking process, you never have to worry about trichinosis.
Using fresh ingredients, whole seeds, berries and spices will make you appreciate the complex layers of flavor they create.
Corned game is a great dish for hunting camp, where you can brine meat ahead of time and cook it while out hunting. Make lots, so you're sure to have leftovers for sandwiches the next day. With spring bear season open in many parts of the country, this recipe is just one more reason to get out hunting.
Ingredients
Brine:
• 6 cups water
• 12 ounces kosher salt
• ½ cup light brown sugar
• 4 teaspoon pink salt (curing salt with pink dye)
• 1 stick cinnamon broken into several pieces
• 1 teaspoon mustard seed
• 1 teaspoon black peppercorns
• 12 whole cloves
• 12 whole allspice berries
• 12 whole juniper berries
• 2 bay leaves, crumbled
• 1 teaspoon ground ginger
• 2 lbs. ice
Meat:
• 4-5 lbs. bear, venison, elk or moose brisket, trimmed
Cooking:
• 1 medium onion, quartered
• 1 large carrot, coarsely chopped
• 2 stalks celery, coarsely chopped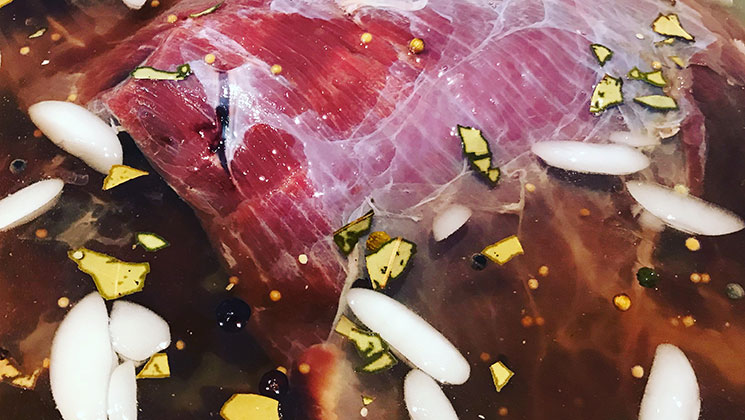 Directions
1. Place the water in a large stockpot with salt, sugar, pink salt, cinnamon stick, mustard seeds, peppercorns, cloves, allspice, juniper berries, bay leaves and ginger to create the brine. Cook over high heat until the salt and sugar have dissolved.

2. Remove brine from the heat and add the ice. Stir until most of the ice has melted. The brine should be cold to the touch, with a temperature of 45 degrees or less. Once it has cooled, place the brisket in an extra-large zip-top bag and add the brine. Seal the bag and lay flat inside a container, cover and refrigerate for five days. Check daily to make sure the meat is completely submerged, and turn the bag over.

3. After five days, remove the brisket and discard the brine. Rinse the brisket well under cool water.

4. Place the brisket into a large slow cooker, add the onion, carrot and celery, and cover with water by 1 inch (amount varies depending on the size of crockpot). Cover and cook on high for 8 hours.

5. Remove the brisket from the crockpot and slice thinly across the grain. Store any uncut leftovers in the cooking liquid in a refrigerator.

6. Pink salt, Prague Powder #1, or DQ Curing Salt is a combination of sodium chloride, sodium nitrite and a touch of pink dye. The pink dye will add color to the corned meat and is a sure-fire way to distinguish it from regular salt. Find it at westonsupply.com. Enter code BFENSON18 and receive 20 percent off. You can substitute Tender Quick by following directions on the bag for the weight of your brisket.