Support NRA American Hunter
DONATE
As soon as his Florida Osceola hit the ground March 15, the call of the wild had NRA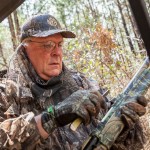 President Jim Porter jetting straight to Alabama for subspecies No. 2: the Eastern gobbler. As the largest of the four making up the grand slam, this bird would provide for quite the Thanksgiving in March if one strutted in range of Porter's Remington Versamax. With NRA Publications photographer Forrest MacCormack at his side, Porter anticipated a slammin' success until early spring's unpredictable weather temporarily rolled into town. Hunting rainy-day gobblers is one thing. Hunting in high winds and downpours is another.
For Porter, the next best thing to hunting was to be in a hunting camp as he and MacCormack holed up at Palamar, the 2,500-acre "hunting club" home of Porter's good friends and fellow conservationists Riley and Tammy Smith. A former commissioner of the Alabama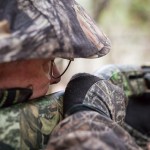 Department of Conservation and Natural Resources, Smith now serves on the NRA Board's Hunting, Wildlife and Conservation Committee. The group kept the fireplace stoked, shared hunting stories and waited out the rain.

Palamar is recognized as part of the state's TREASURE (Timber, Recreation, Environment, Aesthetics, for a Sustained Usable Resource) Forest program, a voluntary Alabama Natural Resources Council program that encourages landowners to promote sustainable, multiple-use forest management. The TREASURE Forest Award is presented to private landowners who 
demonstrate their land-management commitment with TREASURE Forest certification awarded to the Smiths in October 2002. These TREASURE Forest landowners are also treasured supporters of our NRA.
Of course, a treasured hunting story isn't much of a story without the star of the show. On March 18, the weather finally broke and Porter's guide, Albert "Chubby" Parnell, guided him to a, well, his treasured Eastern gobbler! The 4-year-old, 18-pound turkey sported 1.25-inch spurs and a 9-inch beard.