by
posted on January 5, 2016
Support NRA American Hunter
DONATE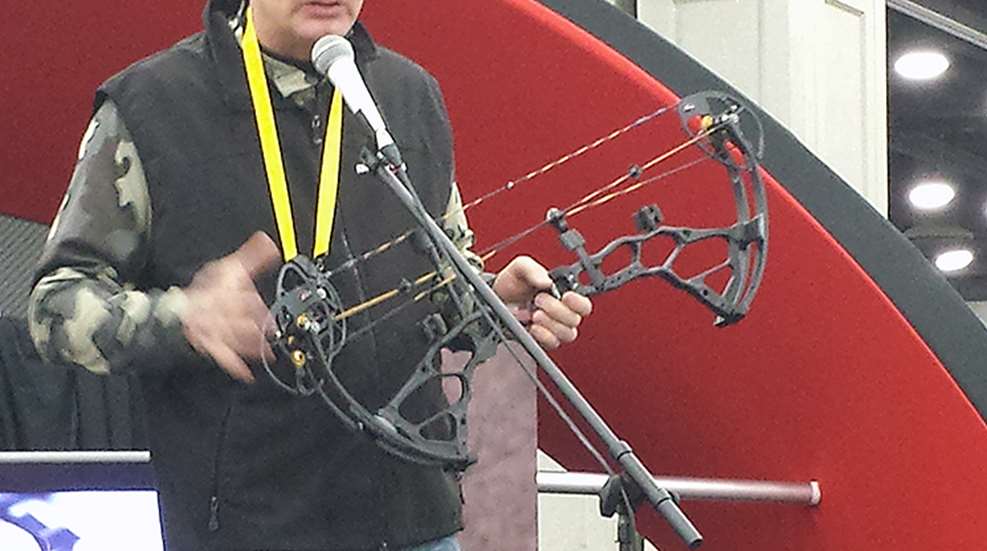 The 2016 ATA Show is a big hit as it marks its 20th anniversary with more booths than ever—and 70 shooting lanes for testing the latest equipment, gear and outdoor products in archery and bowhunting! 
Elite Archery's 2016 Impulse 31 offers speed without sacrifice at 343 fps. It features the new Perfect Alignment Limb System limb pocket that makes for a super-strong platform.
Bear Archery is touting the Escape, a speed bow that offers considerable forgiveness at 350 fps. It has a 6-inch brace height, measures 32 inches axle- to-axle and has 75 percent let off.
Hoyt's Carbon Defiant is the company's new flagship. It sports a redesigned carbon riser, new UltraFlex limbs and the new DFX Cam and 1/2. The riser has more than 50 components designed to offer strength and stiffness yet the bow's weight is only only 3.6 pounds.
Bowtech's big draw is the new BT-X with advanced PowerShift technology, combining speed and power in a compact, lightweight design. Also new under the Bowtech umbrella are models from the Excalibur and Diamond lines and a new narrow-profile Stryker crossbow dubbed the Katana 385.
Browning returns to ATA for the first time since selling its bow line to PSE a few years back. Big news is its new and innovative ZeroSeven crossbow line featuring the 350-fps OneSixOne and OneSixTwo models. Features include a built-in compartment for Browning's custom crank-cocking device. Browning also offers bowhunters the option of personalizing their crossbows, thanks to a Picatinny flight track on both the left and right for a rest, flashlight, laser light and/or sling.
Easton says why shoot an ordinary carbon arrow when you can add the penetration and power of a full metal jacket as it unveils the new 6mm-diameter FMJ. Beman, in turn, says see what you've been hitting as it rolls out its new White Out, an arrow designed with grayed-out Realtree camo for high visibility in sizes from 300 to 500.
Grave Digger broadheads are now under the BloodSport umbrella. The no-fail hybrids deploy with less energy than traditional jackknife mechanicals and also can be launched as 1-inch fixed-blades with half inch bleeders by tightening the set screws. 
Jackson Kayak certainly had performance and innovation in mind when it debuted Orion Coolers a couple years back. Check out the YakAttack and RAM Accessory Track System for accessorizing your cooler to hold your video camera, iPad, iPhone or GPS. It's available in four sizes and four camo colors. Hunters who prefer a "stone cold" appearance will like the new stone color option. In covering the bases, Orion even offers a waterproof, dustproof wireless Bluetooth speaker mount.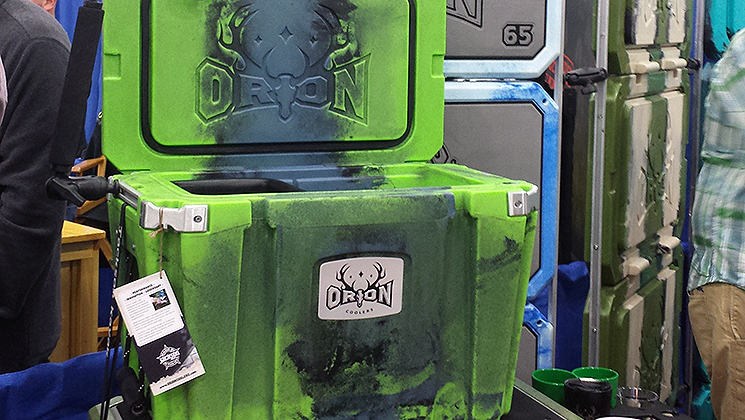 Unfortunately, in other news, there is one negative topic of discussion on the floor: President Obama's renewed bid to enact gun control measures via executive order, marking yet another attempt to over-reach and take away our Second Amendment rights. Visit nraila.org for details.