by
posted on March 31, 2014
Support NRA American Hunter
DONATE
Bowmakers' evolving technology takes our hunting success to amazing new heights each year. Here is a look at some of the latest, greatest new bows for 2014 from companies certain to be in many bowhunters Top 10.
Bear Archery Products
Bear Archery Products hit the scene with the new Agenda series ($899). The Agenda 6 (6-inch brace height) and Agenda 7 (7-inch brace height) shoot at 350 and 340 fps, respectively. At a maneuverable 32 inches axle-to-axle, both offer Bear's new Hinge Guard cable-containment system to minimize bow torque, Max Pre-Load Quad limbs, peak draw weights from 50 to 70 pounds and 75 percent letoff. Bear's H13 hybrid cam system sports a rotating module for easy draw-length adjustments without a bow press. New in single-cams, the Venue features a 7-inch brace height and an IBO speed of 330 fps. An S13 cam addresses draw lengths from 24 to 31 inches, draw weights from 50 to 70 pounds and 80 percent letoff ($849.99). Bear's new women's bow—the Finesse—offers considerable value, a smooth draw, easy-spinning single-cam system, powerful Bear Flared Quad Limbs and a silent release ($399.99).

Pictured: Bear Archery Agenda 7
Bowtech Archery
Bowtech unveiled its flagship carbon bow—the 342 fps Carbon OverDrive—that may be the lightest-weight premium hunting bow on the market at 3.3 pounds. It sports a 6-1/2-inch brace height, OverDrive binary-cam system for a smoother draw cycle and more tunability, and FLX-Guard on the carbon riser to minimize torque. Carbon ensures hunters' hands won't get as cold while touting the bow in low temps ($999). Pure-power fans will find the fast but smooth RPM 360 stores more energy in the front of the draw cycle to ensure gradual transition and letoff. The fastest bow Bowtech ever produced, it sports a 6-inch brace height, aluminum riser and a new riser design so the back is thinner than the front to diminish torque and reach an IBO speed of 360 fps ($999).
At a lower price point is its new top-end Diamond series bow—the smooth, light Carbon Cure—with a 7-inch brace height and an IBO speed of 325 fps ($699).

Pictured: Bowtech Carbon OverDrive
Elite Archery
Elite Archery touts its Energy 32 and 35 as the hands-down most shootable hunting bows ($869 each). Short and compact, the Energy 32 is 3 inches shorter axle-to-axle than the 35—ideal for shooting in cover and tight quarters. The Energy 35 is an all-around archer's bow offering tournament-caliber accuracy without tournament-bow length for more maneuverability. Both attain IBO speeds around 335 fps, and feature new Riser Cage technology above the grip that increases riser strength by 30 percent and rigidity by 19 percent without adding weight to decrease vibration and hand shock when shooting. A new Energy Cam System and more parallel limbs offer smoother shooting. Just for women, the Spirit is Elite's first women's bow. Fast and easy to pull, this smaller-framed, 3.9-pound bow sports a smaller grip and riser and a two-track binary-cam system—one for the string, one for the cables—to maximize energy and minimize vibration and recoil. It features Elite's new Riser Cage and a 7-inch brace height ($869).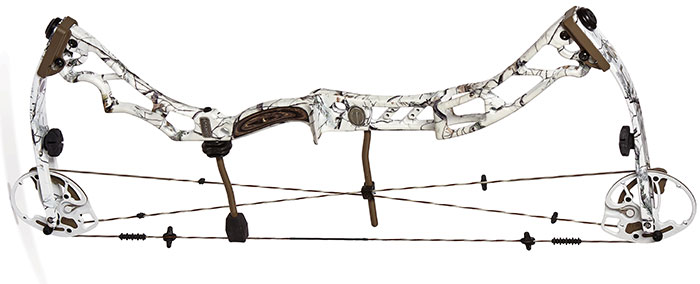 Pictured: Elite Archery Energy 32
G5 Outdoors
G5 is on target with the 335 fps Prime Alloy. In blending shootability with strength, forgiveness comes from the bow's Parallel Cam system, which addresses cam lean and limb twist to aid horizontal nock travel and accuracy and prevent bow-induced torque and limb fatigue. The system acts like a double-cam, splitting the string to create two string tracks that balance the cam and eliminate side-to-side movement. Its 7000 Series aluminum riser—the highest grade aluminum in the archery industry—and wide limbs ensure stability and accuracy, while a flexing roller guard and Ultra Fit Grip aid comfort and consistency.
Pictured: G5 Outdoors Prime Alloy
Hoyt
Once again, Hoyt is set to play a major factor in bowhunters' success as it debuts the Facktor series featuring the new Z5 Cam & ½ technology for a smoother draw in three configurations—30- and 34-inch axle-to-axle models and the Faktor Turbo, a 33-inch, 4-pound bow that sports a 6-inch brace height, aluminum riser with Shok Rod dampers and hits speeds of 330 fps. Attention super tall people: Did I mention the 34-inch model is available in a "Long Draw" configuration that spans 34.5 inches axle-to-axle with an actual draw length of 31.5 to 32 inches? All Facktors feature the stable Facktor riser and AirShox silencing system ($949). Hoyt fans may find bow selection is a coin toss this year as Hoyt's flagship for the year—the stealth, compact, 332 fps Carbon Spyder—comes on strong, sporting the company's new Helical Flex-Tuned Hollow Carbon riser—the company's shortest carbon riser to date—and the ideal name for a model Hoyt dubs its "highly evolved predator." It boasts draw weights from 40 to 80 pounds, 80 percent letoff, a 6 3/4-inch brace height, AirShox and a weight of 3.6 pounds ($1499).

Pictured: Hoyt Carbon Spyder
Martin Archery
For nearly 65 years Martin Archery has offered reliable, quality bows, but in 2014 its lighter, faster, quieter Alien Nitro races out of the gate at 335 fps with a forgiving 7-inch brace height and a weight of 3.5 pounds. Not only is this bow easy to tune and shoot, the unveiling debuts Martin's sleekest, leanest riser ever designed. The 32-inch model features 80 percent letoff, draw lengths of 25.5 to 30.5 inches and draw weights of 50 to 70 pounds ($935). On its heels at 330 fps, the Nemesis Nitro is a 35-inch model for bowhunters and 3-D shooters preferring a longer axle-to-axle. Blending speed, accuracy and silence, it weighs in at 3.8 pounds and features integrated bow hangars. Brace height, letoff, draw lengths and draw weights are in sync with the Alien Nitro ($989).

Pictured: Martin Alien Nitro
Mathews
Mathews takes things up a notch with its two heavy hitters from 2013—the Creed and the Chill—making one shorter and the other longer. The shorter Creed XS is even smoother, quieter and lighter than the original. A generous 7 1/2-inch brace height ensures ample forgiveness while the bow still attains an IBO speed of 321 fps. The compact 3.8-pounder features Mathews' SimPlex Single Cam technology, GridLock riser and a solid back wall that helps bowhunters maintain shooting consistency. It has 80 percent letoff and is available in draw weights from 50 to 70 pounds and draw lengths from 26 to 30 inches.  Two-cam-bow fans may have the smoothest speed in all of archery as Mathews' McPherson Series of dual-cam bows introduces the Chill R featuring its signature AVS DYAD Dual Perimeter Weighted cam system and an IBO speed of 342 fps. It has a brace height of 6-1/2 inches, measures 33 inches axle to axle and weighs just 3.95 pounds.
It has an 80 percent letoff, draw weights from 50 to 70 pounds and draw lengths from 23 to 30 inches. Both bows have an MSRP of $999.

Pictured: Mathews Chill
Mission Archery
Mission by Mathews continues to deliver quality, performance and speed without the high-end price tag. The Blaze attains 340 fps while sporting an easy draw cycle, thanks to its perimeter-weighted AVS cam system. Standard limbs offer draw length adjustments from 26 to 30 inches and draw weights from 50 to 70 pounds with 80 percent letoff. A Harmonic Stabilizer, String Grubs and String Stop diminish noise and vibration ($599). Females will flock to the Flare, Mission's first women's bow. Weighing 3.96 pounds and measuring 30 1/4 inches axle-to-axle, it offers a smooth draw, single-cam technology, parallel limb design, a machined riser, a 7 1/8-inch brace height and noise- and vibration-dampening accessories including String Suppressors, D-Amplifiers and a string stop. It's available in draw lengths from 24 to 30 inches and draw weights from 30 to 60 pounds ($449).

Pictured: Mission Archery Blaze
PSE Archery
PSE has unveiled its answer to the speed versus forgiveness debate, fine-tuning 2013's X-Force Dream Season DNA to launch the DNA SP (Smooth Pull) featuring the new Source Cam system. Expecting it to be its No. 1 seller for 2014, PSE drops IBO speed a bit from the original to what is still a whopping 345 fps to create an easier draw cycle ($899). Its full speed ahead as PSE launches the world's fastest bow—the Pro Series Full Throttle—with a 5 1/4-inch brace height and a whopping IBO speed of 370 fps ($1099). Although we females certainly can shoot longer, heavier bows, PSE launched the rugged, compact 300 fps, 30-inch axle-to-axle Verge Stilletto with women in mind featuring PSE's noted X-technology. Most women will appreciate the 6.5-inch brace height, 75 percent letoff and draw lengths and weights from 22 to 27 inches and 40 to 60 pounds, respectively ($599).

Pictured: PSE DNA SP
Xpedition Archery
Relative newcomer Xpedition Archery has invited bowhunters to "Xperience perfection" as it rolls out the Xcentric and Xcentric-SD (shorter draw), delivering arrows downrange at 352 and 308 fps, respectively, with draw weights from 40 to 70 pounds. Both models feature 6-inch brace heights, Xpedition's new XS cam system and a redesigned patent-pending ATR cable guard that takes efficiency and torque reduction to a new level by eliminating moving components. Thanks to the limb stops, these bows feel solid at full draw and shoot like smooth target bows ($899).
The Xcentric fits draw lengths from 27 to 30 inches and the Xcentric SD is tailored for 24.5 to 26.5 inches.

Pictured: Xpedition Archery Xcentric