by
posted on January 8, 2016
Support NRA American Hunter
DONATE
Compounds
I'll compile a list of new bows for 2016 later this month, but in the meantime there are always a few that stand out. One of the headliners this year is the PSE Carbon Air. The brainchild of my PSE buddy Blake Shelby, this 340-fps Pro-Series bow sports a hollow riser and doesn't vibrate when you shoot it so you almost can't feel the arrow leave the bow! Its accoustic core absorbs the energy and vibration. The idea was spurred by a super-high-end bicycle design. I'd say PSE has come a long way—not just since its launch date back in 1971, but since it unveiled the first carbon bow, the Carbon Lite, back in 1996!
As for Mathews' new Halon that has turned heads since its November launch, bowhunters now have the Halon X, a 35-inch axle-to-axle bow with a 7-inch brace height to add to that flagship line.
Crossbows
Crossbow hunters have to check out Barnett's new flagship, the Ghost 415 Revenant, which isn't the company's highest-end product despite the fact it comes standard with the high-end, smooth, no-creep TriggerTech trigger and true anti-dry-fire system and Carbon Lite riser said to remove 43 percent of the riser weight found on many other crossbows. The new Vengeance 2 only has a 145-pound draw weight, which makes it quieter than the typical crossbow because it has less stored energy.
Clothing
For more on the high-tech front, you'll never drop your deer if you can't get close. Science shows that wearing a HECS suit reduces your electromagnetic signal so you can get closer to game so for 2016, HECS responded to hunters' requests and now offers HECS technology in a base layer line. The high-performance, moisture-wicking top and bottom keep you warm and dry while blocking your electric signal and is available in sizes from small to 3XL.
Bow Sights
TRUGLO's new Carbon XS Xtreme is a super-light carbon composite archery sight sporting a TRUFLO fiber design that maximizes light transmission to the pins and eliminates glare from the LED light. But while the company has a history of rolling out high-performance bow sights, maybe even bigger news is in its new bow accessories. The Carbon XS stabilizer is a vibration-dampening, adjustable-weight suspension system that comes with two stainless-steel 1-ounce weights. Available in 7- and 9-inch models, it has a continuous curving design for balanced energy transfer. Choose from six dampening ring colors. The new Bow Jack is a lightweight folding bow stand that serves as kickstand for your bow. A new Green LED bow light with a picatinny rail mount attaches to your bow, fits most stabilizers and includes an optional pressure switch for remote on/off. TRUGLO's new Arrow Puller has a contoured design for a better grip and works with all arrow types. For more TRUGLO news, did I mention it also launched a bowfishing line? Get a jumpstart on the sport with the SPRING•SHOT Bowfishing Kit that comes with two SPEED•SHOT bowfishing arrows and a revolutionary SPRING•SHOT spring coil bowfishing arrow rest designed for the most rugged bowfishing conditions.
APEX GEAR launches the ACCU•STRIKE XS series and ATTITUDE series of bow sights featuring new OPTI•CHOICE II pin selector technology for customizing the level of pin illumination for one specific pin or all pins at once.
IQ Bowsights with Retina Lock Alignment technology launches two new models. The Pro One is a single-pin adjustable sight with a quick return-to-zero stop while the Pro Hunter is a three-pin option with two fixed pins-—ideal for when you're set on 50 yards and your big bull steps out at 20 and you don't have time to adjust.
Archer Xtreme launches the new Rack series sporting a micro-detach and the first micro-adjustable bar system. Available in single-pin and four-pin options, it features a new dovetail design and allows hunters to make adjustments as small as 1/16th of an inch!
Releases
Become one with your connection to the bow with Tru-Fire's new C4 carbon-composite, injection-molded, four-finger handheld release. Handheld models are typically cost $150-plus, but the C4 helps you transition to a handheld option for $69.99. It sports six adjustable thumb placement positions to fit any hand size, a soft yellow rubber overmold that deafens sound and hammer-throw activation. It fits left- and right-handed shooters, offers adjustable trigger travel and will stay warmer in cold weather than a metal release. The new Patriot Flex is a redesign of the popular Patriot by removing the bulk. Smaller-frame shooters will like the Spark with its cut-down wrist strap.
Targets
Delta McKenzie unveils the Wedgie bag target rated for high-speed compound bows and crossbows. Its "wedge" profile provides stability on arrow impact and on uneven surfaces, and its high-contrast graphics mean easier target acquisition. The new, high-density Mo' Foam Shotblocker target is weld-bonded, eliminating the need for bands and reducing slivering from broadheads.
Rinehart Targets unveils a new bag-target line dubs the Gator Bag, a more economical option to its Rhino Bag line. Available in 22- and 26-inch models, bags feature an integrated, molded handle for easy transport and a variety of aiming dots. Like its other bag targets, the graphics on the skins are designed to spread the shot pattern across the target for longer target life.
For sheer backyard-flinging fun, check out Shooter 3-D Archery Targets' 3-D turkey, hog and bear targets, all priced under $100. They work for all badheads and field tips and are packaged with ground stakes.
Accessories
In addition to TRUGLO's accessories highlighted above, you'll want to check out these. Take some weight out of your backpack on your next hunt with Celestron's new flashlights in two sizes, both sporting a switch to select between 60, 100 and 300 lumens, a built-in handwarmer that hits 110 degrees in one minute to deliver a fistful of heat, and a built-in cell phone charger. The motto: Warm up, recharge and illuminate. Celestron's new micro spotting scope may be the world's first micro scope. Available in 9-27X and 7-22X models, it fits in the palm of your hand and weighs less than 2 pounds!
Everyone needs a bow buddy and now there is the My BowBuddy series of bow and arrow stands for the treestand and ground blind and even a stand for those backyard target-practice sessions. I may get one of each!
Of course, you may want a bow sling to help you get your bow and gear to the stand or blind faster so check out Primos' new Neoprene Bow Sling that fits bows 28-38 inches axle-to-axle with extra-wide shoulder straps to prevent slipping.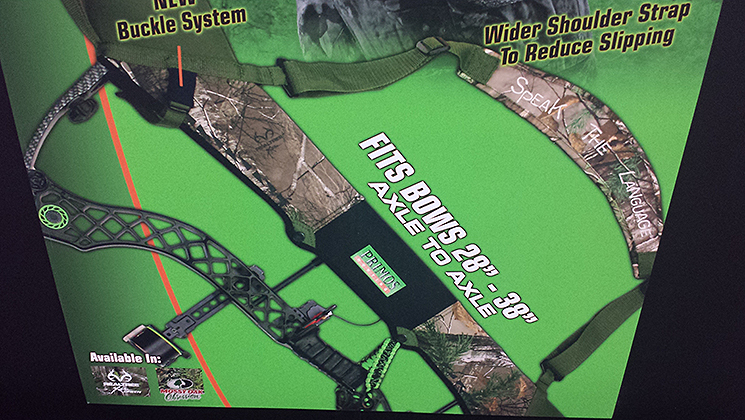 ALPS OutdoorZ has a new line of waterfowl hunting packs while Tenzing says go further and hunt longer with the new TZ 3000.
For another note on Archer Xtreme mentioned above, check out its new Nitrix four- and six-arrow with a vented hood so you can see which broadhead you are taking out of it. The traveling hunter or shorter-draw hunter will like how its vertical stem system delivers adjustments from 11-1/2 to 17-1/2 inches.
Hydration
Walking the show floor makes you thirsty so it was great that I stumbled onto the Sqwincher booth, makers of what it dubs professional-grade hydration in four flavors. Its new Sqwincher Lite offers great taste and less calories and carbs. The electrolyte is available in stick packs you can stash right in your backpack on your next hunt.