by
posted on February 15, 2021
Support NRA American Hunter
DONATE
With 2020 in the rearview mirror, let's all look forward to getting back into the field in 2021, shall we? These 12 gear items serve a variety of purposes; everything from helping you scout for big game to field dressing the animal once it is down. But one feature that all these items share is that they allow you to make the most of your limited hunting time by making you more comfortable, confident and successful. Whether you're looking for a gift for the hunting addict in your life or simply need to upgrade your gear collection, these new products won't let you down.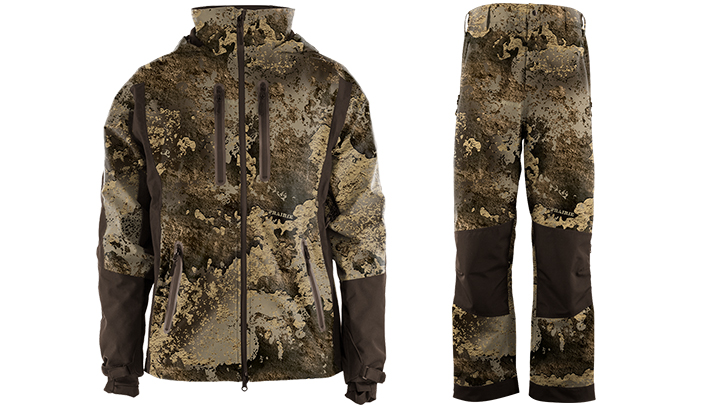 1. TrueTimber Longtail Parka and Pants
Introduced in late 2020, TrueTimber's new Longtail Parka and Pants are waterproof, warm, comfortable and silent. Both the pants and parka feature breathable polyester Weather-Lock shell fabric that does an exceptional job of wicking away sweat while protecting you from the elements, and the exterior pockets on both the pants and parka are equipped with waterproof zippers. I wore the Longtail camo on a recent Texas duck hunt, but these versatile garments are suitable for just about any type of hunt from high-mountain hunting to whitetails in a Midwestern treestand. TrueTimber's camo is built to high standards, but unlike some other technical hunting clothing it isn't extremely expensive: The Longtail Parka carries a price tag of $129.99 and the Longtail Pants cost $99.99, which is a super deal for camo that's this good. MSRP: $129.99 (Parka), $99.99 (Pants); store.truetimber.com.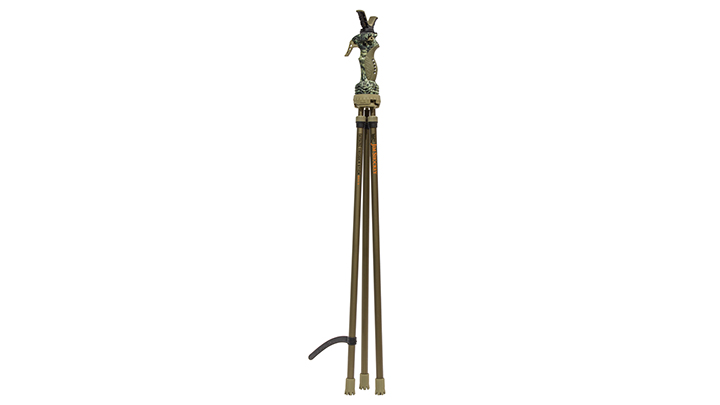 2. Primos Gen3 Shooting Sticks
To be a successful hunter you must be able to make quick, accurate shots from field positions, and the Primos Gen3 Shooting Sticks can help make that happen. The tall tripod model that I use adjusts from 24 to 62 inches with one touch of the trigger, and the quick-detach yoke system provides a sturdy anchor point for your rifle. Whether shooting prone, sitting, kneeling or standing, the Gen3 Shooting Sticks are simple to operate and offers hunter-friendly features, including oversized feet that grip the ground surface and won't allow the aluminum legs to bang together in the field and an ergonomic grip that offers complete control when setting up for a shot. The locking V-Yoke can be swapped out for a camera base, 2-point gun rest or a crossbow yoke in seconds, and the Gen3's scabbard offers MOLLE attachment points for securing your extra yokes. The 2-point rest offers stability that's on-par with a shooting bench and is a must-have for anyone who hunts from a blind. MSRP: $187.99; primos.com.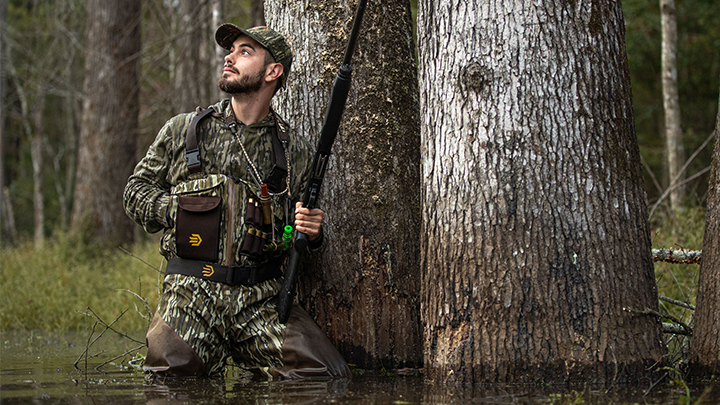 3. LaCrosse Alpha Agility Select Waders
Typically, the word "agility" isn't the first that comes to mind when thinking of waders, but the new LaCrosse Alpha Agility Select waders have earned their name. The lightweight, breathable abrasion-resistant uppers that allow for increased mobility and comfort, while a removable 120G quilted liner provides all-season comfort. Additionally, the top can be lowered without removing the Y-back suspenders to quickly transition from chest to pant waders. The boots are constructed from hand-laid rubber over a 7mm neoprene core and feature 1600G Thinsulate Ultra insulation for added warmth. LaCrosse's proprietary LXA midsole and Agility+ outsole give these boots a more athletic and comfortable feel than competing waders. With double-stitched and taped seams on the upper and multi-layer rubber in the high-wear areas of the boots you can expect to get many seasons of hard hunting from these waders. MSRP: $650; lacrossefootwear.com.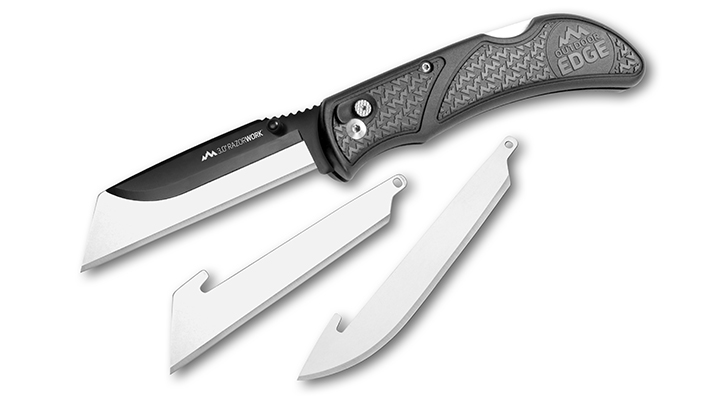 4. Outdoor Edge RazorWork Knife
The new RazorWork from Outdoor Edge is a replaceable blade knife that works in the field and for EDC. It features a removable 3-inch utility blade that's scalpel sharp and constructed of Japanese 420J2 stainless steel that's ideal for the jobsite, but with the push of a button, you can swap to a 3-inch drop-point blade for skinning game. Blades are held in place with a black oxide steel blade holder and it's very easy to safely change blades. The one-piece Grivory textured polymer handle helps prevent the RazorWork from slipping even when your hands are wet, too. With one replaceable blade knife for work and play you'll never have to sharpen a dull edge again. MSRP: $30.95; outdooredge.com.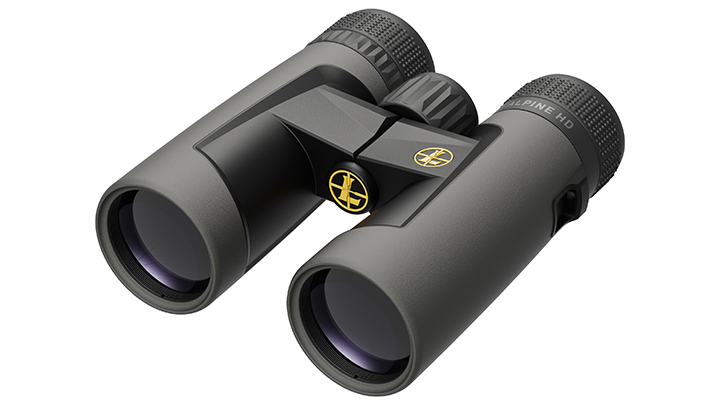 5. Leupold BX-2 Alpine HD Binocular
The new Leupold BX-2 Alpine HD binoculars feature a lightweight, rugged magnesium body but stands up to the elements thanks to its EXO-Armor exterior. Available in 8x42, 10x42, 10x52 and 12x52, these binos are perfect for just about any big-game hunting you plan to do. A ¼-20 tripod adapter allows you to easily mount these binos on a tripod for extended glassing sessions, and with weights ranging from 24 to 30 ounces, they won't add a lot of extra weight to your pack. But the real reason why these new Alpine HD binoculars are so tempting is that they offer Leupold's Elite Optical System, with edge-to-edge clarity, superb light transmission, glare reduction and excellent low-light color balance, all at a price that the average hunter can afford. Of course, they're also backed by Leupold's lifetime warranty, making them an even better value. MSRP: $229.99-$289.99; leupold.com.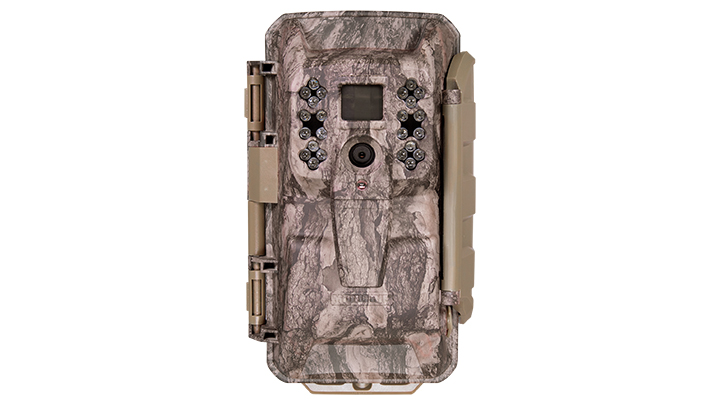 6. Moultrie X-6000 Cellular Trail Camera
Trail cameras have become standard equipment for most serious big-game hunters, and cellular cameras like the Moultrie X-6000 allow you to download images to your smartphone or computer remotely so you won't disturb your hunting area. You can also adjust camera settings and check battery life and signal strength remotely, and the Moultrie Mobile app offers 24/7 access to your images. The XA-6000 operates on AT&T's 4G network, while the XV-6000 utilizes Verizon's 4G network and plans are affordable and easy to manage. Both X-6000 cameras provide 16MP images and excellent day and night clarity. The 0.9 second trigger speed ensures that you capture images of moving game, and Moultrie image recognition even sorts photos by scanning for bucks, does, turkeys and more. Best of all, these high-tech game cameras come at an affordable price. MSRP: $99.99; moultriefeeders.com.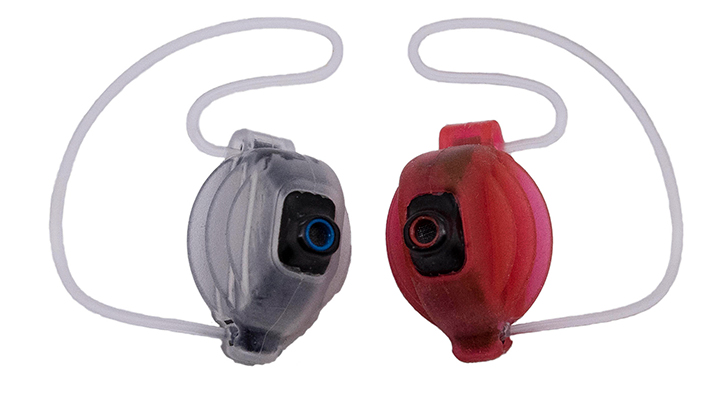 7. Tetra Hearing AmpPods
Tetra Hearing was founded by Bill Dickinson and David Gnewikow, both of whom are audiologists. They also happen to be hunters, and after years of studying and treating hearing loss, they developed what is undoubtedly one of the most important devices to hit the hunting market in decades—Tetra Hearing AmpPods. AmpPods are designed by these experts to help you pinpoint the direction of animal sounds and they're tuned to frequencies specific sounds like turkey gobbles, elk bugles and deer grunts. Unlike most amplified hearing protection, AmpPods are extremely small and discreet yet they still effectively reduce gunshots to safe levels before they enter your ear. If you don't want to lose your hearing but hate traditional ear protection, give AmpPods a shot. MSRP: $1,499; tetrahearing.com.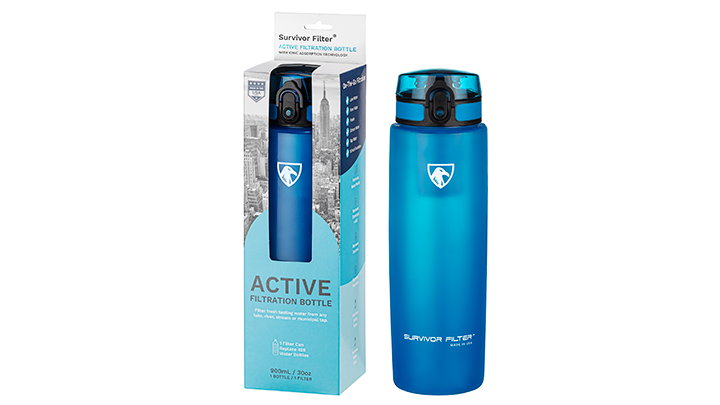 8. Survivor Filter ACTIVE Filtration Bottle
Staying hydrated is critical in the backcountry, but you never want to risk ingesting harmful microorganisms like Giardia and Cryptosporidium. Drinking unfiltered (or improperly filtered) water allows these protozoa to set up shop in your digestive tract resulting in diarrhea, vomiting, intense abdominal pain and fever—all of which will sideline you during your wilderness hunt. Enter Survivor Filter's ACTIVE Filtration Bottle. Simply fill the bottle and squeeze, and you'll have instant access to 30 ounces of water that is as clean or cleaner than the filtered water in your home. The American-made ACTIVE filter bottle removes 99.99 percent of bacteria, toxins, heavy metals and parasites—claims that are backed-up by independent lab testing. I keep an ACTIVE bottle in my pack on every hunting trip. MSRP: $50; survivorfilter.com.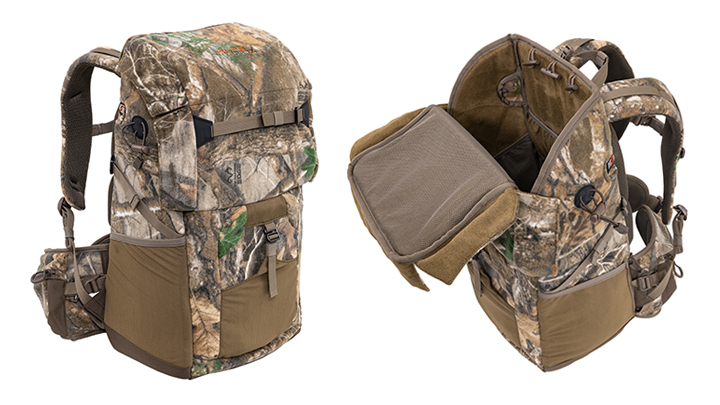 9. ALPS OutdoorZ Impulse Hunting Pack
The exterior of the ALPS OutdoorZ Impulse pack is made from the company's DeadQuiet fleece and the interior is lined with suede. This combination makes the Impulse the perfect daypack for hunting from A treestand or ground blind. ALPS has even eliminated noisy zippers and replaced them with a magnetic lid that can be opened and closed silently. Multiple interior and exterior pockets provide ample space for storing your gear, all of which can be accessed without making any noise and spooking game. The DeadQuiet exterior also comes with a waterproof interior membrane. The pack's combination of durability and accessibility make it a must-have item for every serious whitetail hunter. The base is designed to keep the pack upright for added convenience, and there's a dropdown pocket to hold your bow or rifle while hiking. There's even a hydration pocket with two side-outlet hydration ports to help keep you easily hydrated. MSRP: $149.99; alpsoutdoorz.com.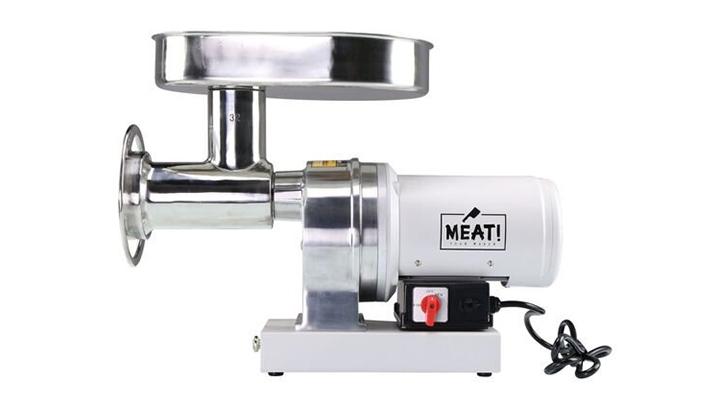 10. MEAT! Your Maker 1.5 HP Meat Grinder
Many hunters buy meat grinders to process game only to be disappointed by how easy these machines are to overload and how difficult they are to clean. Enter the MEAT! Your Maker 1.5 HP Grinder, which is built to industrial meat production standards. It'll effectively grind up to 18 pounds of meat per minute, and the unit can be broken down into component parts quickly and easily for thorough cleaning. A safety filter helps protect hands and fingers from the stainless-steel machinery inside the grinder. Coarse and fine grinders and a stuffing plate with three stuffing tubes come standard and can be stowed away in the grinder's built-in bottom drawer when not in use. I processed an entire deer and two hogs with this machine in a single day in Texas and was mightily impressed with how efficiently it performed. Life is too short to put up with second-rate grinders. MSRP: $599.99; meatyourmaker.com.

11. Klymit Klymaloft Sleeping Pad
Lots of hunters and campers like Klymit sleeping bags, sleeping pads and inflatable pillows because these products are light to carry and comfortable to sleep on, but the Klymaloft Sleeping Pad borders on luxurious. The topper is made from plush foam that conforms to your body and eliminates pressure points, and below that, there are a series of I-beam air chambers that provide stability and elevation. No matter how cold, rocky or uneven the ground below, you'll be warm and comfortable while you sleep, which every backcountry hunter knows makes the entire hunt much more enjoyable. The standard Klymaloft sleeping pad is comfortable, but the XL version offers more width (29 inches) and length (78 inches) and weighs in at just 3.2 pounds—and the extra 3 pounds of pack weight is definitely worth it. MSRP: $199.95 (XL); klymit.com.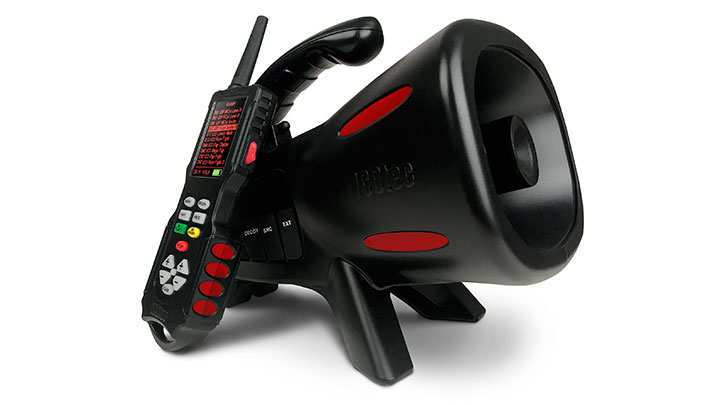 12. ICOtec Sabre Programmable Game Call
There are lots of electronic game calls on the market, but the Sabre from ICOtec leads the pack by offering lots of hunter-friendly features at a bargain price. It come equipped with 280 different call sounds, the most in industry, and can save up to 500 call sounds internally. The remote functions up to 300 yards from the caller, and the large, easy-to-use display offers both day and night settings. The pause and play buttons are separate, and the remote layout is so simple to use that you can quickly switch sounds or make volume adjustments. The sound quality and clarity are on par with units costing much more money. Additionally, the Sabre is also backed by a five-year warranty. MSRP: $279.99; icotec.com.