Support NRA American Hunter
DONATE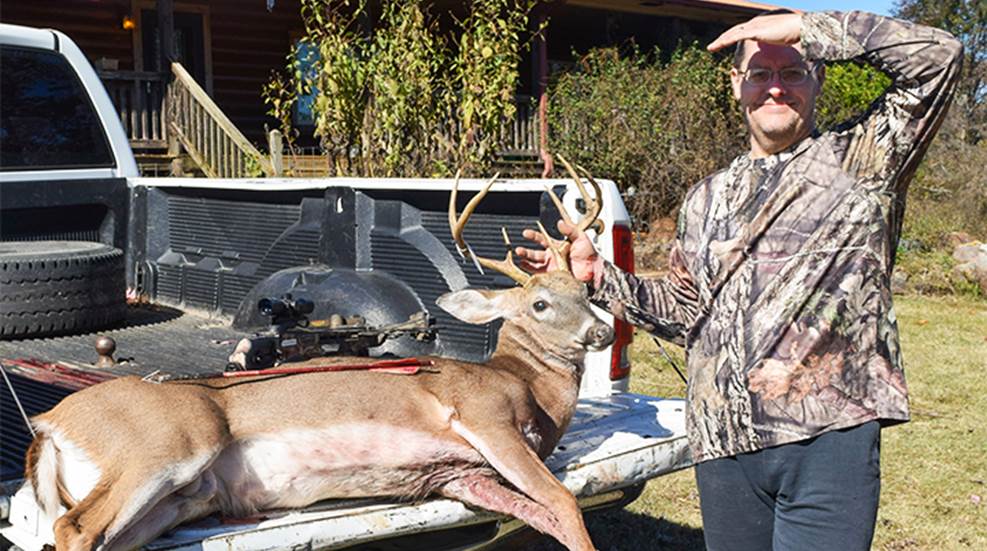 By Scott Schutzler, Searcy, Ark.
It was a great morning for bowhunting; the second cold front of the season had just passed through north central Arkansas, the sky was clear and the temperature had dropped into the mid-20s overnight. The previous weekend I saw eight deer in just one hour from my stand that overlooks part of a pine plantation that had a brush fire last year, which cleared out most of the underbrush.
Another beautiful sunrise cast long shadows through the neatly spaced rows of 40-foot-tall slash pines. From my vantage point, I could easily see about 90 yards in every direction.
At around 7:30 a.m. I saw a doe walking in from my right about 50 yards out. I gave her a short grunt from my Bowgrunter, and she obligingly turned straight toward me. When I thought she was in a good shooting lane, I let out another soft grunt and she stopped broadside. This is an easy one, I thought to myself, as I leveled the Barnett Ghost 360 onto her vitals. A split second later, I sent a bolt her way and heard a quiet thud. She hopped a few steps to my left, looked around to see where that darn noise came from and resumed her grazing toward the south. I watched her walk out of sight, wondering why she didn't run.
After about 40 minutes of watching and waiting, I got down to check the bolt. To my surprise, stuck there in the frosty ground was a very clean bolt. Hmm, I thought, better go check her trail for blood just in case. I searched for about 15 minutes when I heard galloping and a chorus of grunting. I ducked down under a leafy American beautyberry and unslung my crossbow. Peeking up, I saw three heads with obviously legal racks running full speed right toward me through the pines. When they were probably 15 yards out, they must have smelled me, because they hit the brakes. As I took off my safety, I whistled at them and they stopped in their tracks, ears turning, eyes straining, looking for the source of that very weird sound. As luck would have it, the lead buck was quartering away from me at about 17 yards. I got as high as I could on my knees, put my sight on his last few ribs and let 'er rip. Shoonk, and off he ran. Since I didn't hear the bolt flying through tree branches, I knew I had made good contact.
I re-cocked and very quietly tiptoed through the crispy pine straw to the place where he stood. I could see his tracks, both where he skidded to a stop and where he dashed off, but no bolt and no blood. What? No way I missed this deer, I thought. Not again! Really? I walked in circles, rechecked my shooting lane, even got on my knees looking for signs of a hit. Nothing.
Perplexed and dejected, I decided to wait a while before trailing them. I quietly went to check a few cameras a half-mile from there, thinking maybe I would bump into him or cross a blood trail. Nope, neither happened. At this point, I was running out of both hope and patience. As I stood there putting my gear away and muttering some NSFW words to myself, I noticed a dark red branch sticking out of the ground at a weird angle about 20 yards in front of me. It only took me about two steps toward it to realize it was my bolt! It was completely covered in blood, so much so that I couldn't tell the white fletching from the black shaft. It was at that moment my attitude did a one-eighty, as I knew there was a dead deer close by. There was blood every few feet; some on bushes and branches, and big patches where he fell a few times. Then finally, about 30 yards from the bolt, was a perfect modest-sized 8-point!
After the tag and drag, I went back to get my gear and study the scene one more time. The only way for that bolt to get stuck in the ground at that angle and that far from where he stood was for him to have run off with the NAP HellRazor 100-grain broadhead sticking out of his neck between his shoulders and then falling down when his left lung collapsed, burying the broadhead several inches into the forest floor. When he finally did get back up, he must have pulled the BloodSport 20-inch bolt out of his chest completely, uncorking the exit wound then very quickly bleeding out.
This is one of the nicest public-land bucks I have killed. It sure is great to be in the right place at the right time!
---
Do you have an exciting, unusual or humorous hunting experience to share? 
Send your story (800 words or less) to [email protected] or to American Hunter, Dept. MH, 11250 Waples Mill Road, Fairfax, VA. 22030-9400. Please include your NRA ID number. Good quality photos are welcome. Make sure you have permission to use the material. Authors will not be paid, and manuscripts and photos will not be returned. All material becomes the property of NRA.