Support NRA American Hunter
DONATE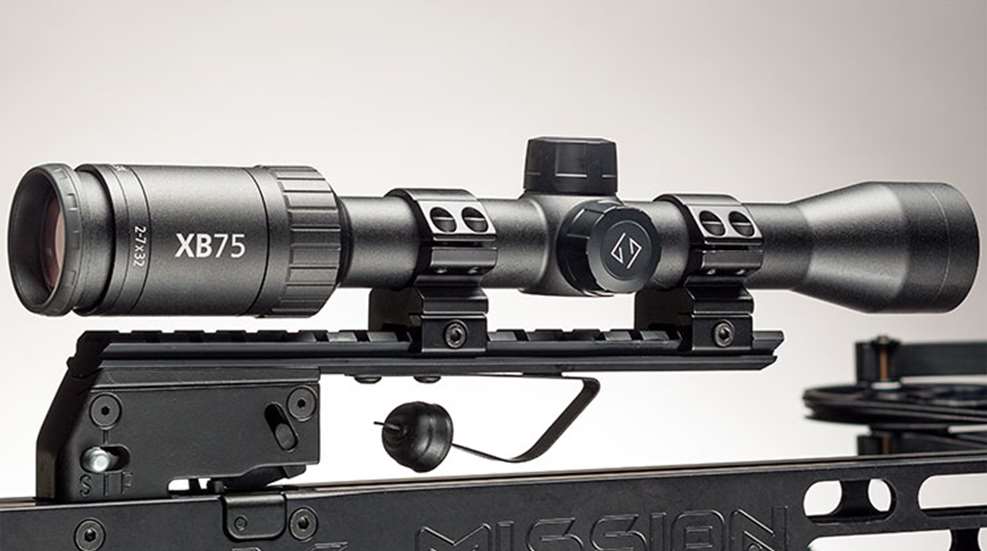 Modern crossbows are far removed from the rudimentary bows mounted on sticks thousands of years ago. They offer more stored energy to launch bolts faster and farther, feature multiple cam orientations and limb directions, and even sport machined triggers. But while crossbow technology advanced, crossbow scope technology did not—maybe because such scopes didn't even exist before 1981 when the James Bond movie "For Your Eyes Only" debuted the first-ever crossbow scope, a Barnett. And 34 years later, manufacturers now sell crossbow packages that include some decent scopes.
For 2015, Zeiss offers its Terra XB75 2X-7X-32mm. The 13-ounce marvel sports a patented ballistic reticle with aiming points from 20-75 yards in 21/2-yard increments—based on the chronographed speed of our crossbows.
The reticle houses six crosshairs representing 20, 30, 40, 50, 60 and 70 yards. The dot between each crosshair is the half-yardage mark: 25, 35, 45, 55, 65 yards. The 75-yard mark is the top of the bottom reticle wire. The top and bottom of each crosshair represent 21/2-yard marks. The scope's ocular ring is marked with bow speeds from 275-425 fps in 25-fps increments. Magnification runs from 2X-7X. (Because Zeiss engineers had to match the sub-tension of the reticles and magnification to speed, dialing up the speed also increases magnification.)
To calibrate it, set up a target at 10 yards with magnification on the lowest level: 2X. Shoot the target using the 20-yard crosshair. Make necessary turret adjustments (1/4 inch at 100 yards) then move the target to 20 yards and sight in the 20-yard reticle. Now turn the ocular ring's speed indicator to the speed provided by your crossbow manufacturer for your bolt length and weight. Next move the target to 30 yards to sight-in the 30-yard reticle. The scope is now calibrated so all aiming points will be spot-on. Note the position of the speed/magnification selector as it must remain in this position to maintain calibration. (If your crossbow is faster than 425 fps and you use a light bolt with flatter trajectory, the owner's manual suggests using the 30-yard crosshair, not the 20, for initial sight-in then calibrating the scope at 40 yards.)
I assumed such innovation came straight from Carl Zeiss Sports Optics' esteemed German engineers, but I learned it was the brainchild of company marketing and communications manager—and avid bowhunter—Joel Harris. "There was an obvious need for a better crossbow scope," Harris said. "Now hunters who appreciate quality optics can top their cutting-edge crossbow with a scope to match—one that offers a superior reticle and maximum clarity and light transmission."
Harris' plan was to build the XB75 on Zeiss' popular 2X-7X-32mm Terra ED riflescope platform. When he asked crossbow manufacturers for any ballistic data on hand, nothing was available so he created it himself. He selected Mathews' Mission crossbow line for his testing because it enabled him to increase the poundage to hit the necessary speeds to obtain ballistic-curve data. He chose a 400-grain Mission bolt setup for shot continuity at all speeds and yardages. With data based on speed, Harris only noted results when three consecutive shots impacted the same spot at the same speed. When he shared his thorough data with company engineers, they said it was the most accurate they'd ever received.
I did my own testing of the Terra XB75 using a Mission MXB-Sniper Lite. In a short time I was hitting the target exactly where I aimed at various yardages. Then my husband, Phil, and I packed the Mission/Zeiss setup with our compound bows on a June trip to South Africa. The scope was dead-on in camp so I toted my rig to a waterhole the morning of my birthday. I put the reticle's 25-yard mark behind the shoulder of a warthog at 24 yards and squeezed—and secured my birthday present! Phil did his own field test, dropping a big tusker at 28 yards using the 27.5-yard mark. "The scope makes it so easy I feel like I'm cheating," he said. As first-time crossbow hunters, we immediately tapped into the crossbow craze.
Technical Specifications:
• Type: crossbow scope
• Magnification: 2.3X-7X
• Objective Lens Diameter: 32mm
• Eye Relief: 3.54"
• Field of View @ 100 Yards: 46.5'-13.5'
• Coatings: MC anti-reflective
• Dimensions: length 11.5"; weight 13.4 ozs.
• Construction: 1" aluminum tube; water-resistant
• MSRP: $443.43